Explained: TerraUSD (UST)
The world of cryptocurrency is definitely a profitable one. The downside, however, is the high level of risk involved. Due to the volatile price movements of cryptocurrencies such as Bitcoin, Ether and Dogecoin, more investors are now acquiring stablecoins like Terra to diversify their portfolios.
According to Decrypt, UST overtook DAI to become the most valuable decentralized stablecoin by market capitalization. In March 2022, the market capitalizations for UST and DAI were $15.3 billion and $9.8 billion, respectively.
Introduction
The rising popularity of TerraUSD has benefited Terraform Labs, which oversees the Terra cryptocurrency project. As reported by Analytics Steps, investors such as Lightspeed Venture Partners, Arrington Capital and Pantera Capital have invested $150 million to help Terra develop various cryptocurrency projects — e.g., Dogecoin and Shiba Inu.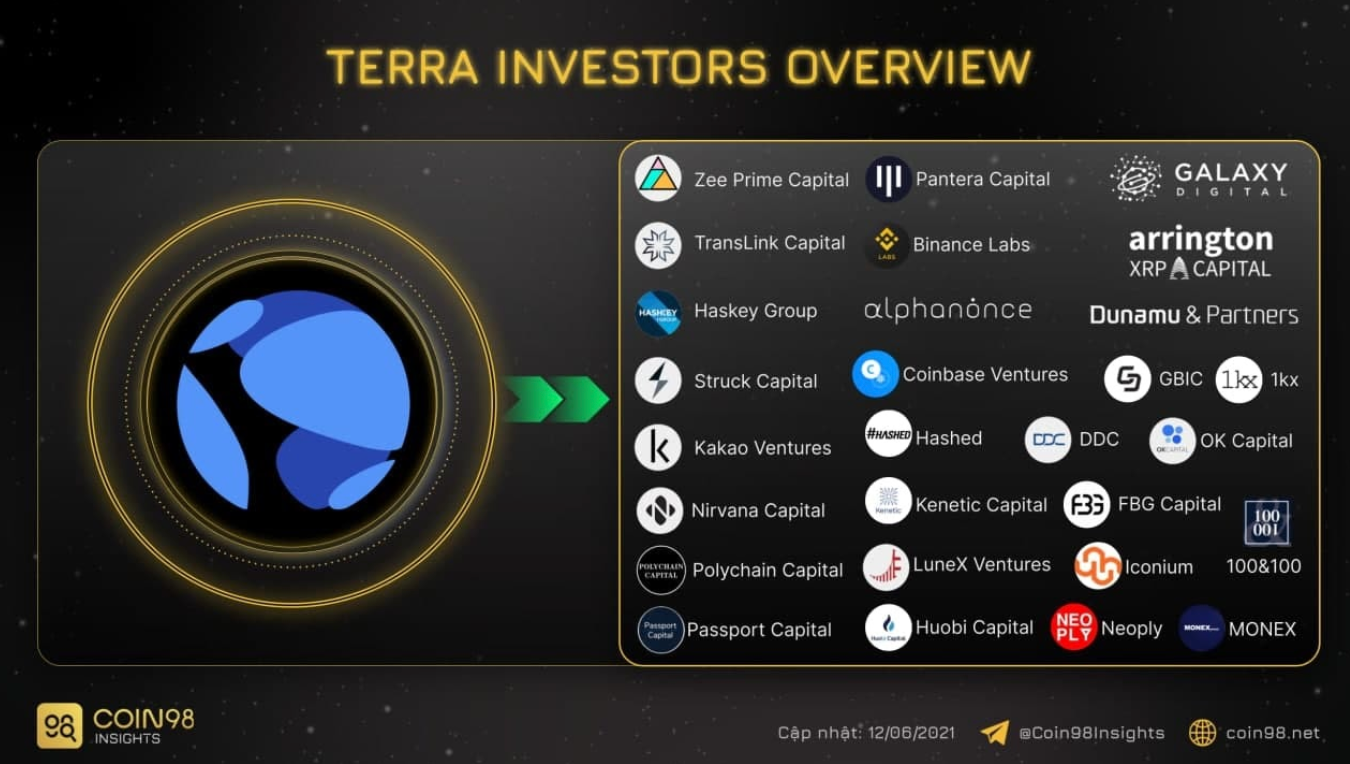 Source: Coin98 Insights
What Is Terra?
Terraform Labs developed Terra, a blockchain platform that powers startups' cryptocurrencies and financial apps. Pegged to the U.S. dollar, TerraUSD (UST) is among these cryptocurrencies.
Do Kwon, former software developer at Apple and Microsoft, and Daniel Shin, an entrepreneur-cum-economist, founded Terra (LUNA) in April 2019. The company launched TerraUSD on Bittrex Global in September 2020.
Terra is a stablecoin designed to reduce the volatility of cryptocurrencies like Bitcoin. Terra, TerraUSD's native blockchain, is the brainchild of Terraform Labs. The latter is a subsidiary of Terra Alliance that consists of 16 e-commerce companies across East Asia.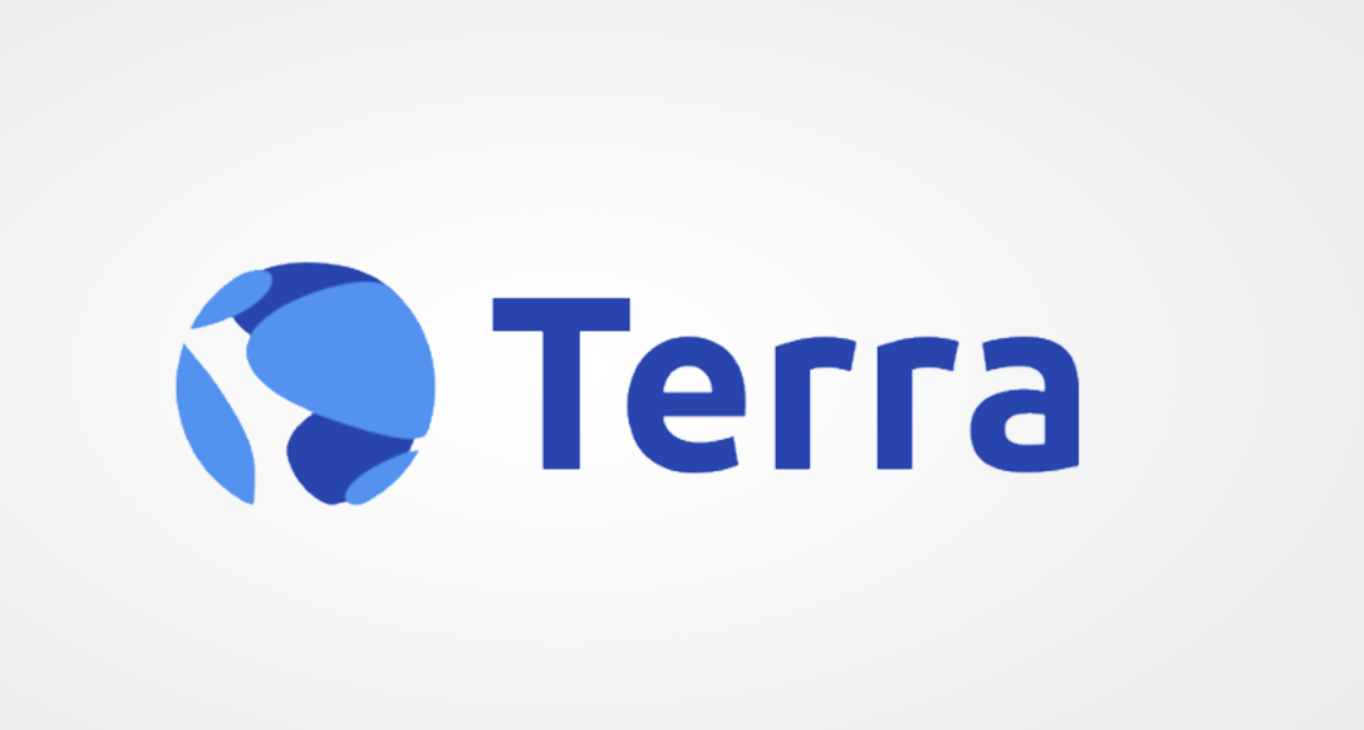 The Terra protocol uses its native token, LUNA, to stabilize the price of TerraUSD. LUNA token holders can also vote on governance proposals, giving it the functionality of a governance token.
A portion of Luna, another digital token and reserve asset, is "burned" as the demand for Terra coins (UST) grows with increasing adoption. As more Luna are burned and diverted to the community pool, this serves as a balancing act which stabilizes the price.
What Is TerraUSD (UST)?
TerraUSD (UST) is the algorithmic, decentralized stablecoin of Terra. With its price pegged to the U.S. dollar, TerraUSD is the first decentralized stablecoin that's scalable and yield-bearing.
With TerraUSD, Terra hopes to establish value for Terra's community and offer a scalable alternative to the scaling problems faced by other stablecoins like DAI. Apart from promising users higher scalability, TerraUSD also promises higher accuracy in interest rates and interchain use.
Along with meeting the requirements of the DeFi protocols that it uses, TerraUSD's minting mechanism ensures UST has scalability without compromising security. Users can easily integrate the TerraUSD payment method into crypto wallets. Currently, TerraUSD is host to over 90 DeFi apps, such as Mirror Protocol, and has demonstrated its power in DApps.
How TerraUSD Works
Terra combines a set of straightforward policies and protocols and uses preexisting technology and innovations to ensure that users have a great experience.
Stablecoins are backed by holding the equivalent amount of fiat currency in reserves. As TerraUSD's reserve asset and native cryptocurrency, LUNA is used. Thus, if you want to mint one TerraUSD, only $1 worth of Terra's LUNA token is burned out of the system.
TerraUSD also connects and enables blockchain ecosystems using Dropship, a bridging protocol. Dropship allows TerraUSD to be integrated into DeFi platforms and DEXs and move between blockchains.
Additionally, it ensures the stability of TerraUSD since LUNA's demand and supply determine TerraUSD's value. Miners stake Terra's native LUNA token using a proof of stake (PoS) system to mine Terra transactions.
Key Features
TerraUSD leverages existing technology and innovations to offer users the best experience possible. Its key features include the following:
Enhanced Scalability
TerraUSD is a stablecoin whose value equals the face value of minted stablecoins. Burning one LUNA reserve asset will issue one TerraUSD. TerraUSD's monetary policy scales almost without limit, which helps DeFi projects to reach their full potential.
Easy Exchange
In the Terra ecosystem, all stablecoins share liquidity so that you can convert TerraUSD into TerraKRW (stablecoin pegged to Korean Won) with a minimum fee.
Passive Income Potential
TerraUSD allows users to earn passive income with the stable interest rates of the Anchor Protocol. Anchor, a lending protocol, promises a 20% return on UST savings.
Rewards on PoS chains that maintain their stability through commissions and inflation provide additional steady income. This nuance enables a predictable interest rate.
Interoperability
Terra stablecoins connect blockchain ecosystems with the Dropship bridge protocol. With the help of Dropship, TerraUSD integrates with a variety of DeFi and DEX trading platforms and, most importantly, moves assets from one chain to another. Supply and demand of LUNA determine TerraUSD value. The Dropship protocol helps maintain scalability by guaranteeing a stable UST cost.
UST Tokenomics
TerraUSD (UST) is a stablecoin built on the Terra blockchain.Burning LUNA tokens creates the UST. The value of UST fluctuates, since it's driven by the demand-and-supply relationship between the asset and the value of the U.S. dollar. If the value of UST exceeds a dollar, LUNA holders can sell tokens for UST.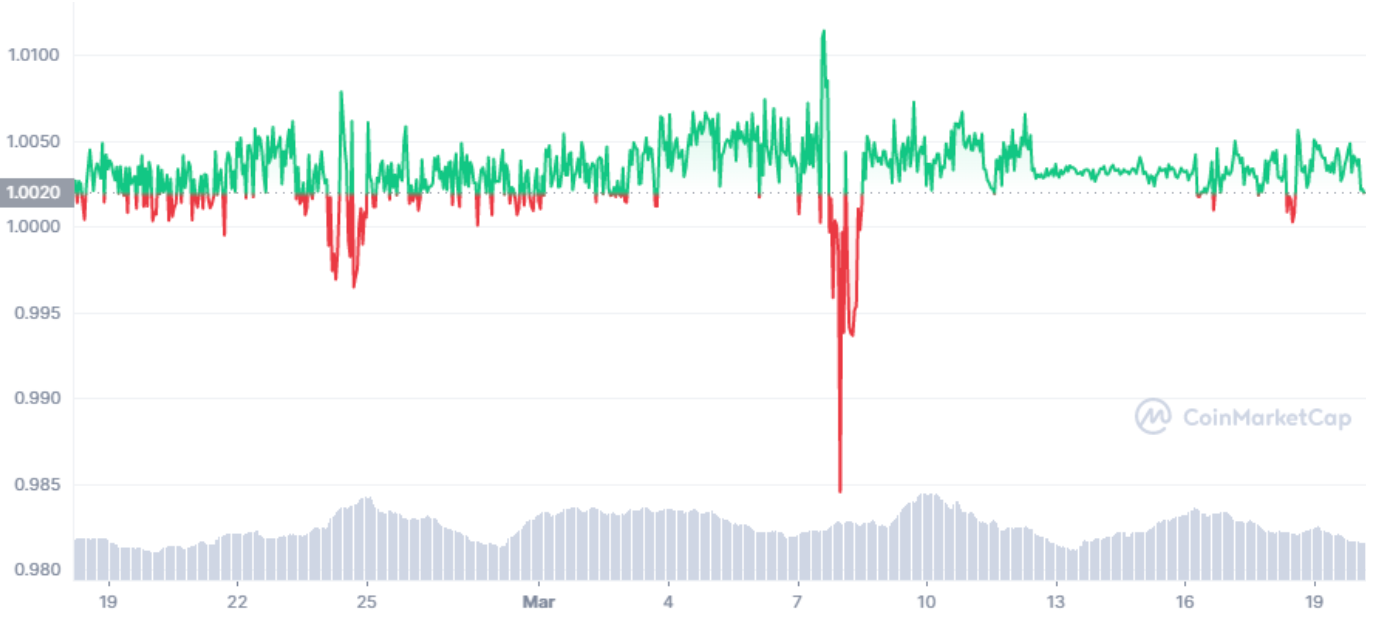 Source: CoinMarketCap
As of this writing, TerraUSD has a total supply of over 16 billion, with virtually all of the tokens in circulation. The price of one UST is $1.00, and more than 610 million worth of TerraUSD coins were traded in the past 24 hours.

Source: CoinMarketCap
Who Is TerraUSD For?
TerraUSD offers crypto investors an alternative to the extreme volatility of other cryptocurrencies. By moving their investment into UST, traders can reduce their exposure to sudden drops in cryptocurrency prices.
Having UST (instead of the U.S. dollar) also reduces delays in transaction time, because transferring bitcoins into TerraUSD takes less time than transferring dollars.
Another use for UST is DApps. For instance, Mirror Protocol, a platform that permits the minting of fungible "synthetic assets," tracks prices of real-life assets in the present time and uses UST as a bare asset.
Pros of TerraUSD (UST)
TerraUSD speeds up various financial processes. Since UST operates independently of any central institution that has set operating hours, settlement and banking can occur at any time.

Many smaller businesses charge higher fees or no longer accept credit cards because the average price for processing credit cards is about two percent. Using TerraUSD, high transaction costs can be avoided, providing value for businesses and customers.

Millions of people rely on cryptocurrencies as a source for an anonymous, borderless store of value. With UST, payments abroad are convenient since they're not subject to speculative markets or wild inflation.
Cons of TerraUSD (UST)
At the request of law enforcement, tokens can be frozen at addresses by central entities issuing them. Law enforcement agencies can even freeze tokens during money laundering investigations or illicit activities.

Because it's a stablecoin, TerraUSD has a lower return on investment (ROI) and generates less profit. Its value is set at $1.00. If you invest $100 in it, and its price increases to $1.01, the profit generated on your investment will be $1, or 1%, which is much lower than the surge in ROI that we see with some other cryptocurrencies. Market turmoil or the absence of audits may also result in risk premiums. Risk premiums are the additional compensation investors receive for investing in a riskier asset (such as altcoins). Stablecoins lose value against their peg due to the risk premium, so it becomes more expensive to buy cryptocurrencies with stablecoins than with fiat currencies.
Is TerraUSD (UST) a Good Investment?
The crypto market's high volatility frequently causes prices to change drastically within a short period. However, TerraUSD is a stablecoin, so ideally its price should remain constant (at around $1).
To earn a significant profit, you'll have to deploy massive capital because UST is volatile on a small scale. Therefore, we encourage everyone to watch the latest TerraUSD news before investing in TerraUSD, in order to stay informed about any changes in the market.
Buying UST
It's easy to invest in cryptocurrencies if you follow a step-by-step approach. Here's a guide on how to buy UST on the Bybit exchange.
Step 1: Create an Account
It's simple to create an account with Bybit if you don't already have one. Enter your email address or phone number, and you're ready to trade once your account is verified.
Step 2: Buy via Cryptocurrency
● Make a purchase using the Fiat Gateway by clicking on Buy Crypto.
● Enter the amount you wish to spend and choose USDT as your preferred currency. Trade USDT on the Spot Market (UST/USDT) to obtain the assets.
● Choose your payment method and service provider. By clicking this link, you'll be redirected to a secure third-party site where you can complete the KYC process.
● Tokens will be credited to your crypto account once you enter your payment information and complete the transaction, generally within 2 to 30 minutes.
Closing Thoughts
Due to its peg with the U.S. dollar, Terra's token holds a market cap of over $15 billion and a circulating supply of a similar amount. Currently, UST is one of the most scalable and interchain-operable stablecoins on the market. (Update: As of March 2022, UST is officially the first cryptocurrency to be backed by Bitcoin).
The Terra blockchain protocol is an open-source system underpinning algorithmic stablecoins and an expanding network of financial applications. Overall, TerraUSD offers a wide range of features and applications that are perfect for DeFi apps, and meets the surge of demand for a scalable, functional stablecoin.