Hashmasks NFTs: Setting the Tone for Digital Art Collectibles
With the recent craze surrounding non-fungible tokens (NFTs), it's no surprise that crypto enthusiasts are looking for ways to get in on the action. As opposed to traditional art forms, NFTs are digital assets which provide an alternative means to earn from the market during times of extreme volatility. New projects are released on a daily basis, but only a few go on to make the trends table.
One of the latest trends is Hashmask, developed by Suum Cuique Labs. It's an NFT project that can be used as avatars on decentralized apps (DApps). While some people buy Hashmasks for their collectible value, others are using them as a way to represent themselves online. Either way, they're becoming a popular choice for those looking to add an NFT to their portfolio. So, what exactly are Hashmasks, and how can you get your hands on one? Read on to find out.
What Are Hashmasks?
Starting as whispers and rumors on Discord, things quickly escalated when the price chart of Hashmasks took an upward trajectory. Within the first four days of its launch, the project sold over $10 million worth of digital collectibles using fair distribution means.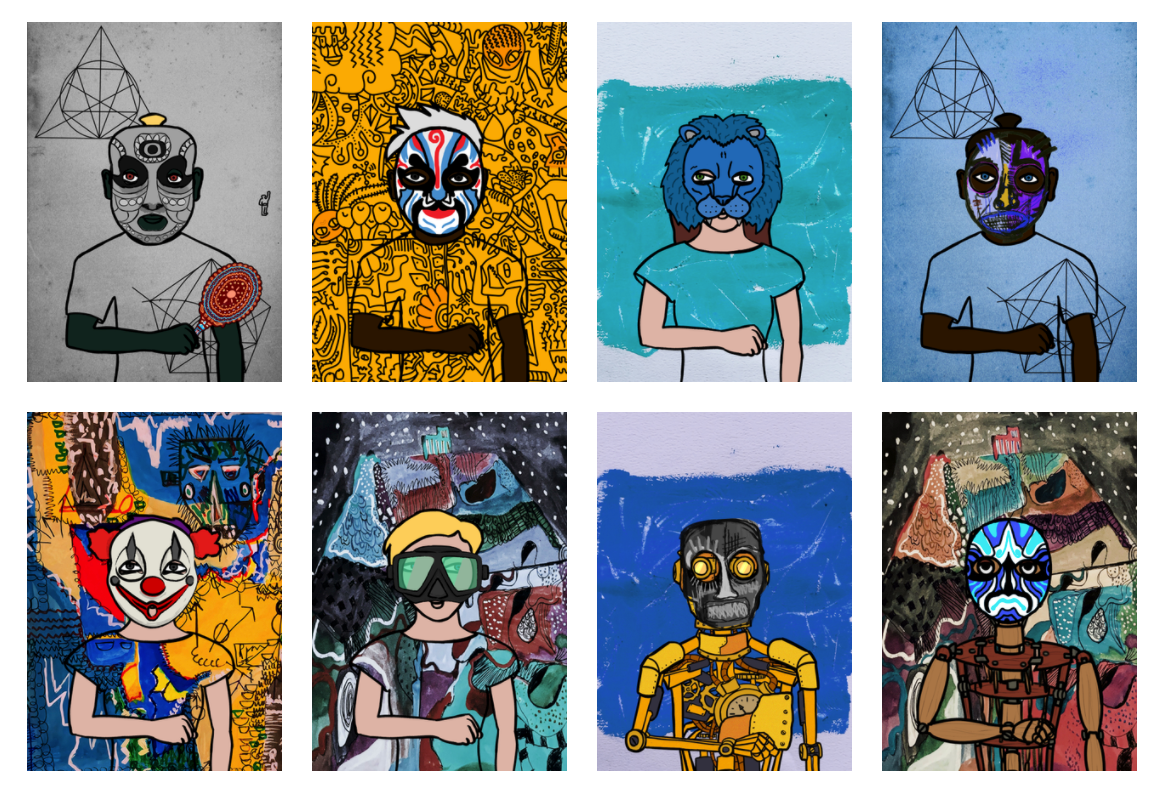 Source: Coindesk
There are over 16,384 unique digital art pieces on Hashmasks, each with a unique identifiable trait. The project is a result of 240 days of planning and preparation, 70 artists from all over Europe, great smart contracts, and several homages to historical artists. 
There are five primary features in each artwork spearheaded by Suum Cuique Labs: mask, eye color, background, skin color, and an extra item held or worn. Some other attributes are classified under the "mystery" tag. 
These aspects differentiate the Hashmasks project from other projects:
There are two different levels of rarity attached to each Hashmask.

There are subtle messages on each token for token owners to decipher.

There's a complimentary token on the haskmask project called the NCT (name changing token) that allows users to assign a unique name to their digital art, provided certain conditions are met.
The initial distribution period of the tokens was totally random for everyone, including the founder and his team, and no one could predict which tokens they would get before the launch. The sales were hierarchically determined, which meant that the earlier purchases had different amounts of Ether. The rarity was not something that was incorporated in the art, as each piece grew organically. The best example was one that sold for a $649,250 gain after it had been originally purchased for $750 (0.3 ETH at the time of purchase).
What Is a Name-Changing Token (NCT)?
Within the Hashmasks project, NCT is the base asset that allows the current holders of masks to change their names and store them publicly on the Ethereum network. Launched in January 2021, Hashmasks (and, subsequently, NCT) uses rarity to value a project. Each mask has a unique name, which increases its overall rarity level. 
According to the naming rules, a name must be unique, contain alphanumeric symbols; have a maximum of 25 characters, including spaces; be case insensitive; and not contain any trailing spaces. Names are available for selection once a previous user replaces it for another. 
The relevance of the NCT is that it allows holders of the tokens to name their Hashmasks as they want. This name is then permanently stored on the Ethereum blockchain, where the project is launched. Instead of being named "Project 1" or "Project 27," etc., they can be renamed using the native token of the Hashmasks artwork. This has improved receptiveness with public users.
With the NCT, the first collectible is presented with a whole new dimension — where consumer preferences heavily influence the value hierarchy of individual pieces within a collective art form.
Within certain limits, the artwork can be renamed using a token associated with each Hashmask, and as a complement to Hashmask, the naming tokens allow owners to build artwork on top of them.
You can claim the NCTs that the Hashmask sales accumulate if you own one. Every year, each NFT accumulates roughly 3,660 NCTs. You will receive an additional 1,830 NCTs if you participate in the initial contribution period. It takes about 12 years of NFT emission to modify the name of an NFT by submitting 1,830 NCTs to the Hashmasks contract and destroying them.
Types of Hashmasks (Rarity)
There are two layers to Hashmasks rarity: Explicit rarity and implicit rarity.
Explicit Rarity
The explicit rarity explains the features that can be seen without any interpretation. A creator provides a list of explicit characteristics, with varying degrees of rarity for each digital art collectible piece.
A common example is that of "man" and "robots." In the Hashmasks project, you would be more likely to see "men" tokens than "robots," so tokens with "men" have less explicit rarity than the tokens with "robots."
Implicit Rarity
Unlike many other NFTs projects, Hashmasks are more related to arts than to collectibles. This way, you cannot predict their value with known variables; rather, the value that accrues to them is difficult to understand. Most of the traits on the Hashmasks tokens are of implicit rarity. The consumer is the one to project their own explanation and interpretation onto the subtle details of the artwork.
In addition to that, the ability to name each project makes it unique and helps to improve both the creator/consumer and consumer/art relationship. Comparison between details — like varying masks, colors, clothing and background designs — makes for subtle yet distinguishable differences between each artwork. 
What Makes Hashmasks NFTs Valuable?
Double Rarity
The Hashmask NFTs have a unique stroke that isn't predefined, which makes them different from most other projects.
Along with holding the artwork, users accumulate NCT tokens daily, which they can use to name their Hashmasks portraits on the Ethereum network. 
Hype
Each Hashmask is produced by more than one artist. This collaborative approach to making digital art with several different artists allows for more inclusiveness. If you're on the crypto side of Twitter, you would recognize the hype around the project — and it's the same across other crypto platforms such as Discord. Hidden features on each network, and having buyers name the tokens, add to the thrill. 
Uniqueness
All Hashmasks NFTs are unique. Allowing community-built growth has allowed for different attributes like varying masks, eye color and backgrounds. Since each one of them is created by a combination of several artists, the means of fair distribution are also unique. At the time of the launch, users didn't know which Hashmasks NFT they would be assigned until two weeks had passed.
Are Hashmasks Worth Investing In?
With the NFT space being highly inflated, it's believed that 95% of all NFT projects will go bust. Hashmasks NFTs belong to the remaining 5% that would surely make good money for its holders. Everything you need to look for in an NFT project is there: Unique designs, strong community backing and unique value proposition.
Ideally, users would have gotten into the project from the outset … but, as the saying goes: The best time to plant a tree was 20 years ago, and the second-best time is now. Replace the word "tree" with "Hashmask," and you're good to go.
Conclusion
The NCT is integral to the Hashmasks project, as it allows users to not only own their unique living digital art collectible, but also to change the name of that work to whatever they choose. This is where the element of rarity comes in. There are only so many unique names that can be assigned, which means that there will only ever be a limited number of each piece. This provides a sense of community and ownership unmatched in other digital/crypto art platforms. 
With NFT trading becoming more mainstream, it won't be long before we start seeing projects with commercial use. Will Hashmasks be one of them? We certainly think so.