Explained: Cryptocurrency Mixer
Unbeknownst to many people, the majority of blockchains are actually public. Essentially, a blockchain acts as a digital history of records made on that particular network. From the very first transaction made to the most recent one, all information is kept on the blockchain, and can be viewed by anyone with a working internet connection.
To test this out, head over to a blockchain explorer of your favorite coin/token (e.g., BTC explorer for Bitcoin), and look up the records of transactions processed since its launch. Astonishing, isn't it? This feature allows for greater transparency and accountability on a public ledger, so it's unsurprising why some people view it in a positive light.
However, a second group of people see this as a drawback, with privacy being their main concern. After all, if everyone could see your transaction history, they could easily track your spending and figure out your personal details, such as your income. In turn, this could increase the risk of your account being hacked, or your identity being stolen. Such scenarios are never ideal.
If you happen to fall into the second group, there's no need to worry — this is where cryptocurrency mixers come in handy. Read on to learn how to protect yourself and your assets today.
What Is a Mixer in Cryptocurrency?
A cryptocurrency mixer is a service that allows you to mix your Bitcoin or other cryptocurrencies with other users' Bitcoin or cryptocurrencies. This is done to conceal the source of the funds and protect the privacy of the users involved. By mixing your coins with others, it becomes much more difficult to track the movement of funds and determine where they came from — just as it would be difficult to determine the ingredients of a blended cup of fruit juice if, say, 20 different juices were used.
Simply put, by shuffling transactions among multiple addresses, mixers make it difficult for third parties to trace the exact source of funds. Not only is this feature valuable for privacy, it's also great for businesses looking to safeguard their customers' data.
Cryptocurrency mixers typically charge a small fee for their services, and may also require users to deposit a minimum amount of funds. Some mixers also offer additional features, such as the ability to delay transactions or split them into multiple payments. Overall, cryptocurrency mixers provide a valuable service for those who wish to keep their financial activities private.
How a Cryptocurrency Mixer Works
In most cases, a mixer will require you to send your coins to a specific address. Once your transaction has been processed, the mixer will then send an equal amount of coins to another address that you provide.
Note that the mixer will not know the identity of the addresses involved in the transaction. However, as there have been cases of mixers stealing user funds, it's still important to use a mixer that you trust.
When selecting a mixer, be sure to do your research, and ensure that it's reputable and has a good track record. You should also look for a mixer that offers a high degree of security and privacy.
Some mixers may require you to create an account, while others allow you to use their services anonymously. In most cases, you'll need to provide a receiving address for the coins to be sent to. The process of using a cryptocurrency mixer is typically straightforward, so don't worry if you've never used one before.
How Cryptocurrency Mixing Creates User Anonymity
Cryptocurrency mixing is a process that makes it difficult to trace the origins of a digital currency transaction. By mixing numerous transactions, it becomes much harder for anyone to identify which specific coins were sent from which wallets. This enables a degree of anonymity on public blockchains such as Bitcoin, as it allows users to make transactions without fear of being tracked or monitored. 
While cryptocurrency mixing services use several different methods to achieve this goal, the most common one by far is the use of so-called "mixing pools."
In a mixing pool, users send their funds to a central address, which then redistributes those funds to other users in the pool at random. This makes it very difficult to determine where any given input came from, as it could have come from any number of addresses.
Another popular method is known as CoinJoin. This involves multiple users coming together to create a single transaction containing multiple inputs and outputs. While this doesn't necessarily make it impossible to determine the origins of a given coin, it makes the process much more tedious, and thus could serve as a deterrent to those with malicious intent.
However, it should be noted that cryptocurrency mixing isn't foolproof, and there are still ways for investigators to trace mixed funds back to their original owners. As such, mixing should not be relied upon as a way to completely avoid detection. Nevertheless, when used correctly, it can still be an effective tool for increasing anonymity and privacy levels.
Is Crypto Mixing Illegal?
As you would expect, the ability to obfuscate crypto transactions makes crypto mixers a target for regulators — and a hotbed for money laundering.
While crypto mixing might sound like a perfectly legal activity, there is some debate going on as to whether it in fact is. Some argue that crypto mixing simply provides a way for users to keep their identity and transaction history private, while others argue that it can be used to launder money or finance illegal activities.
Many countries have started to implement regulations that require crypto exchanges to collect customer-identifying information. Certain exchanges (e.g., Binance) do not allow users to withdraw funds linked to a crypto mixer wallet. Additionally, new international anti-money laundering laws are likely to make money laundering through crypto mixers much more difficult in the future.
Ultimately, the legality of crypto mixing boils down to how it is used, and whether it breaks any locally-established laws in the process.
5 Best Cryptocurrency Mixers on the Market Now
There are several different cryptocurrency mixers available, each offering slightly different features and using different crypto mixing methods. Some mixers allow users to set custom transaction fees, while others provide a fixed fee structure. A number of platforms go one level higher to offer additional features such as coin shuffling, or support for redistributing funds in multiple currencies. Here's a look at five of the best cryptocurrency mixers out there.
1.CriptoMixer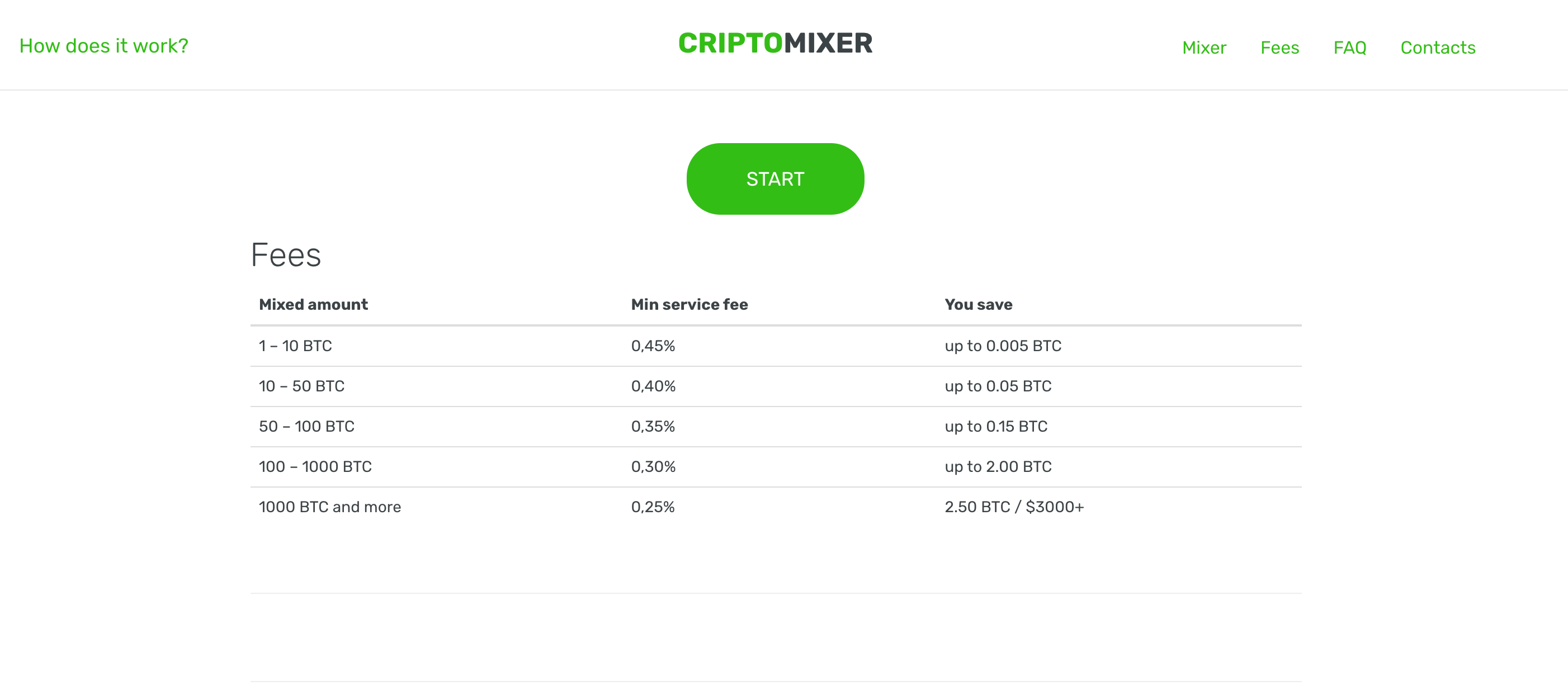 Source: CriptoMixer
One of the most popular crypto mixing platforms currently available, CriptoMixer supports only Bitcoin transactions and requires its customers to deposit a minimum of 0.001 BTC. The platform has been in operation since 2016, and claims to have processed over $1 billion worth of Bitcoin transactions so far.
Two of the key selling points of CriptoMixer are its security features and low transaction fees. CriptoMixer charges a fee ranging from 0.5 to 3%. In terms of security, CriptoMixer claims that its servers have never been breached, and that advanced encryption methods are used to ensure data integrity. Also, over 2,000 BTC kept in reserve help to boost CriptoMixer's mixing capabilities.
Pros
Over 2,000 BTC in reserve for protection

High-level encryption on CriptoMixer's servers

Low fees

Specifically designed for the Bitcoin community
Cons
Only supports Bitcoin transactions

Some customers havecomplainedabout CriptoMixer
2. Blender.io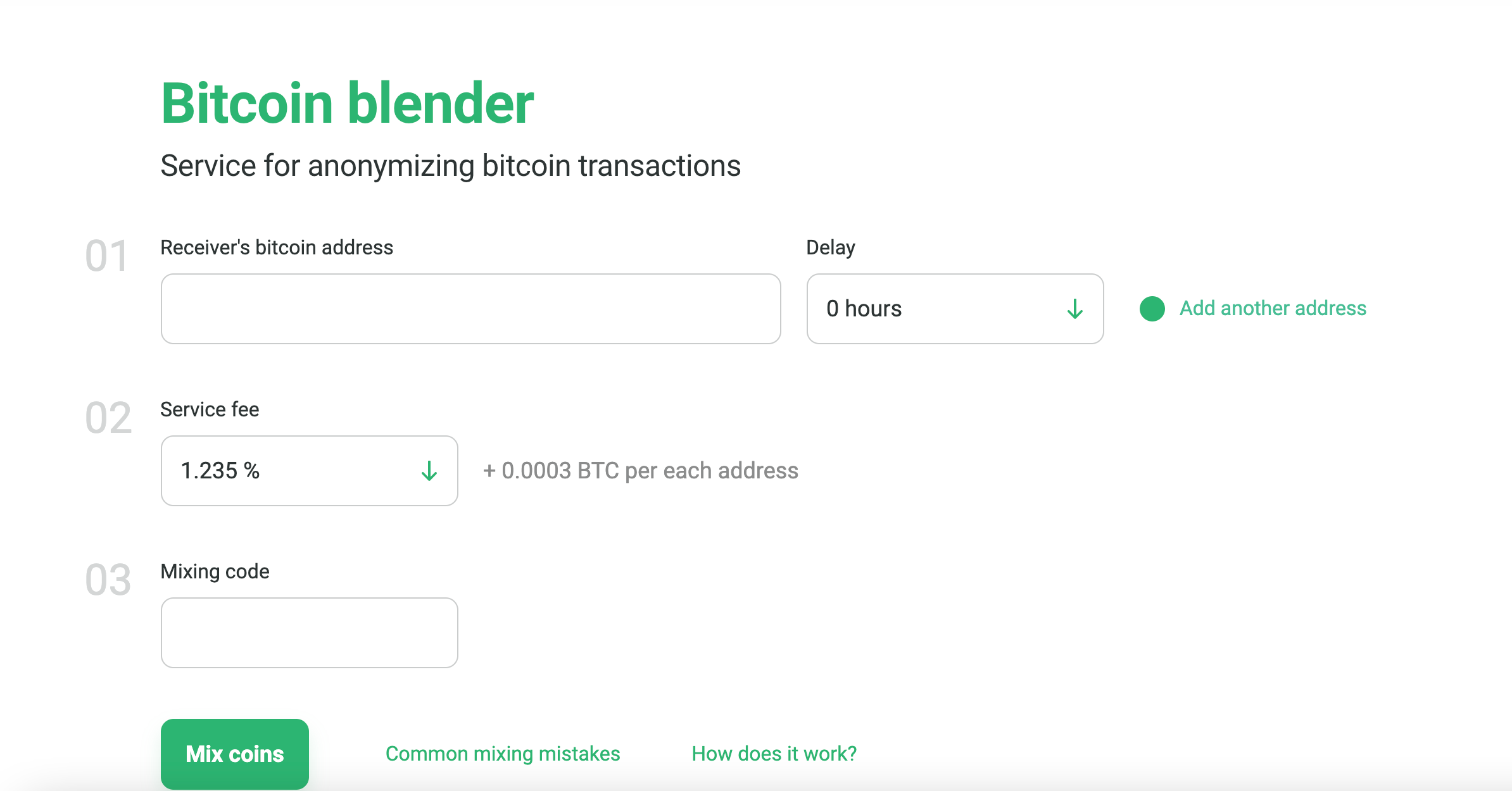 Source: Blender.io
Blender.io is one of the many cryptocurrency mixers that have popped up in recent years, and it promises to provide top-notch security and anonymity.
Operating as a web-based platform, Blender.io allows users to mix their cryptocurrency, providing support for Bitcoin, Ether, Litecoin and Monero. The platform charges a variable fee, depending on the coin being mixed.
Blender.io claims to offer several perks. First, it requires no registration or KYC/AMLverification. This means that you can use the service without having to provide any personal information. Second, it allows you to set your mixing fee.
Third, Blender.io has a user-friendly interface that makes it easy to use, even for those who aren't tech-savvy. Fourth, the platform employs several security features, including 2-factor authentication (2FA) and multi-signature wallets. Finally, Blender.io offers customer support via both email and Telegram.
Pros
No KYC required

Intuitive user interface

Offers a variable mixing fee ranging from 0.6% to 2.5%

Supports the use of several addresses on coin returns
Cons
Their services are occasionally unavailable
3. FoxMixer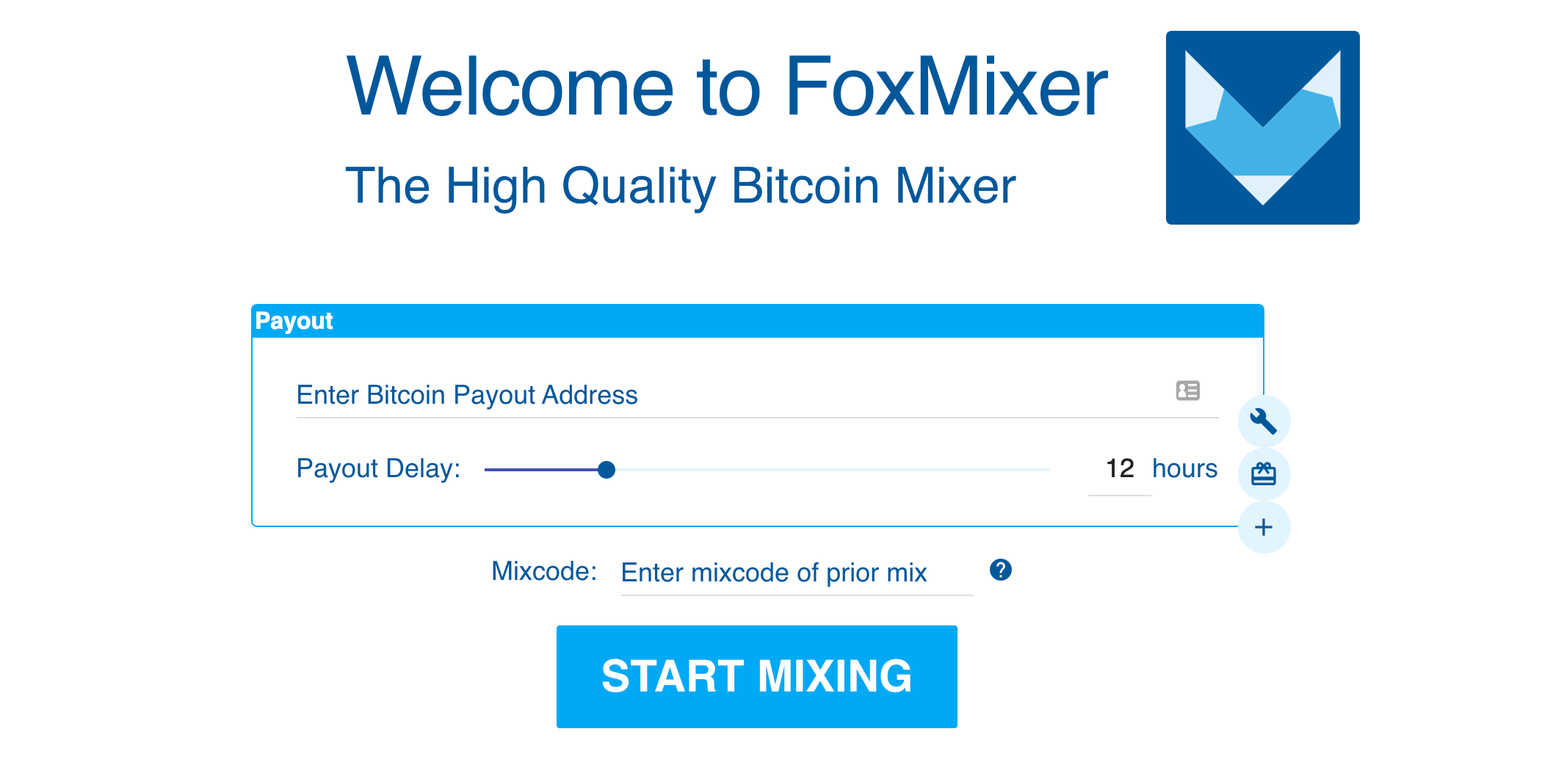 Source: FoxMixer
If you're looking for a crypto mixer with positive reviews on most online forums, be sure to check out FoxMixer. The platform supports the anonymization of Bitcoin, Litecoin, Bitcoin SV, Bitcoin Cash and Ether. There is a minimum transaction requirement of 0.002 BTC. 
Coins entered into the site are divided into small transactions, and then mixed a couple of times. The user receives the same amount of funds in the reverse transaction. Customers have the option of selecting different pools for mixing. The pools differ in terms of the level of protection; however, FoxMixer claims that the level of anonymity is equally high across the board.
Pros
Offers varying degrees of privacy with its mixing pools

Intuitive user interface

Highly rated

Supports the mixing of multiple coins
Cons
Relatively high fees, ranging from 1% to 5%
4. ChipMixer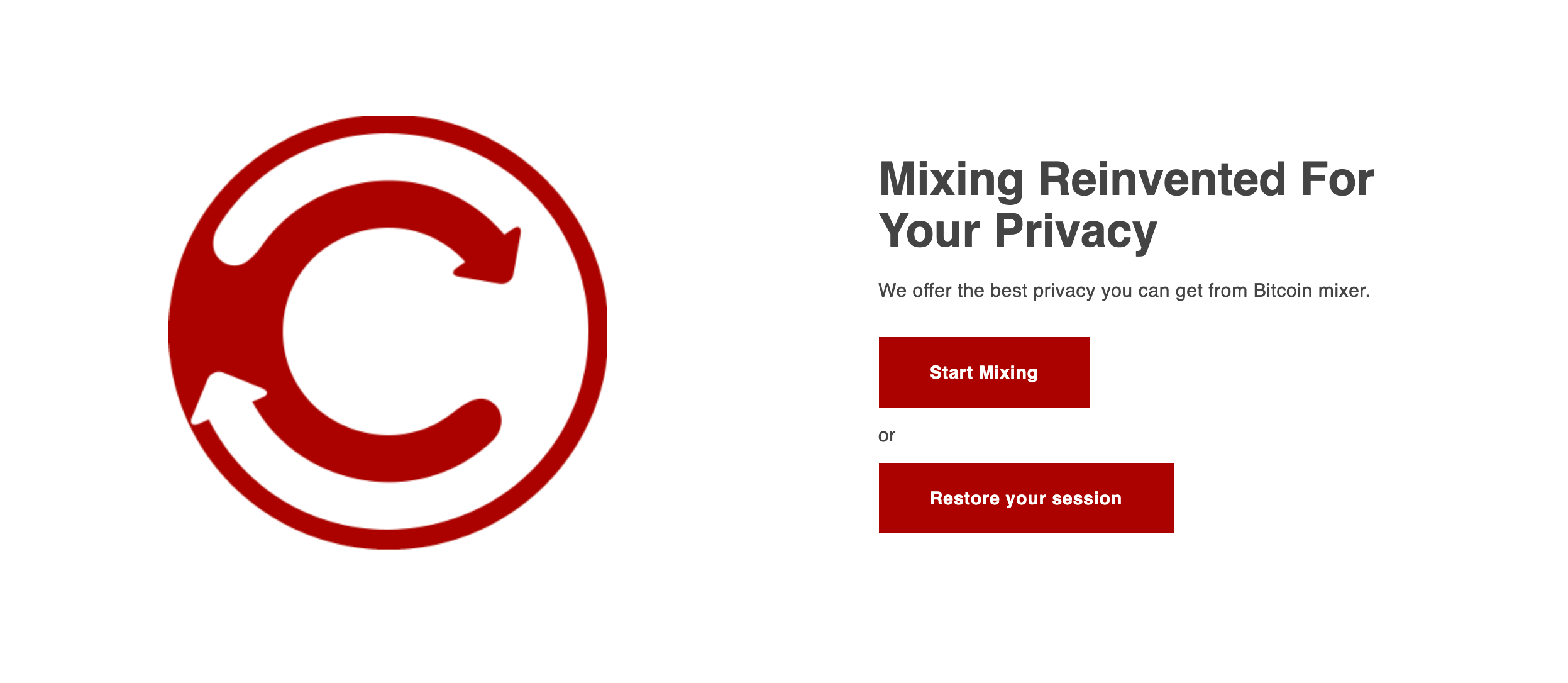 Source: ChipMixer
Compared to its competitors,ChipMixerboasts additional features that provide more security and privacy for users. Although this crypto mixer only supports Bitcoin transactions, users can split and merge coins into different wallets and make reverse transactions while using various addresses.
No registration or KYC verification is required, plus there's no service fee. While it's not compulsory, you can make a donation to help keep the service going. 
Perhaps the only downside of this platform is that users have to wait up to seven days for their transactions to be complete.
Pros
Low minimum deposit requirement

Zero service fees

Beginner-friendly user interface
Cons
Only supports Bitcoin transactions
5. MixTum.io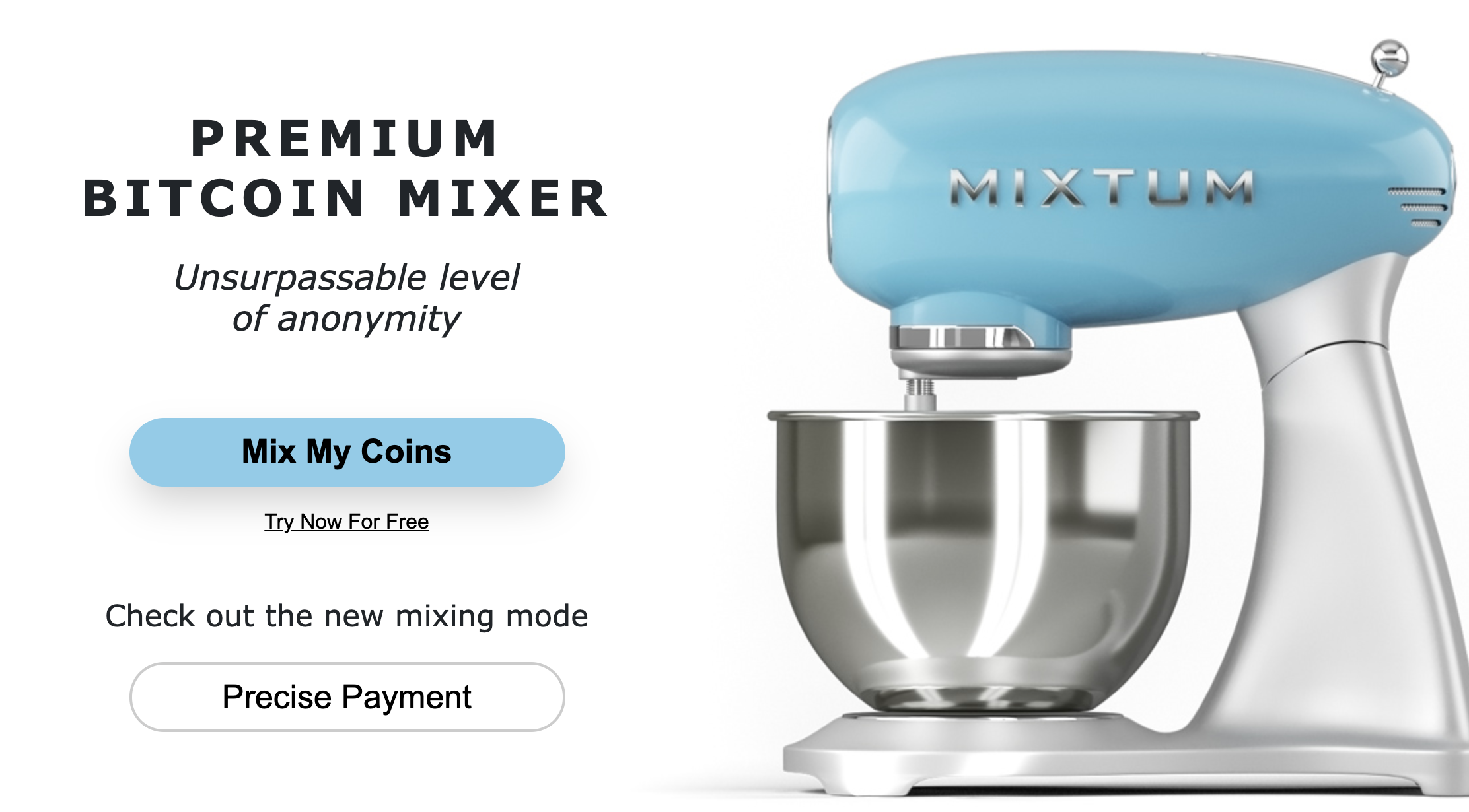 Source: MixTum.io
With a set minimum deposit of 0.001 BTC, MixTum.io is one of the more affordable cryptocurrency mixers currently in operation, offering levels of anonymity that are hard to beat. At the moment, the platform only supports Bitcoin transactions, and charges a fee ranging between 4% and 5%.
MixTum.io offers several features that make it unique compared to its competitors. One such feature is "stealth addresses." When you deposit with MixTum.io, a new and unique Bitcoin address is generated for you (stealth address) that can only be used once. This makes it impossible to link your deposit to any past or future transactions.
Another feature offered by MixTum.io is "time-delayed withdrawals." With this feature, you can schedule your withdrawal for any time between 24 hours and 30 days, making it even more difficult to trace your funds back to you. However, one con of MixTum.io is that it doesn't allow clients to set mixing time frames.
Pros
Fully automated and available around the clock

No registration or KYC verification required

Free trial option available
Cons
Relatively high fees of 4–5%

Only supports Bitcoin
Closing Thoughts
So, there you have it. Whether you're looking for a straightforward crypto mixer or one with advanced/sophisticated features, there's sure to be an option that meets your needs in the list we've covered.
Before coming to a decision, be sure to carefully compare the features and fees across the mixers. Remember — when it comes to protecting your privacy, it's better to be safe than sorry. While cryptocurrency mixers can offer anonymity, keep in mind that not all of them are created equal. Always choose wisely!