Yield Guild Games (YGG): A GameFi DAO That Gives Back
According to Chainalysis, a top analysis firm, the valuation of the NFT marketplace was estimated at over $40 billion in 2021. While several factors are responsible for this explosive growth, one major factor was undoubtedly the increase in the global adoption rate of cryptocurrency and blockchain.
The rise of NFTs also gave rise to innovations like the play-to-earn, NFT-based blockchain gaming model. This P2E model started gaining popularity during the pandemic in 2020, when many people lost their sources of income and were homebound as a result of mobility restrictions.
In the same period, blockchain gaming platforms like Axie Infinity recorded an exponential increase in registrations and participation globally. However, Axies (pet monsters in Axie Infinity) became quite expensive. In September 2021, the average price for one Axie was $355. This was when a brilliant project rose to the occasion — a gaming guild that lends NFTs to gamers who can't afford them, and lowers the entry barrier into the P2E system significantly. In this article, we'll take a look at Yield Guild Games.
What Is Yield Guild Games?
To help you grasp the workings of Yield Guild Games, we'll start by breaking down some terms: Guild, DAO, play-to-earn, and NFTs.
A guild, according to the Oxford Dictionary, is an "association of people for mutual aid or the pursuit of a common goal." Its connotations reach as far back as the medieval association of craftsmen and merchants.
A DAO, short for decentralized autonomous organization, is an organization that's controlled by computer codes and runs autonomously, without the need for a central entity. 
"Play-to-earn," or P2E, refers to online games in which the players can generate real-world rewards for their in-game activities. These are typically limited to NFT-based blockchain games, as they rely on transferable rewards on an open market.
NFTs, short for non-fungible tokens, are digital representations of real-world assets such as music, art, videos, and in-game items, with a one-of-a-kind digital signature that can't be duplicated.
Yield Guild Games
Yield Guild Games is a gaming guild that operates as a DAO and primarily invests in NFTs used in blockchain games and virtual worlds. It's a community-centric organization, whose mission is to institute the largest virtual economy by optimizing its community-owned assets for maximum profit and sharing this with its community.
Yield Guild Games has established itself in different NFT-based blockchain gaming economies and virtual worlds, such as Axie Infinity, League of Kingdoms, F1 Delta Time, The Sandbox, Zed Run, and more. It incorporates yield farming into these virtual world economies and adds value by improving the content and economy of these games.
In simple terms, Yield Guild Games is a community of NFT-based blockchain gamers coming together to play games and increase their earning capacity within different P2E gaming communities, and to grow their NFT assets. Yield Guild Games is focused on building a global gaming community that lowers the barrier for entering P2E games, and onboarding as many people as possible into the P2E era.
What Is YGG?
YGG is the utility and governance token of the Yield Guild Games DAO. It's an ERC20 token that allows its holders to contribute to the governance of the YGG DAO. As the platform's utility token, YGG can be used to pay for all transactions within the YGG community, and also staked to earn specific rewards.
According to YGG tokenomics, there are 1 billion YGG tokens, with 45% (450 million YGG) reserved for community allocation. 
What Is YGG Used For? 
The YGG can be used in three primary ways within its ecosystem: For transaction purposes, administration and governance, and rewards systems. 
Transaction Purposes 
The YGG token is the payment medium for everything, including services, within the Yield Guild Games network. To purchase in-game items, different tokens are first converted to YGG tokens to complete transactions.
Administration and Governance 
At its inception, Yield Guild Games' founders were the core team of the DAO. The team gradually grew into early investors, asset owners and players in the blockchain gaming and NFT space. As part of being a community-centered DAO, YGG token holders will eventually replace the early teams as administrators of the protocol.
YGG token holders can submit proposals and vote through YGG's website on subjects related to the gaming guilds, NFT game products and projects, YGG token distribution, and the general governance structure of the gaming guild.
Rewards System 
Yield Guild Games is a community-oriented platform that gives back to its community members, creating many activities, contests and incentives to encourage participation and overall contribution to the gaming guild's growth. The YGG token is used to issue rewards to community members, with an impressive 450 million YGG tokens reserved for them. 
YGG tokens can also be staked in the following ways:
For token rewards related to its overall activities

For rewards related to specific activities

To access exclusive content on their Discord channel

To subscribe for exclusive merchandise
Yield Farming 
Community members holding YGG tokens can create liquidity flow to LPs (liquidity providers) for decentralized exchanges, and obtain liquidity mining rewards and a portion of the DEX's transaction fees.
How Does Yield Guild Games Work?
Yield Guild Games operates with an innovative model that combines the P2E model, a DAO, and decentralized finance (DeFi) to create a virtual economy powered by smart contracts that run on the Ethereum blockchain.
Its smart contracts are multifunctional, and work to issue rewards, enable government and administration by guild members, and facilitate NFT purchases and rentals.
Since Yield Guild Games is a global innovation, its structure comprises numerous SubDAOs that group players by NFT game choice or locations. The SubDAOs are built as independent protocols with different rules that manage the operations and assets of each P2E game.
This model of creating SubDAOs apart from the main DAO increases the efficiency of the DAO, as well as the effectiveness of players maximizing in-game profits from different NFT games. 
Key Features
Yield Guild Games has a number of exciting features that help it easily stand out in the NFT games market. Some of these are as follows.
YGG Treasury
Yield Guild Games has a unique Treasury that oversees the management of all Yield Guild Games assets to maximize the value returned to the YGG DAO over time.
The economic activities of the YGG Treasury consist of: 
Asset purchase in the form of cryptocurrencies, virtual assets in the metaverse, SAFTs, in-game tokens, and other NFTs to contribute to the development of metaverse economies

Arbitrage farms to maximize yields

Management of locked, invested, and undistributed tokens of all parties

Guiding of cases that involve debt and interest payments, and acquisition of assets, including buybacks and fundraising rounds

Financial operations, such as accounting, audits, reporting and tax
SubDAOs
The YGG DAO has a subroutine called SubDAOs that group players based on the P2E game they choose, or by location. This grouping enables players with similar interests to come together as a team to maximize performance and increase overall earnings. 
SubDAOs come with rules and regulations that guide gaming activities and assets. Each SubDAO has a leader, a group wallet, and a SubDAO token for the organization's use. Yields generated by token holders from each gameplay are shared based on individual contributions to the SubDAO. Token holders also get to make proposals and vote on the SubDAO's rules.
YGG Vault
The YGG DAO has incorporated an improved way of staking that's different from traditional DeFi staking systems. Typically, tokens are staked to earn more tokens at a fixed interest rate, but the YGG DAO introduces a dynamic staking system that allows you to earn from multiple sources it calls "vaults."
Each vault at YGG represents a token rewards program for specific activities, or for all activities within YGG. Token holders need to decide which vault they want rewards from. For example, a vault can be specific to NFT rentals, or Axie breeding activities.
There's also the option of staking in an all-in-one system. You'll be rewarded with a portion of earnings from each vault, equivalent to the amount of YGG staked by each guild member.
YGG Scholarships
The YGG DAO has a program that rents NFTs to guild members who cannot afford one. Within the YGG guild, this program is called "scholarships." Recipients of scholarships don't need to make repayment upfront. Instead, they share a portion of their earnings with the guild, contributing to its overall development.
Community-Centered
The Yield Guild Games built the YGG DAO with its guild members in mind. Since the guild members run the administration and governance of the guild, who better to receive more compensation? The YGG DAO has set aside 45% of its total supply for community allocation, which will be spread out to guild members over four years through airdrops, special incentives and achievement rewards.
YGG Tokenomics
Source: CoinMarketCap
Note: Figures below are accurate and approximated up to two decimal places as of this writing.
Total Supply — 1 billion YGG
Maximum Supply — 1 billion
Circulating Supply — 112 million (about 11% of the total supply) 
Market Value — $3.02
Market Cap — $339 million
24-Hour Trading Volume — $67 million
Is Yield Guild Games a Good Investment? 
Yield Guild Games is an exciting project with unique selling points, positioned in a fast-growing market worldwide. It sits at the intersection of three markets with solid potential for growth: NFTs, blockchain gaming and DeFi. Here are some noteworthy statistics:
NFT sales topped $2 billion in Q1 of 2021

NBA Top Shot and NFT artists, such as Beeple, have pushed NFTs into the mainstream vernacular

DeFi tokens hit $50 billion in total locked value as of March 2021

There were over 70 million crypto wallet holders as of March 2021 

The global gaming market reached $167.9 billion in 2020

The rise of virtual worlds, such as Decentraland, and blockchain games, such as Axie Infinity and The Sandbox, has driven a fully diluted valuation of over $1.8 billion as of March 2021
The above data shows the growth potential of the YGG DAO for the long term, with many people gradually adopting and participating in NFT-based blockchain games. Overall, YGG DAO and its token, YGG, look to make viable investments in the long run.
Buying YGG
The YGG token can be traded as a derivative product on many reliable exchanges, including Bybit. 
On Bybit, the trading of YGG derivatives is made simple by pairing it with USDT as a USDT perpetual contract. Essentially, you're using the USDT stablecoin as collateral to trade the YGG derivative, with all of the settlements done in USDT alone. 
Here's how you can trade the YGG/USDT perpetual on Bybit. 
Step 1
You must have a registered Bybit account to trade any asset on the exchange. If you already have an account, please skip to the next step. If not, complete the quick sign-up process by visiting the official Bybit exchange website. After you enter the requested personal information, create a strong password, and make sure to complete a simple verification process to transact fiat money on the exchange. 
Step 2
Visit the Derivatives section on the exchange and search for the YGG/USDT asset class. Make sure that you have USDT in your Bybit derivatives wallet, as all the settlements for the trade are made in USDT. You can do this in three different ways — deposit, exchange, or buy. Deposit your existing USDT from an external wallet or exchange, exchange your other crypto tokens in your Bybit wallet for USDT, or directly buy USDT using Bybit's fiat gateway.
Step 3
Once done, you're ready to place your trade. You can do this by using a limit, market, or conditional order. We recommend using a limit order to avoid slippage, and to enter the market at your desired price. Bybit allows a 10x margin on the YGG/USDT perpetual contract with which you can maximize your profits. If you're using a limit order, enter the price at which you want to enter the market and the number of YGG contracts you want to trade.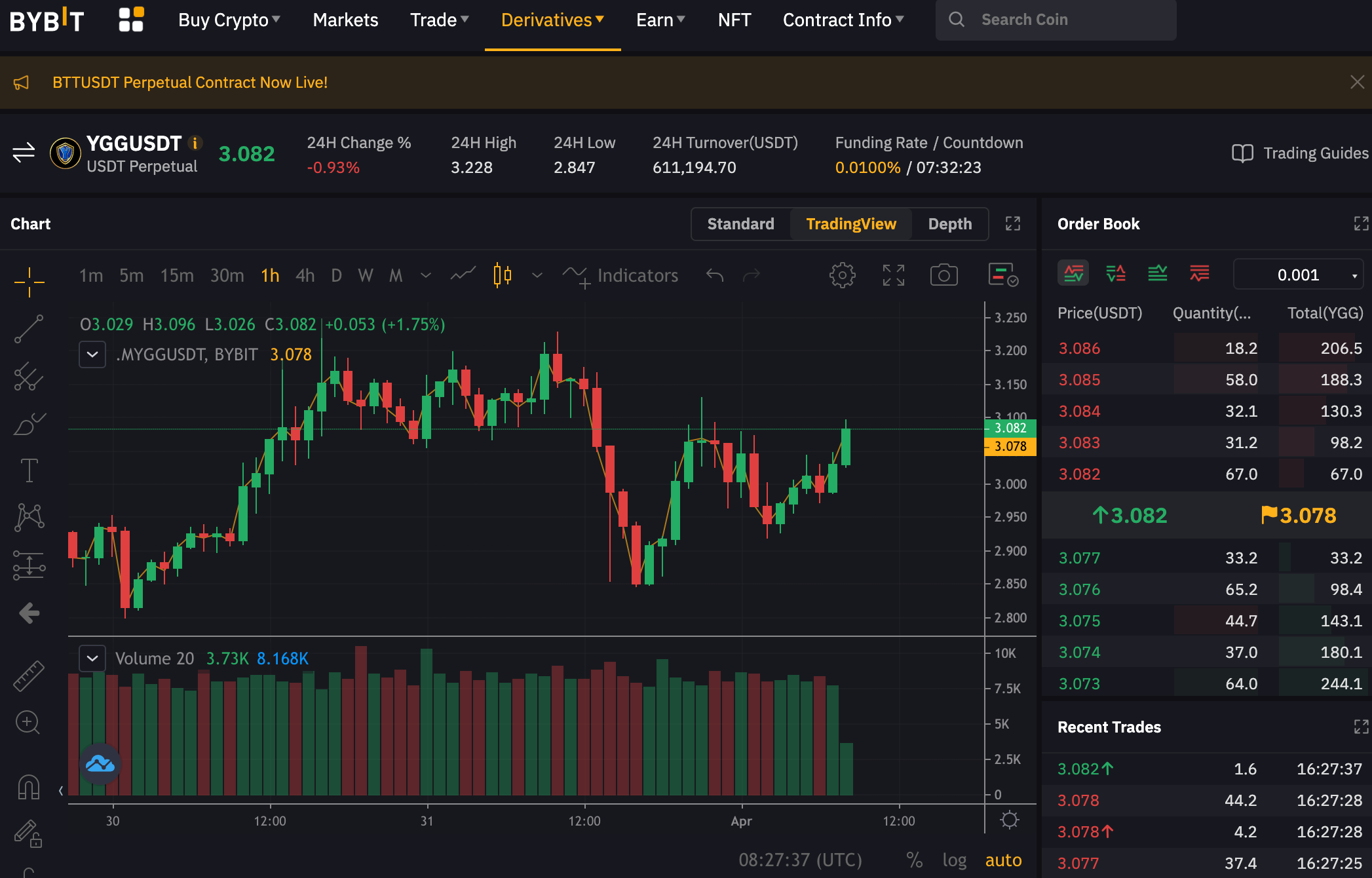 Source: Bybit | YGG/USDT
Step 4
All you need to do now is place your order. You can go long or short, based on your technical analysis and market conditions. Make sure to place accurate take-profit and stop-loss orders to mitigate the risk of liquidation. The crypto market is volatile, and following strict money management rules is essential — especially while margin trading. 
Once the order is placed, you can see all of the details in the order section at the bottom of the trading terminal. The trade will be closed once the asset class price reaches either the take-profit or stop-loss level. If you wish to exit the Buy trade manually, click on Sell (and vice-versa).
Closing Thoughts
Axie Infinity's valuation has risen to over 3 billion dollars within just three years, and the game has paved the way for subsequent P2E models. Following its lead, Yield Guild Games has decided to expand on what Axie started by reaching even more people worldwide and lowering the barrier for P2E entry.
The P2E model has played a crucial role during the devastating global wave of COVID-19 in helping people earn money. For some, it's served as a much-needed source of income, and blockchain gaming platforms recorded a surge in registration during those periods. (Editor's note: While P2E games can be highly lucrative, they are not risk-free and we do not recommend relying on them as your sole source of income.)
While Axie started with something great, YGG offers even more through its unique model, dynamic staking system, scholarships, vaults and tokens. P2E models are here to stay, which means YGG is too, for the long run. If YGG continues to onboard games like Axie Infinity, its future will certainly be a bright one. We can't wait to see what it has in store next.