X World Games (XWG): Making Blockchain Games Accessible
Introduction
The blockchain industry has exploded over the past few years, with its growth evidenced by user statistics. Modesta Massoit, finance director at DappRadar, states that the number of unique wallets interacting with game-related smart contracts each day surged to 1.3 million by the end of 2021 — a 46-fold increase on the 28,000 recorded at the end of 2020.
While games like Axie Infinity haven't been around for long, they've found success in the blockchain community and have become a hit among blockchain gamers. However, some web2 gamers may be unaware of how blockchain gaming works, or are hesitant to get on board due to the lack of tangible incentives. X World Games is focused on bringing these gamers into the blockchain gaming space through a unique gaming model that creates real value, while offering plenty of opportunities for fun.
This article will explore what X World Games is, how it works, and the key features of the project. We'll also go into details about X World Games' XWG token, predictions about its investment potential, and steps for buying XWG on Bybit. Let's dive in!
What Is X World Games?
X World Games is a blockchain-based gaming ecosystem developed on the Binance Smart Chain (BSC). The project aims to connect the gaming space with the fast-growing crypto world to create a global gaming community in which users can create, trade and collect NFTs while participating in multiplayer games. Members of the decentralized platform can play to earn XWG tokens, which can then be traded for other assets or used to execute in-game functionality.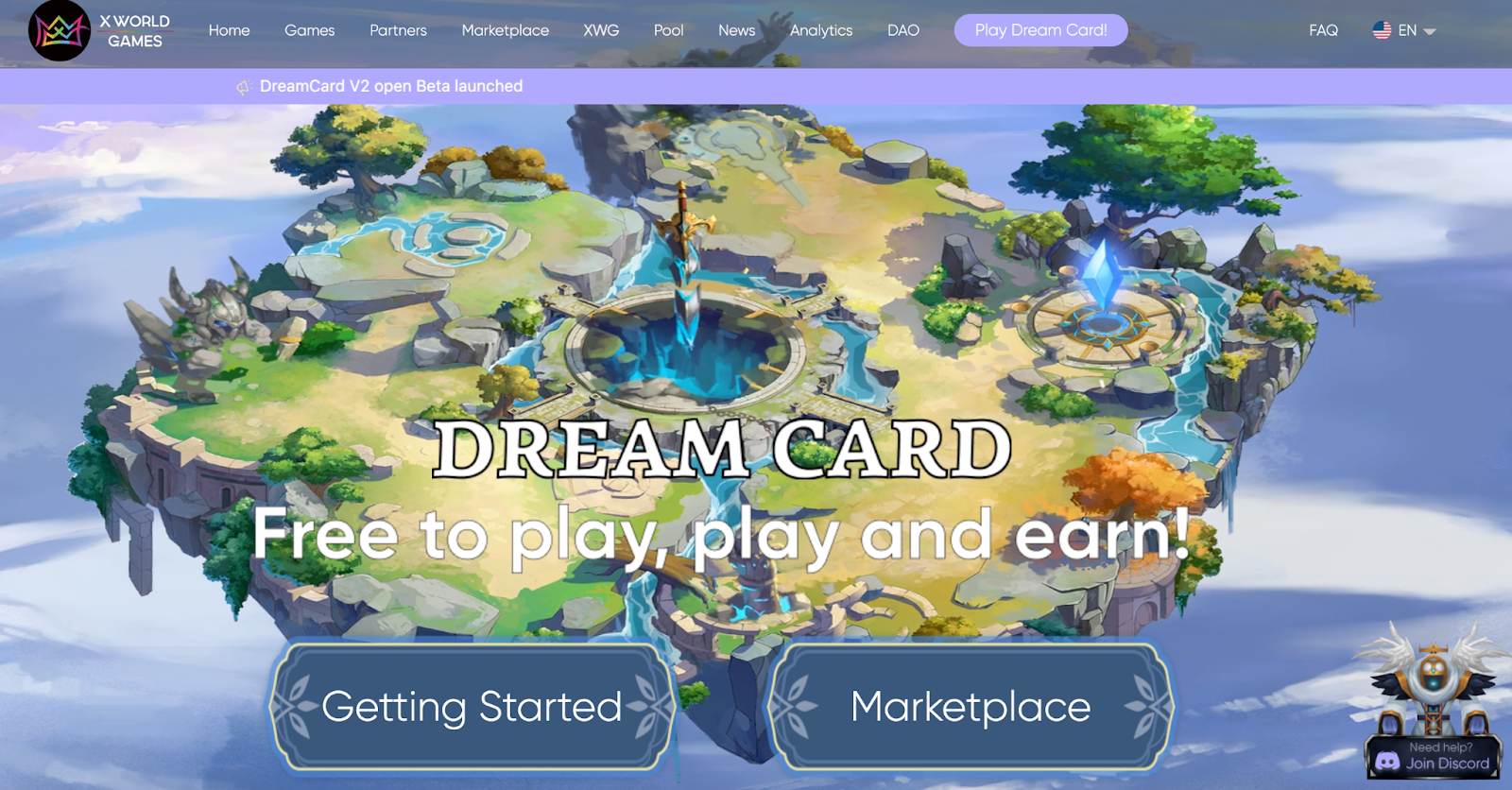 Source: X World Games
The X World Games metaverse brings millions of gamers together and introduces them to blockchain technology and NFTs. Inspired by the popular card game Pokémon, the X World Games team embarked upon their project in 2019 and launched on BSC in 2021. The first title made available on X World Games was Dream Card, a blockchain trading card game. The developers of X World Games hope to attract gamers with a captivating plot that's inspired by the classic Chinese tale, Romance of the Three Kingdoms.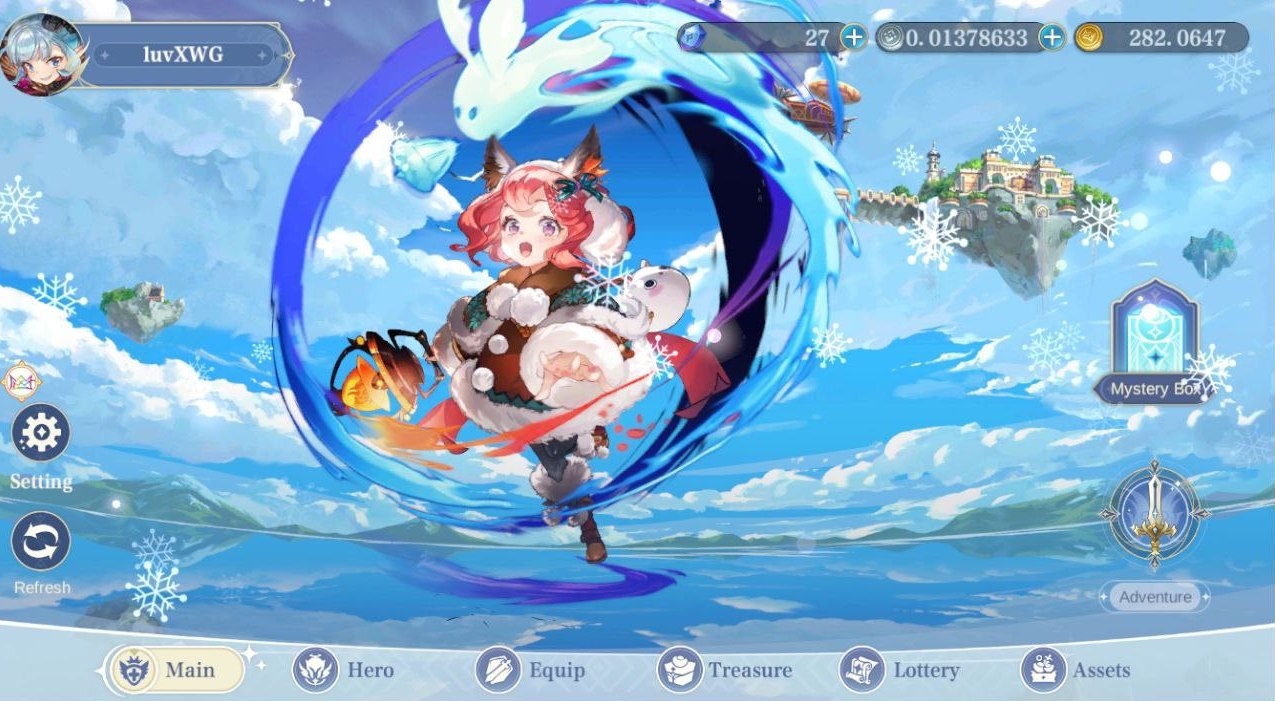 Source: X World Games
X World Games is on a mission to create a diversified gaming ecosystem that will connect gamers from the traditional gaming industry with the blockchain world, and assist game developers in entering the crypto space with an ideal blockchain framework.
What Is XWG?
The native cryptocurrency of X World Games, XWG is mirrored as a BEP20 and ERC20 token. XWG allows its holders to collect, create and take part in the game. The total supply of XWG is capped at 10 billion tokens.
X World Games has used different protocols to issue various digital assets. The XWG token adopts BSC's BEP20 standard. BEP20's security, scalability and affordability will expand X World Games' player base, and reduce the cost of switching the project from the mainstream gaming world to the blockchain space.
Token Utility
XWG is the digital token that allows players to purchase in-game items and participate in game events on X World Games. It is used for making payments between players, collectors and creators in the game ecosystem.

XWG token holders can join in creating new cards, and earn tokens as market makers. This game-mining approach helps enrich the ecosystem by giving miners token rewards when playing.

XWG token holders can participate in the game's governance through a decentralized autonomous organization (DAO) that comprises voting structures and development proposals. Token holders can vote on questions pertaining to X World Games' operations. Rewards are issued to encourage more users to vote.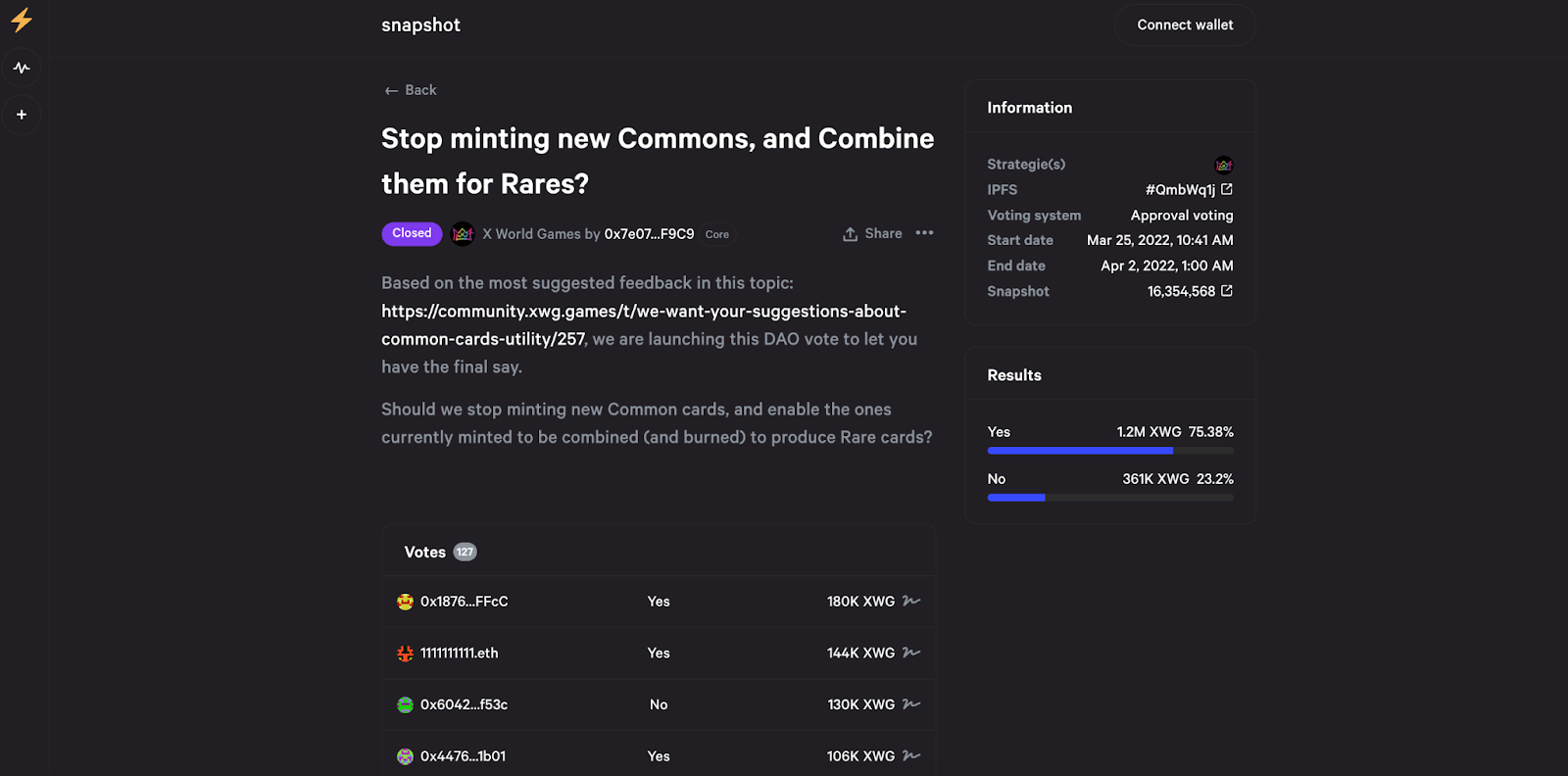 Source: X World Games, snapshot.org
A proportion of tokens are reserved as user incentives. Players can earn these XWG tokens by simply playing the game. This play-to-earn (P2E) structure is intended to facilitate greater and more active user participation in the game, encourage community growth, and maintain a sense of excitement on the X World Games platform.
X World Games: How It Works
The traditional online content distribution industry typically operates as follows:
Multiple intermediate channels for publishing, distributing, payments, etc. stand between initial content generation and content consumption. These intermediate channels (which usually operate from a monopolistic position) take away a substantial portion of the proceeds paid by users, leaving only a small portion for content providers.
The XWG ecosystem solves the pain points of content providers and users by harnessing blockchain technology in the ways listed below.
User Experience
When users enter the XWG ecosystem, they'll receive rewards in XWG tokens (ERC20 format) or game card tokens (ERC 721 format) for their engagement with different platforms connected to the XWG ecosystem. 
User engagement is measured based on factors such as recharge amount, time spent playing, and number of friend invites sent. Additionally, users can use XWG game cards in the XWG arena, exchange them for XWG tokens, or save limited edition cards as collectibles.
Users can exchange XWG tokens held by users for other tokens using a crypto exchange.
Content Providers
Content providers can enjoy the following benefits with the XWG model:
Increased profit sharing: XWG aims to increase profit sharing to 30%–40%, while the industry average profit-sharing percentage is around 10%20% (the largest distributors such as Tencent usually fall on the lower end of the spectrum).
Payment and settlement powered by blockchain: XWG will provide payment and settlement solutions for content providers, with all settlements made through XWG.
Increased traffic: An increase in the traffic of the whole ecosystem, where different games may share assets or features, will also bring in more customers for content providers.
Key Features of X World Games
1. Decentralization
X World Games enables true decentralized ownership in the gaming world through a DAO. XWG token holders have a say in the ecosystem's next in-game update or governance policy, including tokenomic systems and reward mechanisms.
2. Creation & Collection
Players have the option to create in-game items such as unique avatars, fantasy equipment, and more. All in-game items are tokenized and represented as NFTs that can be traded in a decentralized open marketplace.
3. Global Community
X World Games is powered by a global community consisting of gamers, investors and creators, who help build an immersive multiplayer experience and a balanced ecosystem.
4. Cross-Game Experience
Players can enjoy different games in an open metaverse through cross-game experiences, while truly owning their characters and sets. They can also access their assets across all games of the X World.
XWG Tokenomics
The native coin of the X World Games, XWG, has a fixed total supply of 10 billion coins that are allocated as follows: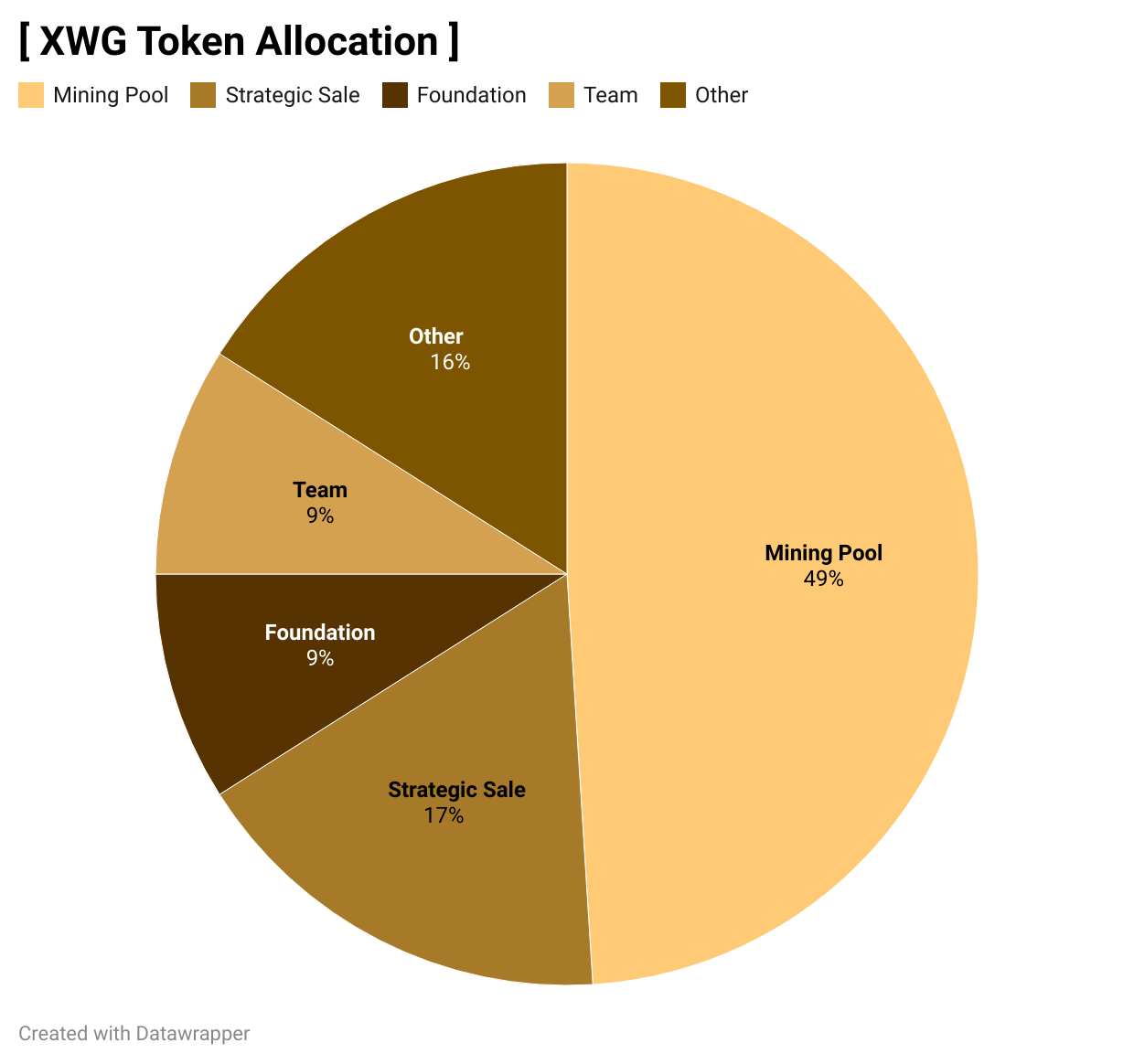 As of May 31, 2022, the price of 1 XWG is around $0.015, with a 24-hour trading volume of approximately $7 million. It ranks #642 on CoinMarketCap, with a live market capitalization of roughly $20 million and 1.34 billion XWG tokens in circulation.

Source: CoinMarketCap
Pros
1. Real Monetary Returns
X World Games' P2E model allows players to collect assets that have real value and can be sold for money ... even outside the game's ecosystem. This monetary incentive makes XWG an attractive avenue for gamers who would otherwise not spend much time on a game.
2. Loyal Community
X World Games' P2E model helps foster a loyal community built on players' enjoyment of games, as well as the value that's generated from playing. The prospect of receiving returns for time spent automatically creates a sense of loyalty — since real value and real fun are at stake.
3. Adoption
Although blockchain technology is still gaining traction in the gaming world, the P2E model implemented by X World Games is definitely helping to draw in players. Even if users don't know much about blockchain, the general sentiment appears to be that they're willing to learn about it and adopt it due to the promises made by the team.
4. Development
Higher participation in X World Games due to its P2E model is generating good revenue and higher demand for developers in the blockchain gaming space. This demand helps draw in new developers, thus expanding the XWG ecosystem and the crypto ecosystem at large.
5. Creating Value
Players create value for themselves and for X World Games. The game's developers receive revenue, and players can earn returns from the assets acquired, translating into real-world value for both groups.
Cons
1. Possibility of Less-Engaging Gameplay
Since X World Games is an open, decentralized gaming platform, any developer can use it to design and deploy NFT games, irrespective of their skill or experience level. If the design or gameplay of these games closely resembles that of traditional browser games, players looking to engage in blockchain gaming might not be interested.
2. Returns May Not Be Able to Justify Investments Made
X World Games' P2E model might not work too well for those struggling to familiarize themselves with its mechanics. For the newbie user, it'll likely take some time before seeing any returns.
3. Steep Learning Curve for Newbies
Those new to the blockchain gaming space might feel overwhelmed by how tokens and NFTs are used for all in-game actions. New players may also find themselves confused by the various game options available, and it might take them a while to learn how to mint and trade NFTs.
Is X World Games (XWG) a Good Investment?
Despite gamers' hesitation to adopt blockchain gaming, we believe X World Games can make impactful partnerships with other crypto gaming communities to increase user awareness. The consequent increase in adoption could raise XWG's maximum trading price to $0.073 by the end of 2022.
If long-term investors hold XWG, the average price of the token could reach $0.091 in 2023. If the market has a good bull run in 2023, X World Games' price may even surpass $0.11.
With substantial cooperation with financial institutions, the crypto market could see another bullish trend in 2030, causing XWG to hit an average price of $1.22.
Buying XWG
XWG, the native token of the X World Games platform, can't be bought directly with fiat currency. The purchase process, however, is actually very simple. Here's how you can purchase XWG from Bybit.
Step 1
To purchase XWG tokens, you must first create an account on Bybit.
Step 2
If you don't yet have USDT tokens, you'll have to purchase them using a debit card, credit card or bank transfer.
Step 3
Complete your transaction at your desired price by placing a limit order. Enter your order price in USDT and select the amount of XWG you want to obtain. If the price hits the amount you've specified, your order will execute, and the XWG tokens will be reflected in your account.
Source:
Bybit
Closing Thoughts
X World Games is trying to help web2 gamers and game developers enter the blockchain gaming space by utilizing the P2E model. Developers can create games that players can play directly on X World Games, without intermediaries usurping any of the profits — since value is transferred directly from users' purchases to content creators. 
The P2E model used by X World Games incentivizes new users to join the gaming platform, thereby increasing revenue for developers and expanding the ecosystem exponentially. In the process, X World Games is fostering a loyal community of web3 developers and gamers, who will influence the future of the blockchain gaming industry. 
The growing adoption of X World Games indicates that the value of its XWG token will also increase, making it a potential investment opportunity for interested stakeholders. That said, it's important for each individual to do their own research, monitor the charts regularly, and make an investment decision based on their existing portfolio.