Explained: What JUST (JST) Is
The decentralized finance (DeFi) landscape is witnessing record growth, with new projects springing up every month. With its bid to achieve power for the public at large, DeFi is attracting a steady stream of attention and being used as a foundation for creation by developers and project development teams alike.
An offshoot of the TRON Network, the JUST Network is a robust package of specialized smart contract-based financial products that run on TRON's blockchain. Alongside other projects, it seeks to grow the thriving TRON ecosystem. This article looks at the JUST Network in detail, including its features, prospects, and more.
What Is JUST?
Founded by Justin Sun, the JUST platform was launched in the third quarter of 2020, its name derived from the first four letters of its founder's name. JUST is a dynamic DeFi platform that provides a range of decentralized financial solutions, namely: JustStable, JustLend, JustSwap, JustLink, and cross-chain tokens. The system is built on the TRON network. It operates via a decentralized stablecoin system comprising USDJ and its governance token, JST.
USDJ, a stablecoin that's paired with the U.S. dollar and which accepts multiple collaterals, powers the main decentralized financial product of the network, JustStable. JustStable is a borderless stablecoin lending hub from which users can borrow stablecoins. With the growth of yield farming and the introduction of trading opportunities in the crypto space, investors and traders are increasingly looking to get stablecoins without selling their crypto holdings. JustStable offers users access to the liquidity they need. 
For example, if John needs some stablecoins for yield farming on an exchange, he has to deposit any of the tokens supported as collateral. In this case, he deposits the native TRON currency, TRX. The smart contract converts John's deposit to TRX and gives him USDJ. When John needs his TRX tokens, he returns the USDJ and gets his TRX back.
JustLend is a money market platform powered by a TRON smart contract in which users can add liquidity to liquidity pools to take out loans with low-interest rates.
Cross-chain tokens are assets of other blockchains that can be used in the JUST network after being tokenized on TRON. JustSwap is another smart contract system used to swap trustless tokens and create accessible liquidity pools.
What Is JST?
First introduced into circulation around May 2020, JST facilitates JUST's decentralized system and is used for paying fees. JST is a TRC20 token that enables holders to maintain the JUST platform and decide important aspects or changes to the platform, such as stability fees, which are the interest rates paid by borrowers, and the collateralization ratio, which refers to the minimum amount that can be deposited as collateral (relative to the amount to be borrowed). The JST token can also be used for utility purposes like fee payment and interest accrual.
How JUST Works
Because JUST is branched off from TRON, it relies heavily on the network to maintain its functions and level of security. 
Since JST is a TRON-20 token, the JUST platform uses a delegated proof of stake (DPoS) consensus to secure and maintain the blockchain. This is a system in which nodes that validate blocks of data to be added to the blockchain are selected based on the size of their stakes, and not their ability to solve hash puzzles. This system is deemed more sustainable than proof of work blockchains because the amount of energy it consumes is significantly lower.
Key Features
Two-Token System
The JUST ecosystem is run by the two tokens it mints — JST and USDJ — with JST serving as a governance token and the USDJ serving as the main product of the platform.
Multiple Products 
JUST offers a variety of products and services such as JustStable and JustLend, giving users — investors, traders, DApp developers and more many options to choose from.
JST Tokenomics

Source: CoinMarketCap
Note: Figures below are accurate as of the time of writing and are approximated up to two decimal places.
Max Supply — 9.9 billion JST tokens
Total Supply — 9.9 billion
Circulating Supply — 7.3 billion (74% of total supply)
Market Capitalization — $533 million
24-Hour Trading Volume — $135 million
JST Price — $0.07
Is JUST a Good Investment?
From the outset, JUST has benefited from plenty of publicity. Its time in the spotlight is attributed by some to the success of Justin Sun's previous project, TRON. Will Sun apply his Midas touch to this network? Only time will tell, but things look promising for now.
On the flip side, the hype surrounding JUST could potentially induce bias in investors and cause them to relax their assessment of the platform. As potential investors, we need to remember that JUST is ultimately a platform for developing TRON-based autonomous smart contract protocols — and make objective judgments based on actual data and not media hype.
Pros
Number of DApps
A large number of DApps run on the JUST network. This is beneficial because more DApps are needed on platforms. Having DApps for different niches of business activities and services will definitely increase the value of the network.
Backing by TRON
Thanks to its affiliation with TRON, JUST can utilize TRON's assets and security. A substantial number of developers and holders have thus been attracted to use the platform.
Smart Contracts
The beauty of DeFi platforms lies in smart contracts, which render otherwise complicated and cumbersome activities easy to carry out. With JUST, users can obtain stablecoins within a couple of hours via an autonomous system, and accounts can be opened quickly and for free.
Cons
Lack of Specialization
JUST hasn't found its place with some crypto spectators, who think the network's team should focus on TRON instead of simultaneously tackling both TRON and JUST. To put a twist on the old saying, they feel that a "jack of all cryptos is a master of none." These spectators believe the project will suffer from lack of specialization because ultimately, JUST isn't the main project — TRON is.
Staking
JUST doesn't allow holders to earn more tokens by staking their JST tokens. At the moment, it only allows TRON holders to stake their coins to earn USD. This means users have to hold both JST and TRON to maximize yields on the platform.
Token Uses
The JST/USDJ currency system could potentially confuse newbies who aren't familiar with the uses of both tokens — i.e., which one is for staking, and which is for governance purposes?
(Note: This article is not meant to serve as financial advice. Please do your own research before making any decisions, and only invest what you can afford to lose.)
Buying JST
JST tokens are available for purchase on reputable crypto exchanges. Here's how you can buy JST on Bybit.
Step 1: Create a verified Bybit trading account. 
Step 2: Log in and buy USDT using the Fiat Gateway. You can also transfer your existing USDT to your Bybit spot wallet. 
Step 3: Visit the Spot Market section and search for the JST/USDT pair. 
Step 4: Using a Limit Order, enter the price at which you want to buy JST and the number of USDT tokens you want to spend. Once the order is filled, your JST tokens will be transferred to your Bybit spot wallet.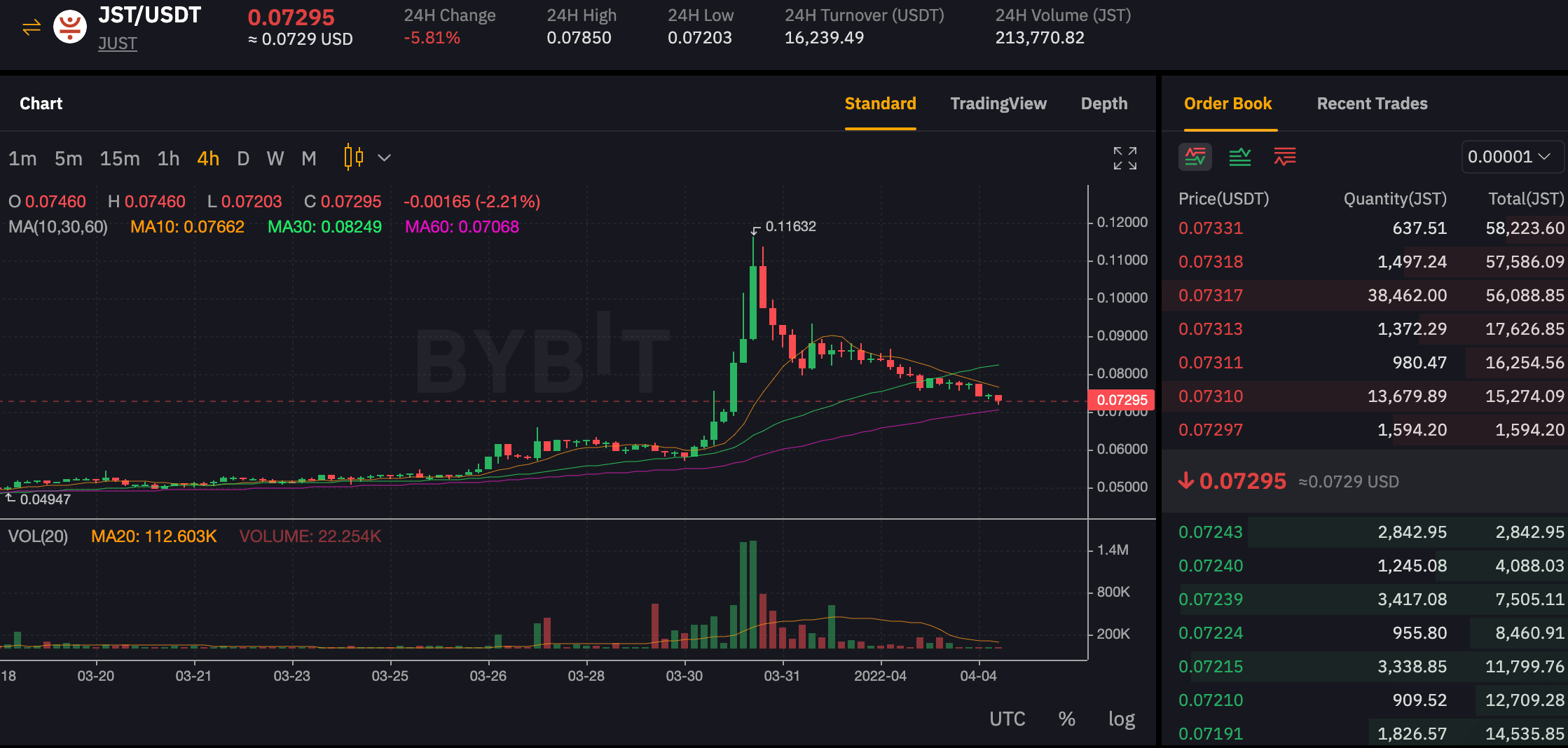 Source:
Bybit | JST/USDT
We also recommend transferring your tokens to a secured wallet that's not connected to the internet in any way. You can even use a hardware wallet — known to be more secure — for additional security.
Trade JST on Bybit now!
Closing Thoughts
With its range of products and mission of making DeFi more accessible to the public, JUST will likely gain more exposure as it looks to make DeFi borderless and free to all. JUST's future remains bright as long as its mother network, TRON, keeps up its good performance. As for investors, they can seize the opportunity to not merely witness, but also take part directly in the growth of the network.