What Is the Bored Ape Yacht Club NFT Collection All About?
Non-fungible tokens run the gamut from crypto art and avatars to virtual real estate and trading cards. When it comes to crypto collectibles like these, not all collections are created equal. In particular, the Bored Ape Yacht Club NFT collection is fast becoming a household name — not just for those in the know, but in mainstream media as well. With its rising popularity, it looks to dethrone current head honchos like CryptoPunks.
The collection's unique, almost instantly recognizable design has attracted large numbers of fans. Among them are celebrities and influencers such as rapper Eminem, television host Jimmy Fallon and billionaire entrepreneur Mark Cuban. This has only increased the hype, leading to soaring prices. In the last year, professional traders have been snapping them up on OpenSea and reselling them, making up to tenfold profits.
In this guide, you'll learn what the Bored Ape Yacht Club collection is, why it's so popular, and how it's garnered such a strong fan base.
What Is the Bored Ape Yacht Club NFT Collection?
The Bored Ape Yacht Club is a digital art collection of 10,000 different non-fungible tokens (NFTs). Each image depicts a cartoon ape in profile, decked out in various colors and traits, with unique facial expressions. The collection was launched in April 2021, with many celebrity owners taking a keen interest and purchasing them. Since its launch, the collection has risen in value by several thousand percent. They're commonly used as avatars on social media profiles. Aside from that, these NFTs also serve as entry passes to an elite social club.
The hype behind this NFT collection is helping it skyrocket in price. FOMO could lead to further price increases, especially if more celebrities make investments.
The NFT space had its first breakthrough in 2017 with the launch of CryptoPunks launched. However, their popularity quickly waned when the crypto market crashed. A couple of years later, when investors came flocking back to the crypto space, the foundation for NFTs was already established. The entire space quickly became popular again.
Likewise, the CryptoPunks collection experienced a resurgence, with its most expensive NFT selling for over $11 million. Currently, the popularity of NFTs is being fueled by the ongoing development of the metaverse, in which NFTs will play an important role, serving as certificates of ownership of goods, other items and virtual land in the digital world.
It's no surprise that a new and tremendously popular collection has emerged. In April 2021, the Bored Ape NFT collection seized its moment. Its 10,000 images quickly sold out for 0.08 ETH per NFT. At the time, that translated to around $190. As of January 2022, the cheapest one will set you back 71 ETH, which amounts to approximately $170,000 at the time of writing.
The Bored Ape Yacht Club collection, otherwise known as BAYC, is now one of the most popular NFT collections globally. It gained traction in July 2021, and its prices have kept pace with the growing interest. Let's take a look at the project's creators and its remarkable popularity.
Who's Behind the Bored Ape Yacht Club?
Yuga Labs LLC is the company behind the Bored Ape Yacht Club. When BAYC was launched, the company had four core members, all working under pseudonyms: No Sass, Gargamel, Emperor Tomato Ketchup and Gordon Goner. The team now counts 11 members from diverse ethnicities and cultures, demonstrating how designers and entrepreneurs from distinct backgrounds can cooperate and serving as an inspiration to the world.
Every team member is extremely passionate about NFTs, each one having spent the majority of their lives playing video games. They understand what NFTs mean for the future, and are already working on other projects that will hopefully leave a lasting mark in the NFT space.
The team is taking advantage of their abundant gaming experience, and is currently working on a blockchain gaming project implementing NFTs.
Why Are Bored Ape NFTs So Popular?
The clearest reason for BAYC's popularity is the current hype around the NFT space, which attracts millions of potential investors seeking profits. But there's more to it, including the following factors:
Scarcity
Celebrity Exposure
Big brand collaborations
Status
Let's look at each of these components in turn.
Scarcity
There are only 10,000 Bored Apes available. While that number might sound like a lot, it's a small number for the whole world. A global population of almost 8 billion means that only 0.000125% can get their hands on a Bored Ape NFT. 
Aside from the relatively small collection, some pieces are rarer than others, and are therefore significantly more valuable. In addition, there's a subjective appeal to certain stylistic aspects, such as clothing, color and facial expression.
Celebrity Exposure
Another reason for Bored Ape Yacht Club's undeniable traction is that dozens of celebrities have decided to invest in them. Additionally, some have flaunted their purchases on social media, drawing in masses of less illustrious fans.
Celebrities who have purchased Bored Apes include Eminem, Jimmy Fallon, Shaquille O'Neal, Gary Vaynerchuck, Post Malone, Mark Cuban and Stephen Curry. The list keeps growing, with the added exposure leading to even more celebrity investment and media coverage. Consequently, the general public has become aware of the Bored Ape Yacht Club NFT collection, in turn generating more hype.
Big Brand Collaboration
BAYC's most notable collaborator is Adidas. The company has teamed up with Yuga Labs LLC to release its own Bored Ape Yacht Club-style NFTs. Those who purchase Adidas NFTs will receive merchandise — featuring NFT Bored Apes purchased by Adidas.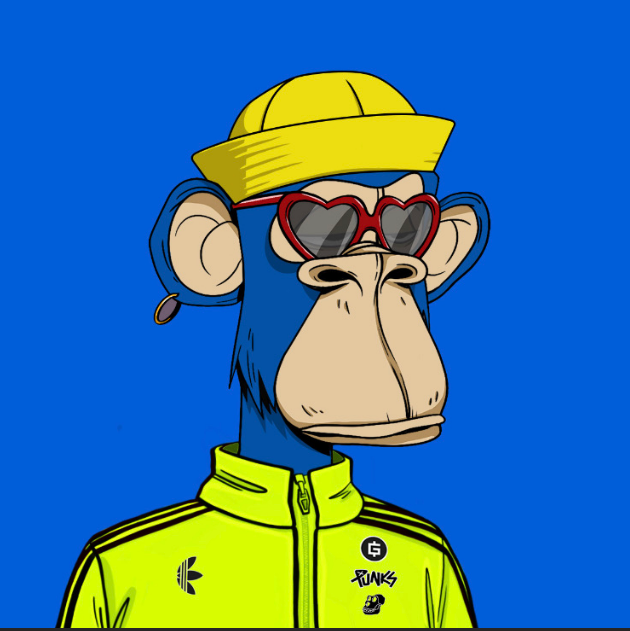 adidas Originals' Twitter avatar during their BAYC collaboration (Image Source: 
Twitter
)
On top of that, owners of BAYC and Mutant Ape Yacht Club NFTs (which we'll discuss below) have early access to some of the 20,000 Adidas NFTs. Their release was a hit, earning the company $22 million in profits within a single afternoon. One of the reasons for its smashing success was that the project involved brands such as adidas® Originals, Pixel Vault and BAYC. Many NFT aficionados made use of this early access, purchasing plenty of works from the collection.
Another exciting project that's attracting attention is a partnership with Animoca Brands. The companies are working on a joint gaming project that looks to expand the usability of Bored Ape NFTs. Given the successes behind Animoca Brands and the passion that Yuga Labs has for gaming, the expectations are high.
Status
Remember, there's a finite number of Bored Apes in BAYC. If you want to belong, there's a limited chance — and being in the same "club" as all the abovementioned celebrities can bring perceived benefits. There are already Bored Ape Yacht Club events for their NFT community. 
The club's gathering in NYC occurred at Ape Fest 2021, which brought together numerous Ape owners. They even dressed like their Ape NFTs so that other members could easily recognize them.
If you think of BAYC as a social club which includes various celebrities, it's clear where the NFT hype is coming from. Owning at least one of the Apes provides access to an event that might be attended by the likes of DJ Khaled or Jimmy Fallon, and FOMO leads to even more sales. Additionally, the BAYC Roadmap 2.0 outlines future plans for the popular NFTs. Owners seem to have plenty to look forward to.
The Bored Ape Ecosystem
The creators of BAYC haven't been idle. They've continued to create more content and perks for BAYC owners, which is an excellent approach to keeping the community engaged. Currently, the BAYC ecosystem consists of two related projects. These are Bored Ape Kennel Club and Mutant Apes.
Bored Ape Kennel Club
Bored Ape Kennel Club is another NFT project exclusively for BAYC owners. The premise of the project is that every Bored Ape needs a companion — thus, the Kennel Club was born. Each BAYC owner was given the chance to adopt a "dog companion" to their Ape, free of charge (Ethereum gas fees aside). That gave BAYC owners a chance at a completely new NFT from the launching collection to add to their own.
Examples of Bored Ape Kennel Club NFTs (Image source: 
OpenSea
)
The dogs have never been available for sale, making them all the more exclusive. BAYC owners were given a one-week period to "rescue" their furry companions, after which unclaimed Kennel NFTs were removed from the collection.
The project generated even more hype because BAYC owners had to remain patient after minting their token to meet their pet — as the actual Kennel NFTs were only revealed at the end of the week. Like their Ape companions, each dog is unique, with its own design elements, colors and accessories.
These NFTs might receive roles in the upcoming game, which is in development, but for now, they've created additional FOMO for NFT collectors.
This is all another way of keeping the community engaged. The digital dogs were introduced as a gift to BAYC owners. Even though there was a copyright fee on each transaction, all the proceeds will be donated to charities. At the top of the list are no-kill animal shelters.
Mutant Apes
Aside from the opportunity to adopt virtual pets, in August 2021 owners of the BAYC NFTs received a "mutant serum", which transformed their Bored Apes into Mutant Apes – essentially allowing Ape owners to mint a new, mutant version of their ape NFT. The Mutant Ape BAYC collection is also highly valued, with the the whole ecosystem worth more than a billion dollars.
Mutant Apes (Image Source: 
OpenSea
)
We're likely to see additional events in this ecosystem as the developers plan for the future.
Setting the Stage for a New Generation of NFTs
BAYC is a great example of what people may expect from the NFT market in the coming years. More NFT communities and ecosystems will be evolving as greater numbers of collections appear, giving them further purpose and applications. It looks like the team behind BAYC has the right idea.
We'll have to wait and see how the BAYC team incorporates already-existing NFTs in their upcoming game, but they're partnering with some of the premiere blockchain game developers, including The Sandbox, Phantom Galaxies and Tower Experiment. Still, with the whole space in its infancy, there's plenty of ground to cover.
BAYC is an excellent example of how creative people can introduce an ecosystem around an NFT product, motivating others with their fresh and continually evolving approach. There is even a Phunky Ape Yacht Club collection – a satirical take on the original – which features Bored Apes mirrored to face left instead of right.
Especially as the NFT landscape evolves, there are also new ways of owning a slice of the NFT pie. With high value NFTs such as the Bored Ape collection, it will be increasingly costly to wholly own your own NFT. Some owners are thus exploring NFT fractionalisation – in which the cost and ownership of an asset is shared among several shareholders.
Should You Invest in Bored Ape NFTs?
Investing in the crypto space involve considerable risk. The market is volatile, and prices can drop drastically. Nevertheless, investors and crypto-savvy individuals big and small are continuing to invest in the crypto space globally.
It's mostly a matter of how you approach it. The first rule is to invest only only what you can afford to lose. If we look at the history of cryptocurrencies, one thing's for sure: as with stocks and other commodites, the overarching trend is the growth that has repeated itself throughout the years.
The same history follows the NFT space, but investing in smaller fractions might be a better approach. The decision is in your hands. If you can afford to invest in Bored Ape Yacht Club NFTs, you'll become a member of a club that many others have already joined.
The Bottom Line
The creators behind the BAYC collection have built a community of like-minded people who use NFTs as membership cards. The project's team has found ways to keep its community engaged by implementing new NFTs and events. We've yet to see how the NFT ecosystem will continue developing, but so far, things look quite promising.
If you're eager to know more about NFTs, please check out our guide, where you can learn more about the entire NFT space. If you're ready to start trading NFTs, check out Bybit's NFT marketplace to get started.