Audius: The Only DeFi Music Streaming Platform You Need?
In the 21st century, the music industry is plagued by two major problems: Copyright infringement and lack of proper compensation. While illegal players in the music industry cause the former, the latter is typically a consequence of an oversaturated field. Can both issues be addressed with one solution? Audius is your best bet. Fasten your seatbelts, and let's dive into the Audius DeFi music project.
What Is Audius? 
The music industry is evolving rapidly, and with blockchain technology gaining momentum within the space the possibilities are endless. From cassettes and MP3 players, to the rise of streaming giants such as Spotify and Apple Music, the music industry has undergone fundamental changes over the years, with the artist-fan relationship altered forever. Streaming platforms have begun to close the gap that used to exist between artists and music lovers.
However, even though it's convenient, modern streaming has one fatal flaw: Often, artists aren't favored in major decision-making processes. In a quest to give power and control back to artists and fans, Audius has incorporated blockchain technology into their platform.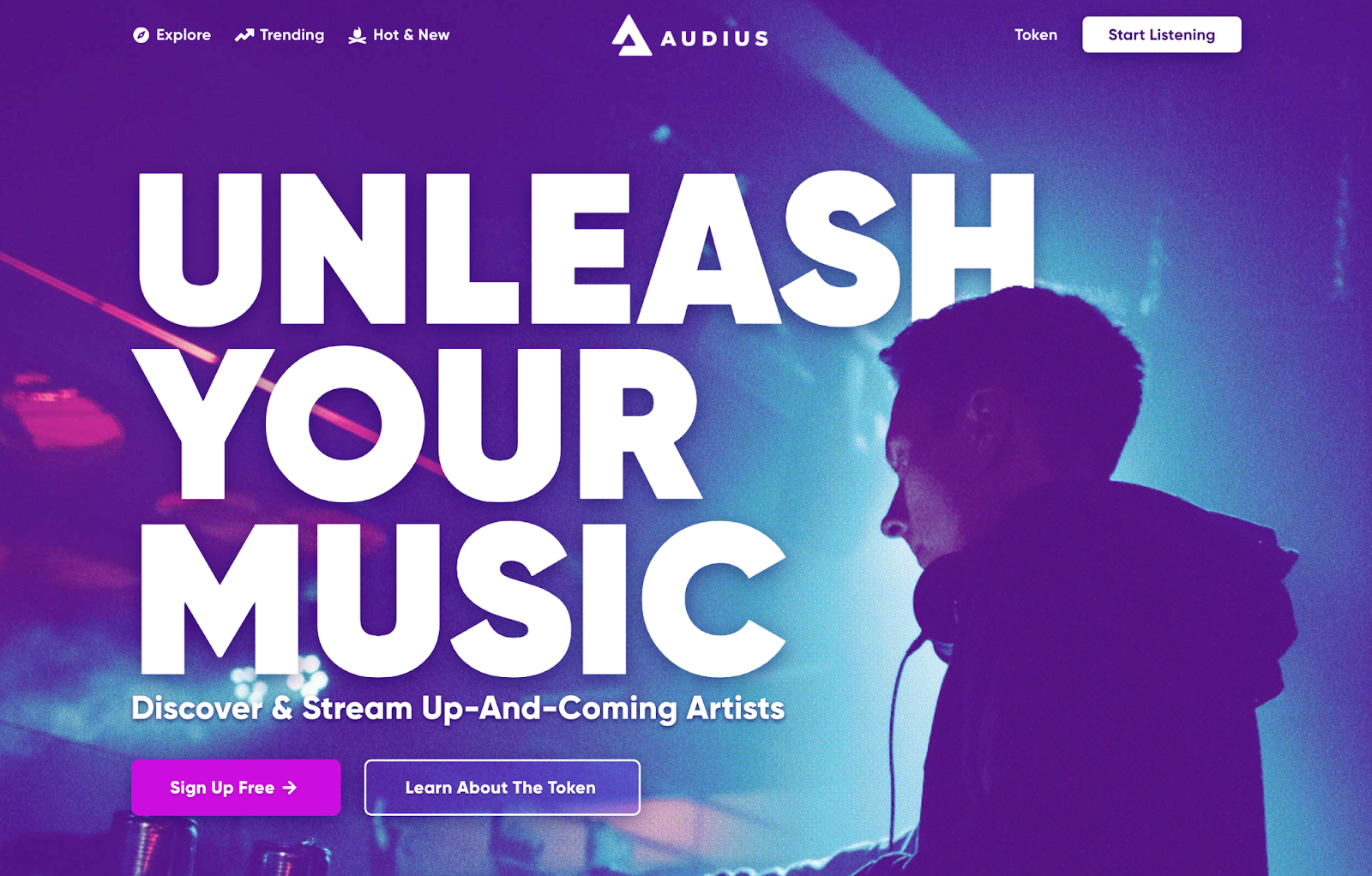 Source: Audius
Audius is backed up by many powerful people and corporations. In 2018, about $5 million in investment capital flowed in from large venture capitalist firms General Catalyst, Lightspeed and Pantera Capital. Audius has also received enthusiastic reception from the local crowd. In September of last year, it was reported that famous artists such as Nas, The Chainsmokers, Katy Perry and Jason Derulo came together to pool investment funds for Audius. 
What Is AUDIO?
AUDIO is the community token of the Audius network. A multi-chain token, most of its functions are performed on the Ethereum platform, with some side features on Solana.
The AUDIO token performs four main functions:
Governance: Since Audius is a decentralized platform, any proposal or changes to be effected on the Audius network require the community's vote. The number of tokens you have determines the weight your vote will carry. 

Network Security: To run a node, node operators stake AUDIO tokens on the platform. In return, they earn network rewards. 

Special Features: Artists can get exclusive rewards — for example, NFT collectibles — on Audius when they stake their tokens.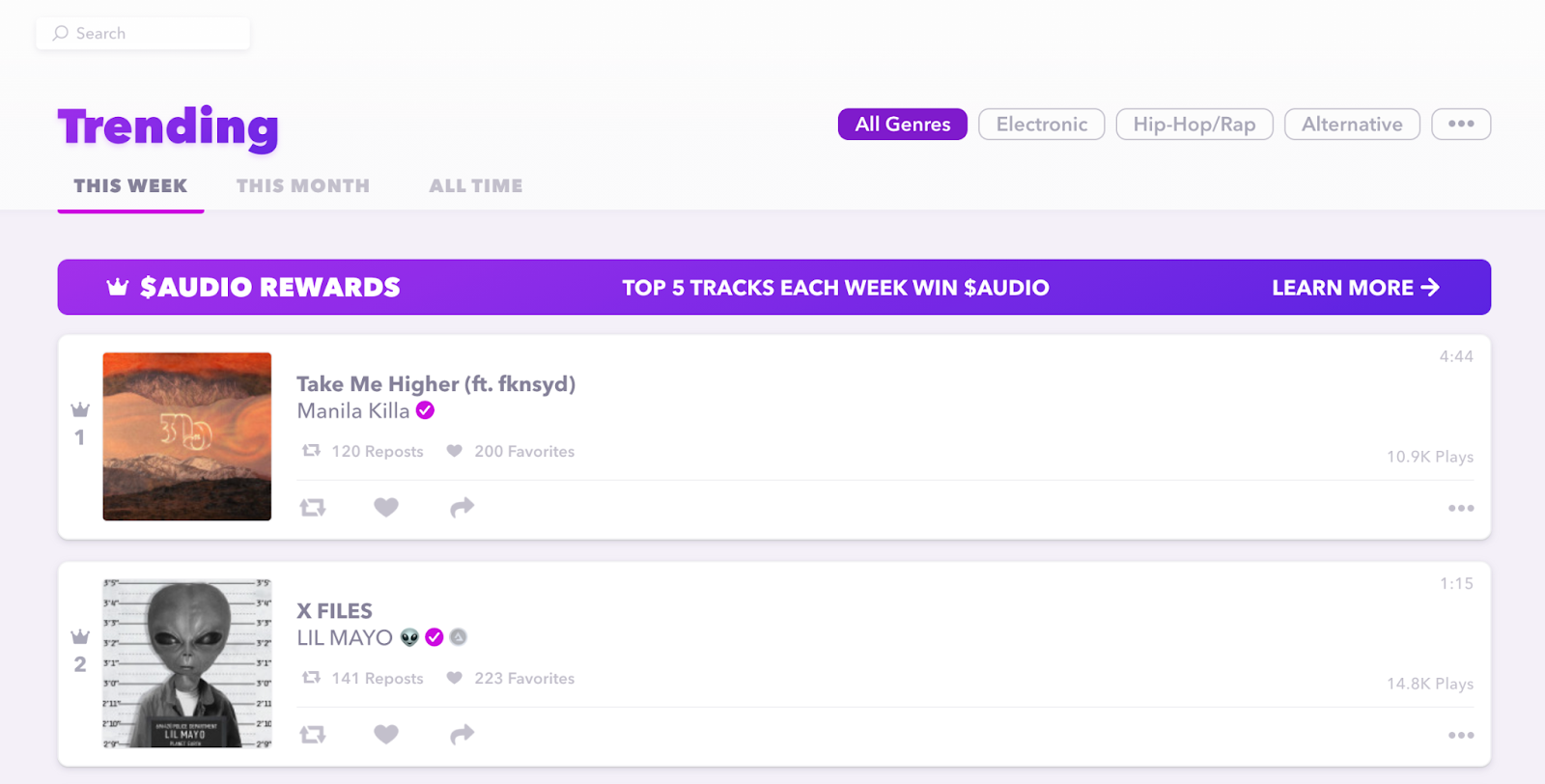 Source: Audius
Rewards: Special milestones are rewarded with AUDIO on the Audius platform. The top five weekly trending tracks and trending playlists are rewarded with the community token. Once in a while, the protocol also releases airdrops based on a predetermined formula that takes into account the number of listens and social engagements, among other aspects. So far, over 50 million tokens have been distributed.
AUDIO tokens are present for trade on popular platforms. FTX, Gate.io, and the popular decentralized exchange (DEX) Uniswap are just a few of them. 
One major reason for Audius' popularity among people both in the community and outside of it is that you need little or no knowledge of how the blockchain or cryptocurrency works before you can participate in Audius. In fact, it's as easy as using Facebook or Google. 
How Audius Works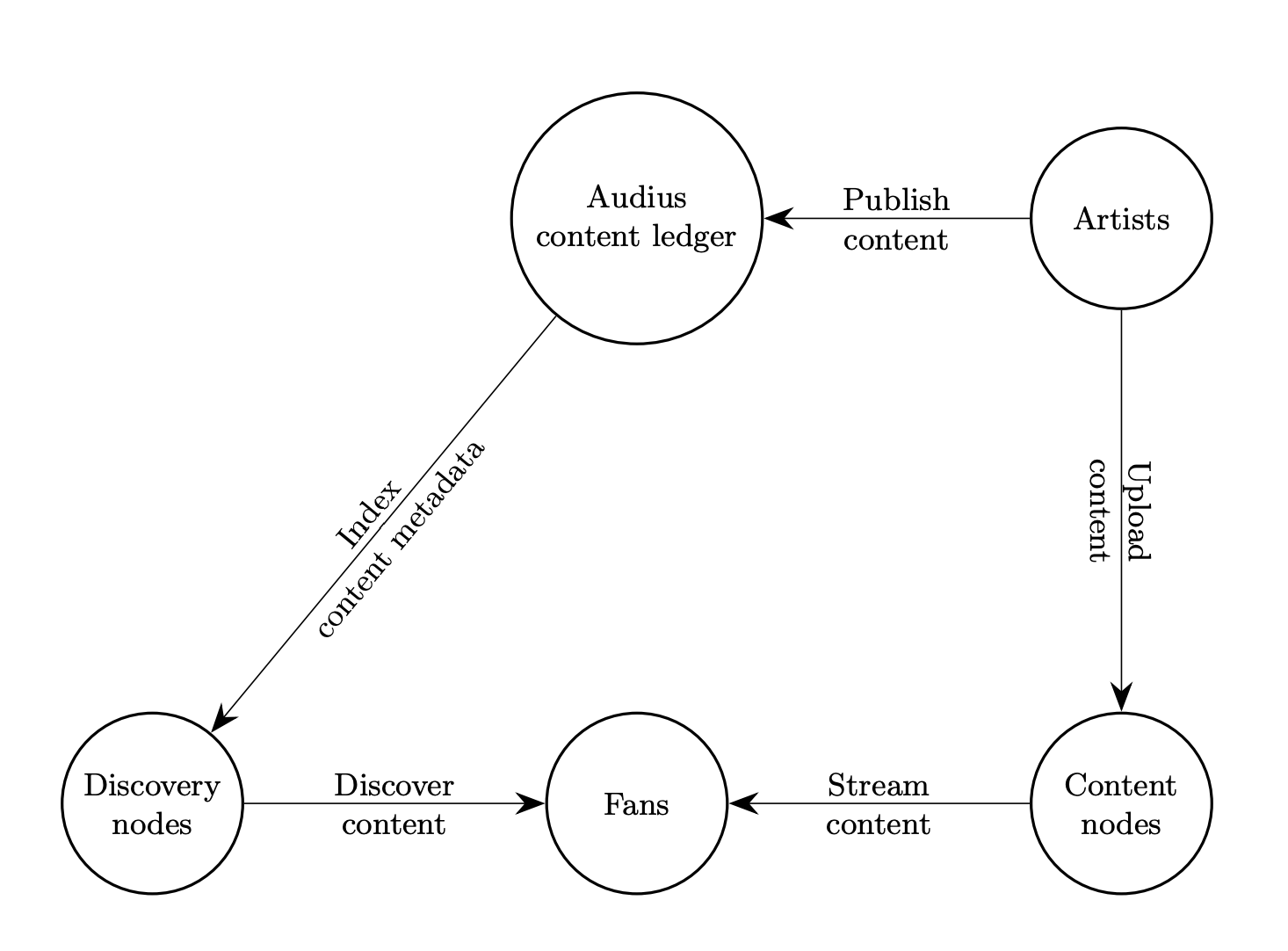 Source: Audius Docs
Built on the Solana network, Audius is a blockchain platform, so it primarily makes use of nodes. Audius seeks to create a balance between the three main stakeholders of the platform: Node operators, artists and fans. 
The nodes are decentralized, and Audius uses both the content nodes (used to host contents) and the discovery nodes (for aligning and indexing nodes). Since it's a blockchain project, it has its own (native) cryptocurrency. 
The platform records an immutable ledger of artists' creative works, kept running by a network of decentralized node operators.
Key Features
The Audius protocol is blockchain-based: Thus, it is decentralized and run by artists and fans. 

It's free to upload tracks on Audius. Artists and users can interact via an uploading-listening relationship,a win-win situation as both parties earn crypto rewards. 

Apart from payment derived from streaming, Audius has an NFT feature that gives artists an alternative way to monetize their works.

Audius is an affordable way for artists to get valuable feedback from listeners and professionals. Aspiring artists can share their song progress and, later, their final work on the platform. 

With engagements on the Audius platform, artists can run their own fan page and contests for song remixes, sell tickets, and get up-close-and-personal with their fans.

Audius is redefining NFTs: Non-crypto users or enthusiasts can gain valuable exposure to the NFT space by using Audius, and fans can also kickstart their music careers via the platform. 

Audius can be used for tutoring as artists can further engage their fans through music lessons. 
Is Audius Free? 
Yes. Registering on the Audius platform is free for both artists and fans. All music on the Audius platform is free, although you'll need to own the AUDIO token before you can access certain (exclusive) resources.
Currently, there's talk of premium content monetization and the privilege of a "closed listening party," where fans get to hear a song for a small fee before the general public does. 
How Does Audius Make Money?
Audius was built to promote innovation, sustainability and growth in the popular interest. Early investors and staff are rewarded with AUDIO tokens as a reward for their contribution to the growth of the platform. 
Audius' main goal is to reward artists with 90% of their streaming earnings. The remaining 10% will be paid to those who want to operate nodes on the platform, and will be earned via staking and other means targeted at maintaining the security of the network and the growth of the platform. A switched focus to profit generation would likely derail it from achieving this goal. The platform plans to keep growing, while seeking alternative ways to make money.
How Is Audius Different From Other Music-Streaming Platforms?
Audius is built on a blockchain, and it serves as a sharing and streaming service dedicated to the true pursuit of music. From revenue sorting to listening data, the platform is transparent and fully decentralized. Also, being based upon Ethereum and Solana means it can reach a large number of people, and make the AUDIO token fairly easy to purchase.

The Audius platform requires no technical know-how. Although it's on a blockchain, it's easy to use — and only requires a digital gadget and an internet connection to access.

Artists can decide how much royalty goes to other stakeholders in the music productions, such as writers, producers, and perhaps cover art graphic designers. Also, the platform makes it easy for people to distribute their favorite music to friends using a peer-to-peer approach. 

Fans can make payment of any amount to artists. They also get to increase the amount of streaming payment that goes to their favorite artists. Unlike many similar platforms, the payment system on Audius doesn't have a rigid structure.

The Audius ecosystem is fair. It uses a single immutable ledger, eliminating the need for an intermediary in the form of a record label or streaming service. Fans can connect directly with their artists (and vice versa) with no barriers standing in the way. 

One of Audius' main selling points is that artists get 90% of the revenue on their music — a much higher proportion than on any other streaming platform out there. Artists also have unmatched control over their music and distribution channels. They can earn passively from people using their music for advertising purposes, without having a record label pocketing most of the revenue.

The Audius platform enables people to buy and sell any type of music or NFT product using the community cryptocurrency. It enables self-executing smart contracts to be created by the blockchain.

The Audius team has extensive experience in audio technology. They understand what consumers want, and have created a platform that puts artists at the forefront.
Whom Is Audius For?
Audius is for everyone who loves music: Established artists, upcoming artists, fans, and more. Established artists can receive honest feedback on work in progress and new beats, and release their latest tracks. Thanks to the NFT perk, it can also be a more profitable avenue than traditional streaming platforms.
For those new to the scene, Audius' low entry barrier makes it a breeze to join. Upon registration, you can start uploading your music tracks immediately, without any waiting period or extra verification. 
The third group of people that benefit from Audius are the fans. Apart from the sense of community they get, they can also earn passively by staking AUDIO.
Pros and Cons 
Pros
Audius' decentralization is a reason many artists will want to come on board. All genres of music are welcome, so it offers a safe haven against certain platforms that vet which songs stay or leave, based on political or personal reasons. 

Most music streaming platforms are centralized, meaning they always have the majority of interest aligning to favor the minority of people. Artists and other players in the value chain of music have suffered dearly for this. Audius solves this problem by creating a decentralized platform that's user-centric. 

Audius has the backing of big names in the music industry. In addition, artists treat Audius as a means of self-expression, since they can share works they may not be comfortable uploading elsewhere — or even allowed to upload.
Cons
The decentralized nodes which are meant to be a benefit to Audius are currently acting as a demerit. There are issues surrounding copyright protection, but Audius' developers claim to be working on an arbitration system that will decide if certain content will stay or be removed. Community members will make up the arbitration system. 

The problems of poor metadata, missing contributor credits, and the diverse appearances of copyright infringement are still unsolved. Scammers are getting bolder and more creative: By merely misspelling the title of a song or changing its pitch, they can pass the song off as theirs and make a decent profit.
AUDIO Tokenomics
Audius is currently ranked 99th on CoinMarketCap in terms of market capitalization. It has a market cap of $1.31 billion, with a trading volume of $48 million over the last 24 hours. At the time of this writing, AUDIO is trading at $1.20 per token.
AUDIO's circulating supply is roughly 504 million, and its maximum supply is capped at 1.06 billion AUDIO tokens.
How to Buy AUDIO
Two prerequisites are required before you can buy Audius: A compatible wallet, and stablecoins or ERC-enabled tokens. 
Once you get your ERC tokens via a peer-to-peer exchange or a fiat-crypto exchange, you'll need to go to Uniswap and connect your wallet. After that, you can easily swap your ERC tokens or your stablecoins for AUDIO tokens.
Is Audius (AUDIO) a Good Investment? 
The music blockchain market is growing bigger by the day. The first decentralized protocol for streaming audio content, Audius is a good investment. It democratizes the listening and ownership experience, users can stream their favorite songs on a myriad of devices, and everyone benefits from the experience.
Noteworthily, the last time artists rallied together to invest in a streaming platform was for Tidal, created by American rapper Jay-Z. Recently, the iconic Red Rocks Amphitheater in Denver was renamed AUDIO Amphitheater, with Audius signing a naming rights deal with the location.
The goal of a fairer, freer and more transparent music industry appears viable with Audius. Audius is one of the best drafts, and the future seems bright.
Closing Thoughts
An immense amount of energy has been channeled toward leveling up the music industry in terms of sound quality and user interfaces, etc. Many fields are still untouched — both ones we know of, and ones that will likely spring up with the continuous advent of technology.
Although we'd love to see strict punishment meted out for music infringement, with the wide reach of the internet, it's hard for authorities to truly crack down on illegal happenings. For now, it's encouraging to see that Audius isn't compromising on decentralization. Will Audius disrupt the music industry and finally give artists the credit and profit they deserve? We certainly think so.