Crypto Donations: How They Work
Introduction
As the adage goes, "no man is an island." Giving back to society is arguably a fundamental responsibility of all its members. Typically, individuals and companies make their contributions in the form of monetary donations, given directly to NGOs and other organizations that promise to help those in need.
Despite the growing number of scams conducted in the name of charity, there's been a 20% increase in online giving since 2020. Amid the setbacks and difficulties brought on by the COVID-19 global pandemic, many are still keen to help the less fortunate, and a new type of donation has been catching on with the public.
In recent times, the concept of cryptocurrency donations has gained popularity as a safer and more transparent way of doing good. Crypto donations have garnered a great deal of interest from both novices and experts in the crypto world, but many people are still unsure how the process works. This guide covers everything you need to know about crypto donations.
What Is a Crypto Donation?
Cryptocurrency is a digital currency generated by code and operated by a regulatory body, one that is often decentralized. Various crypto coins are available today, the most popular being Bitcoin and Ether.
Donating crypto involves the transfer of funds from exchanges or Web 3.0 wallets (such as MetaMask) to a beneficiary (often an NGO).
Benefits of Crypto Donations
Transparent, fast, and cost-effective: The public nature of the blockchain ledger allows for the transparent flow of money — arguably more trustworthy than conventional currency systems, which need third parties to monitor transactions. This transparent and efficient money transfer system reduces fees and minimizes the time taken to complete transactions.

Crypto is becoming more secure: With advanced technical experts moving into the industry as leaders, the crypto space is being built with the best infrastructure for processes ranging from secure storage to dispute resolution. As the insurance industry warms up to the crypto space and introduces policies to cover certain losses, would-be donors are likely to have more peace of mind.

Anonymity: In the traditional donation model for charities, those who want to remain anonymous have to trust the organization to conceal their identity. With crypto donations, on the other hand, the public ledger ensures accountability in the flow of money … even without it being necessarily tied to the donor's personal ID.

International donations can be accepted easily: Since agencies do not handle the flow of crypto, organizations can receive donations from contributors around the world without having to face exchange fees and banking hold-ups in fund reviews.

Crypto donations help more money reach nonprofit organizations: Crypto donations come with low processing fees for all parties involved, thereby ensuring that a bigger portion of the donation actually reaches the nonprofit's mission. Furthermore, when these nonprofit organizations are filing for tax returns, crypto donations are classified as "non-cash" gifts and are thus exempt from taxation.

Tax savings for the donor: The IRS has classified crypto donations as property, implying that they will not be subject to capital gains for tax purposes. Taxpayers can claim the full donation as a charitable deduction and avoid paying capital gains (the difference between the selling and purchase prices) taxes if they donate the crypto directly to the charity. 
If a taxpayer sells crypto and then donates the after-tax cash, the capital gains will incur short- or long-term capital gains taxes, based on how long the donor held the crypto before selling. If they've held the asset for a minimum of one year, 0%, 15%, or 20% long-term capital gains tax rates would apply, per the amount of taxable income. Short-term capital gains are considered ordinary income, and are taxed with rates ranging from 10% to 37%.
How Crypto Donations Work
Charitable giving via crypto has become increasingly popular for individuals and organizations. Some of the most prominent philanthropic organizations globally — including the Red Cross and United Way — now accept crypto donations. 
However, most charities cannot accept crypto donations directly due to the technicalities involved with setting up a digital wallet. Instead, they accept crypto donations through a third-party processor or a donor-advised fund.
Third-party processors such as Crypto for Charity enable crypto donations to charities by converting the donated cryptocurrency to cash on their behalf. These processors usually charge a small transaction fee (usually 1%) for their services.
Donor-advised funds, which are also 501(c)(3) public charities, serve as a tax-efficient solution for accepting crypto contributions. They are able to facilitate crypto donations as they have the resources and expertise for evaluating, receiving, processing and liquidating non-cash assets.
For instance, the Center for Excellence in Education (CEE), a 501(c)(3) charitable organization sponsoring science and math events for high school students and teachers, recently started accepting Bitcoin donations and other crypto contributions through Crypto for Charity.
Since 2018, GiveCrypto.org has also been trying to reduce poverty by accepting direct, community-based crypto donations. In 2019, UNICEF became the first UN Organization to hold crypto and make crypto transactions via a designated Cryptocurrency Fund.
The ability to donate cryptocurrency quickly and anonymously from any country without incurring high fees is a unique technological innovation that makes crypto donations easier, more efficient, and more equitable.
What Kind of Cryptocurrency Can I Donate?
While Bitcoin is the most commonly donated crypto asset, various organizations are willing to accept donations in Ether, Litecoin and other cryptocurrencies.
Some organizations looking to circumvent the volatility risk of crypto are also open to receiving donations in USDC (fully backed and redeemable for U.S. dollars) or similar stablecoins.
How Can I Receive Crypto Donations?
1. Through an Intermediary 501(c)(3)
Accepting crypto through a 501(c)(3) or a donor-advised fund (DAF) exempts nonprofits from taking custody of the received crypto, thus greatly simplifying the underlying legal, accounting and administrative implications. Intermediaries handle the conversion process and tax receipts, after which they release the donation to the organization in cash.
Since regulations around cryptocurrencies are constantly changing, an intermediary is most suitable for nonprofits that don't want to get involved in playing keep-up, but still want to offer contributors the option of donating cryptocurrency.
2. Through Specialized Nonprofit Crypto Processors
Payment processors like The Giving Block and Engiven have been helping nonprofits accept crypto donations to their own wallets. These companies handle the transactional aspects of the process for a service fee, including automatic conversion to cash and management of tax receipts. They may also assist with creating marketing campaigns for the crypto community.
Since the nonprofit will be taking custody of the crypto, they'll need assistance with accounting best practices and compliance handling of IRS regulations. If the nonprofit decides to hold the crypto as an investment, they must also consider the assets' volatility, and set policies regarding liquidation.
This approach is ideal for nonprofits that want to make crypto a central aspect of their assets and are looking for a built-out donation widget with automated receipts.
3. Through Crypto Exchange Checkouts
Exchanges like Coinbase and BitPay offer embeddable checkout options with automatic crypto-to-cash conversion for minimal fees. However, these are generalized consumer experiences that aren't created with donations in mind. Therefore, nonprofits will have to handle donor support, and the collection of donor information and tax receipts.
This approach is ideal for nonprofits looking for an embeddable widget with minimal fees, and who don't mind managing the administrative and operational aspects themselves.
4. Through a Crypto Wallet
A crypto wallet allows users to send, receive and store crypto coins. There are many types of wallets to choose from, e.g., hardware vs. software, custodial vs. noncustodial.
The most crucial consideration in this approach is secure storage for accessing the wallet's credentials. Since there's no real donor information associated with the transactions, clear records of transactions will also have to be maintained.
5 Organizations Which Accept Crypto Donations
1. Red Cross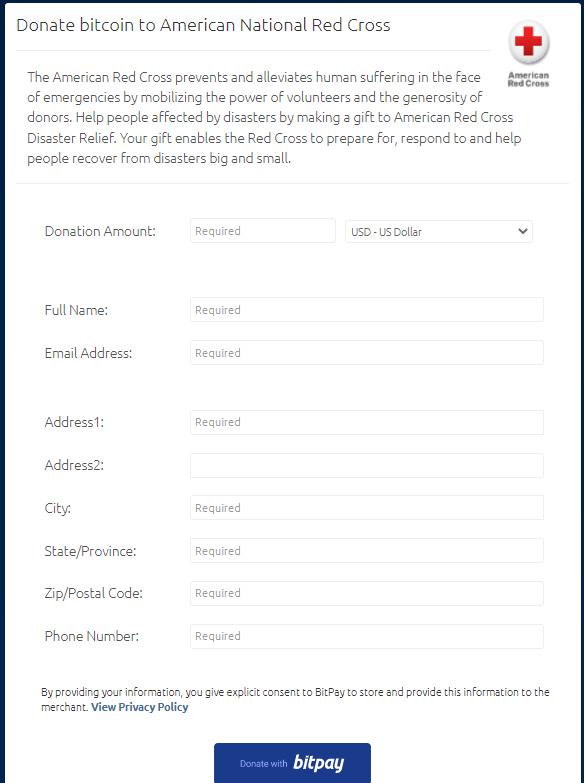 Source: BitPay
With a presence in almost every country, the international Red Cross network is the largest humanitarian network in the world. Red Cross and Red Crescent's activities have a single central purpose: Providing non-discriminatory help to those suffering during conflicts, natural or man-made disasters, or conditions of chronic poverty. 
Cryptocurrency accepted: Bitcoin, via BitPay (Editor's Note: BitPay may charge a conversion fee on donations).
2. Human Rights Foundation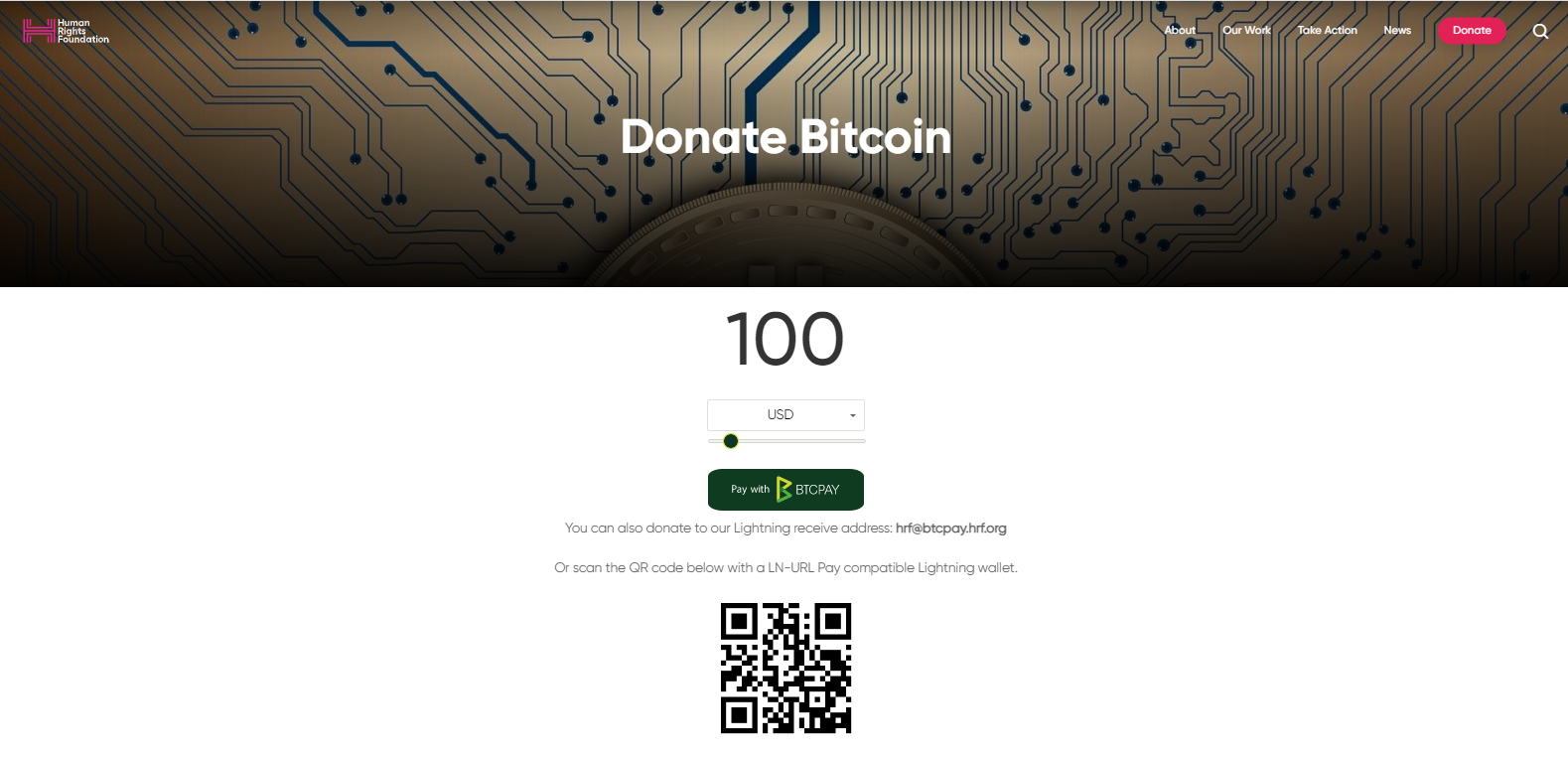 Source: HRF
The Human Rights Foundation (HRF) is a nonpartisan, nonprofit organization that protects and promotes human rights globally, especially in closed societies. HRF's mission is to ensure that freedom is preserved and promoted around the world; it brings people together to defend human rights and promote liberal democracy.
Cryptocurrencies accepted: Bitcoin and Ether
3. Rainforest Foundation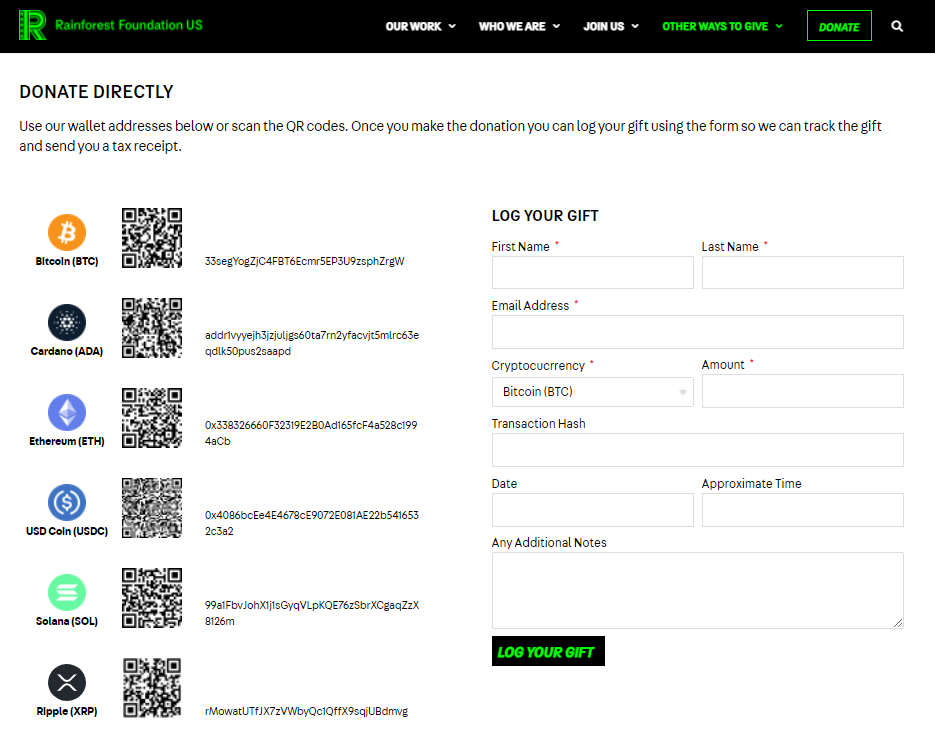 Source: Rainforest Foundation US
Rainforest Foundation US helps secure land rights for Indigenous peoples. The Rainforest Foundation strengthens Indigenous land security and teaches communities about the use of technology to protect their forests. Through direct investments, it connects people who are deeply focused on conserving their ancestral lands with the tools, training and resources for protecting their rainforests. 
Cryptocurrencies accepted: Bitcoin, Bitcoin Cash, Ether, and Litecoin
4. The Water Project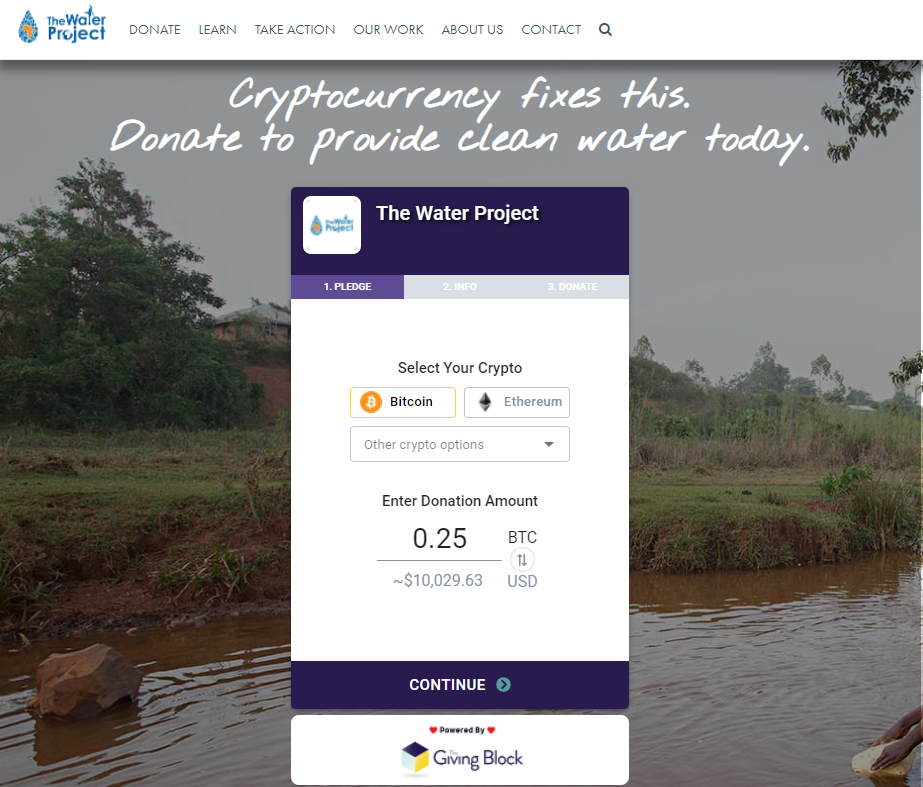 Source: The Water Project
The Water Project, a 501(c)(3) nonprofit organization, unlocks human potential by supporting reliable water projects for communities in sub-Saharan Africa. The project aims to help those who suffer needlessly due to a lack of clean water and proper sanitation. 
Cryptocurrencies accepted: Bitcoin, Bitcoin Cash, Ether, Litecoin and USDC donations (via Coinbase Commerce)
5. Electronic Frontier Foundation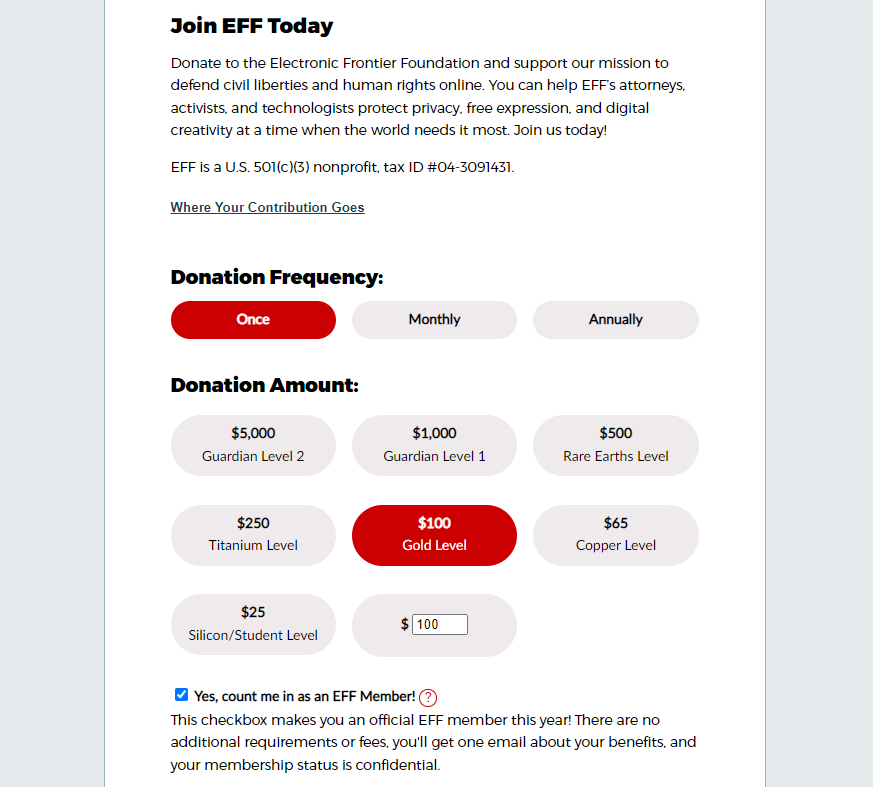 Source: Electronic Frontier Foundation
Electronic Frontier Foundation (EFF) was founded in 1990 to champion free expression, user privacy, and innovation through policy analysis, grassroots activism, impact litigation and technological development. With the prevalence of technological scams in today's society, EFF works to ensure that users' rights and freedoms are improved and protected. 
Cryptocurrencies accepted: Bitcoin, Bitcoin Cash and Ether
Closing Thoughts
Crypto donations are easy to make. Simply choose the organization you wish to support, find out which type(s) of cryptocurrency they accept, and then donate your crypto funds easily and securely. 
A word of caution, however — always do your research before making a donation to any organization. No matter how secure cryptocurrency transactions may seem, danger always lurks in the corner (or, in this case, the recesses of the internet), with scammers capitalizing on every opportunity. Once you've ascertained that the organization you've selected is trustworthy, a crypto donation is a fantastic way to make a difference in people's lives.