Neo (NEO): Truly Future-Proof
When it comes to blockchains, Ethereum is arguably the most well-known, with numerous projects such as Axie Infinity and Uniswap using it as their foundation. Although many have tried, few blockchains have managed to pose a challenge to the reigning champion … a narrative that's about to change with the advent of Neo.
Neo is unique in several ways, and its developers take pride in this fact. Its native currency, NEO, is one of the few which can be written in several developer-friendly computer program languages. NEO also serves as a form of support for projects based on the Neo platform. Intrigued? Read on to find out more.
What Is Neo?
Like Ethereum, Neo is a blockchain. Neo and Ethereum blockchains function using smart contracts, but Neo has been able to modify and upgrade its blockchain to perform in places where the Ethereum network is limited. 
Neo refers to itself as a "large distribution network that functions in the smart economy", where "smart economy" refers to digital assets that possess an identity in the digital space, and are solidly backed up by smart contracts. Neo uses a unique consensus mechanism known as the delegated Byzantine Fault Tolerant (bDFT) mechanism. This mechanism functions in a way similar to the widely known PoS protocol.
What Is NEO?
NEO, a cryptocurrency built by two Chinese entrepreneurs to compete with Ethereum, is also colloquially (and rather aptly) referred to as "Chinese Ethereum." Formerly, Neo went by the name "AntShares" and was a company created by Da Hongfei and Erik Zhang. AntShares began operations in 2014 and was only officially renamed Neo in June 2017. This rebranding was born of a need to upgrade the blockchain to serve privately-owned companies and government regulators.
The use of this token dates back to 2016, with an initial coin offering (ICO) of approximately 6,119 bitcoins (BTC). A total of 100 million tokens were minted, leading to the sale of half the market cap of the NEO token supply, with the remaining half shared among the Neo council. Subsequently, the cryptocurrency has continued to experience substantial growth. This growth was sufficient that by the end of the following year, NEO was already listed among the twenty top cryptocurrencies, with a market cap of about $5 billion.
What Is Neo Used For?
Neo is used for a variety of functions. The platform provides an avenue that enables the creation of decentralized applications (DApps) by developers on its blockchain (rather than their having to create new blockchains). These DApps are usually backed up by agreements incorporated into lines of code, which are written in a way that obviates third parties.
Smart contracts enable these agreements to be executed among diverse participants without interference from the central governance system of the network. These contracts function on the code used to run the network program, which enhances traceability and ensures that contracts are completely transparent and decentralized. Once a contract has been executed, it cannot be reversed. Codes are usually written using coding languages such as Python, C# and Java.
Neo offers a decentralized, secure and trustworthy platform for digitizing assets. This helps to eliminate both the costs and the unnecessary intermediaries and protocols associated with the digitization process.
Neo also enables its users to buy, trade, exchange and transfer diverse digital assets. The network also has a feature that allows linking a given physical asset to a corresponding digital asset. A distinct feature of Neo is that each digital asset listed on its platform has a unique digital identity that is fully and legally protected. 
This digital identity serves vital functions. It contains important details and information about the digital asset with that particular number, thus enhancing the traceability of the asset on the internet.
How Neo Works
As mentioned earlier, Neo functions using a consensus mechanism known as the Byzantine Fault Tolerance (BFT). This protocol functions through the activities of selected user nodes, known as bookkeepers, who verify new blocks on the blockchain. To become a bookkeeper, one must fulfill a certain set of requirements, e.g., possess a specified amount of NEO.
These bookkeepers have the sole responsibility of verifying the new blocks proposed on the blockchain. About 70% of the nodes must agree on the proposed blocks for a block to be validated. The blockchain gets validated once this threshold is reached. 
On the other hand, if a bookkeeper's block does not pass this validation stage, another bookkeeper is called upon to propose blocks, after which the validation phase is repeated.
The bDFT (or delegated BFT) protocol employed by Neo is more efficient than the earlier version — the classic Byzantine fault tolerance — as it can be replicated in a fraction of the entire network. This protocol reduces the number of steps involved in generating and validating proposed new blocks, while simultaneously increasing the number of transactions that the blockchain can handle at one time.
In mid-2021, Neo announced a major upgrade of its blockchain infrastructure with the launch of the novel N3 blockchain version, which had been under development since 2018. N3 has several features that distinguish it from the old model, including new and improved architecture and infrastructure, an enhanced government system, lower gas fees, and an increase in transaction speed.
N3 serves as the bridge that will connect the present internet with the new generation internet known as Web 3.0. Neo has since seen a substantial migration from the old Neo legacy model to the new N3 blockchain.
Key Features
NeoVM
A virtual machine used for general purposes, NeoVM functions like the central processing unit (CPU) of computers. Apart from performing several complex processes on the blockchain, it also reads and executes instructions on the blockchain in the order in which they were logged. 
Thanks to its versatility and speed, it's easy for smart contracts to be run effectively, and to be transferred to other external platforms that may not necessarily be blockchain-related. 
Dual-Token System
The Neo ecosystem consists of two tokens: NEO and GAS. As the governance token, NEO confers on a user the right to vote on the network, while the GAS token is used to pay for transactions carried out on the network.
Neo Contract
This feature functions through static analysis to create what is known as a "call tree," used to run smart contracts smoothly.
Interoperability Service
This feature ensures that the blockchain ledger is updated regularly. The blockchain ledger contains information such as digital identity, number of digital assets, storage details, and more.
NeoX
NeoX is a protocol that facilitates interoperability between cross chains.
NeoFS
This protocol is mainly used for storage purposes. It does this by using the distributed hash table (DHT) protocol.
Fast Transaction Speeds
Neo can perform about 1,000–5,000 transactions per second (TPS).
Neo QS
This program makes use of a cryptography system to ensure that the Neo blockchain is kept safe from external threats like the quantum computing threat. NeoQS is lattice-based, and it keeps Neo's protocol "quantum safe" — hence the name.
DevPack
This program simplifies the development processes carried out on the blockchain and makes integration faster.
Developer Friendly
Different computer programming languages like Java, C#, and C++ can generate codes and perform transactions using smart contracts on the Neo platform. This makes it easy for developers to perform transactions effectively on the Neo blockchain in any language. It also enables Neo to integrate smoothly with other blockchains.
Digital Identity
The digital identity confidentially holds all data records concerning the individual users and business organizations on the platform. This digital identity confers on users the license to access, trade and register either physical or digital assets on the Neo blockchain. These digital assets are of two types, namely global and contract.
These assets have their data displayed on the system space and are easily accessible to smart contract users and customers, which enhances the identification of the asset.
These assets have their data displayed on the system space in a private storage part of the smart contracts. Only qualified users and customers are granted access to these assets on the Neo blockchain.
NEO Tokenomics
Note: Figures below are accurate as of this writing, and are approximated up to two decimal places.
Total Supply — 100 million NEO 
Circulating Supply — 70.5 million (71% of total supply)
Market Capitalization — $1.9 billion
24-Hour Trading Volume — $166 million
Price — $26.60 per NEO coin 
Is Neo (NEO) a Good Investment?
Neo has attracted several high-profile investors, such as Alchemy Pay (ACH) and Shopify. It has many attractive features, like reduced gas fees, outstanding blockchain technology, multiple languages, and interoperability. Perhaps the most noteworthy of all is the launch of Neoverse, a brilliant medium for the creation of non-fungible tokens on the N3 platform. 
An increase in the usability of Neo will certainly lead to an increase in its price. If Neo can successfully implement the goals, objectives and features that it's set out to attain, NEO will not only be the best buy option for short-term investments, but a great crypto to HODL as well.
Buying NEO
NEO tokens can be traded as a derivative product on many popular exchanges including Bybit. In derivatives trading, the underlying contract that follows the price of the actual asset is traded.
On Bybit, the trading of NEO derivatives is made simple by pairing it with USDT as a USDT perpetual contract. Essentially, you're using the USDT stablecoin as collateral to trade the NEO derivative, and all the settlements are done in USDT alone. 
Follow the steps below to trade the NEO/USDT perpetual on Bybit. 
Step 1
You must have a registered Bybit account to trade any asset on the exchange. If you have one, please skip to the next step. If not, complete the quick sign-up process by visiting the official Bybit website. After you enter your personal information, create a strong password, and complete a simple verification process to transact fiat money on the exchange. 
Step 2
Visit the Derivatives section on the exchange and search for the NEO/USDT asset class. Make sure to have USDT in your Bybit derivatives wallet, as all the settlements for the trade are made in USDT. You can do this in three different ways — Deposit, Exchange or Buy. Deposit your existing USDT from an external wallet or exchange, exchange other crypto tokens in your Bybit wallet for USDT, or buy USDT directly using the Fiat Gateway.
Step 3
Once done, you're ready to place your trade. You can do this with a limit, market or conditional order. We recommend using a limit order to avoid slippage and enter the market at your desired price. Bybit allows a 10x margin on the NEO/USDT perpetual contract, with which you can maximize your profits. If you're using a limit order, enter the price at which you want to enter the market and the number of NEO contracts you want to trade.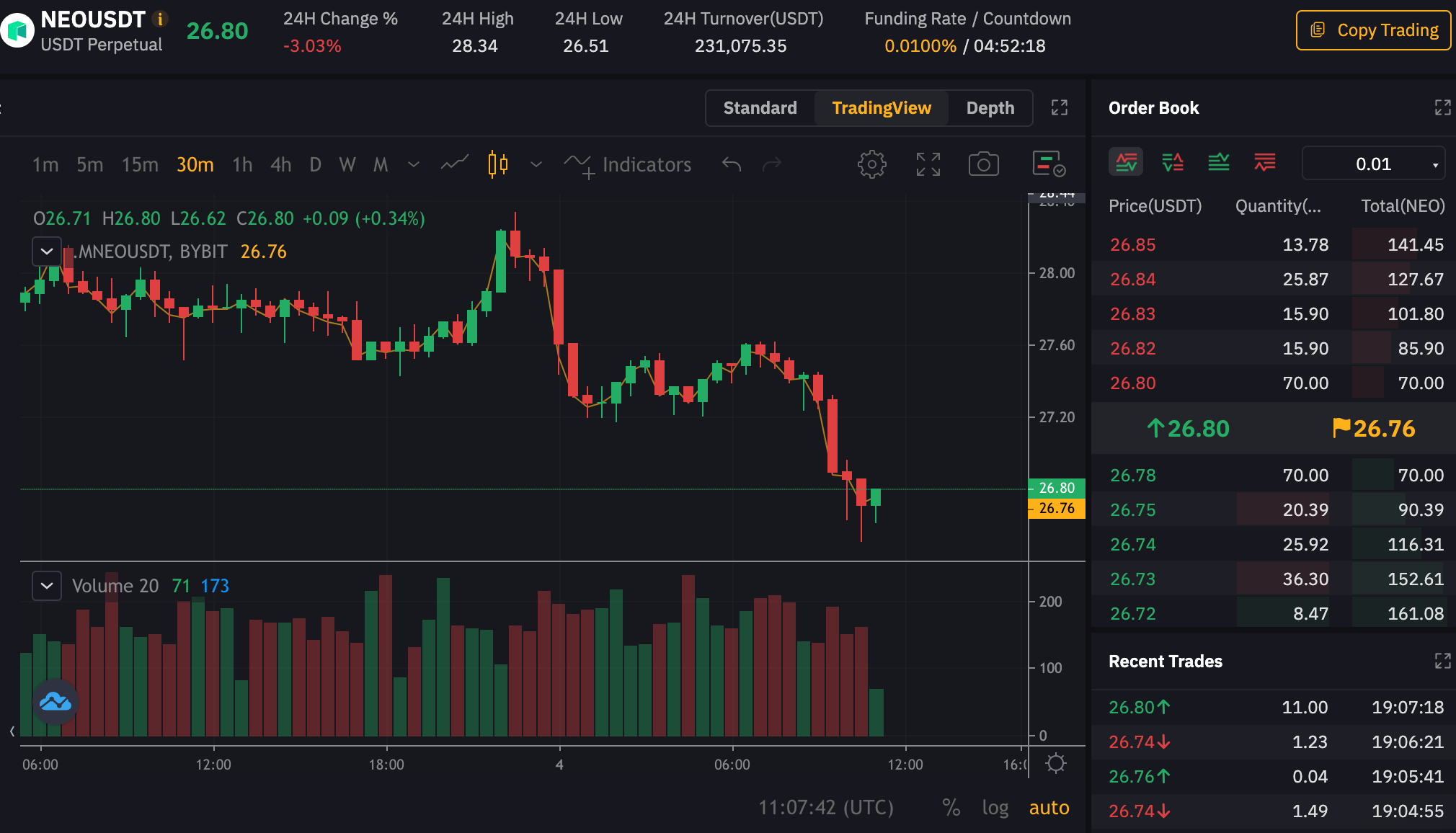 Source:
Bybit | NEO/USDT
Step 4
All you need to do now is to place the order. You can go long or short, based on your technical analysis and market conditions. Make sure to place accurate take-profit and stop-loss orders to mitigate the risk of liquidation. Due to the volatile nature of the crypto market, it's essential to follow strict money management rules, especially while margin trading. 
Once the order is placed, you can see all the details in the Order section at the bottom of the trading terminal. The trade will be closed once the asset class price reaches either the take-profit or stop-loss level you've specified. If you wish to exit the Buy trade manually, click on Sell (and vice-versa).
Trade NEO on Bybit now!
Closing Thoughts
Since its unveiling in 2017, the Neo blockchain platform has experienced its share of scalability and volatility issues, along with the uncertainty that plague the crypto world. Regardless, Neo has been able to make its presence felt in the crypto industry. Currently ranked 60th in the crypto market, Neo has a variety of unique functions in its ecosystem, such as its smart contract and DApp creation features, that are comparable with Ethereum's.
These features enhance NEO's reputation as they create newer use cases for its blockchain, such as commerce, data exchange and DeFi applications. These features could lead to tremendous all-around network improvement by increasing NEO's utility and attracting potential investors. Overall, Neo is definitely a blockchain to be reckoned with.