What Is Nervos Network (CKB)?
As adoption and awareness of blockchain technology increase, so have the number of applications that are launched on various emerging blockchain networks. A multitude of blockchains have sprung up, each built with different parameters and consensus models, not to mention varying transaction schemes and smart contract functionalities to serve different purposes. 
While increased adoption is a good sign pointing toward developers thinking outside the box, it also presents challenges of scalability and interoperability. Simply put, chains operating in isolation limit the possibility for mass adoption, as well as people's capacity to enjoy the full benefits of decentralized ledger technology.
In response to these challenges, Nervos Network was founded in 2018 to create a truly peer-to-peer crypto-economy network. A multi-asset store-of-value blockchain ecosystem, it leverages a unique dual-layer architecture to improve scalability and interoperability. 
What Is Nervos Network?
Nervous Network is a solution for the lack of scalability and interoperability that plagues most Layer 1 blockchain networks. It was named after the body's nervous system — its network shares a similar layered structure, with a separate layer that serves as a consensus generation layer and smart custodian, as well as another layer designed for high-performance transactions and privacy protection. 
Nervos Network is designed such that its Layer 1 is a common knowledge base (CKB) layer that provides common knowledge custody for the network. This is the platform's base layer, offering a general-purpose proof of work (PoW) blockchain that operates as the consensus engine for applications that launch on the Nervos ecosystem. What's more, this layer features a native utility token called CKB.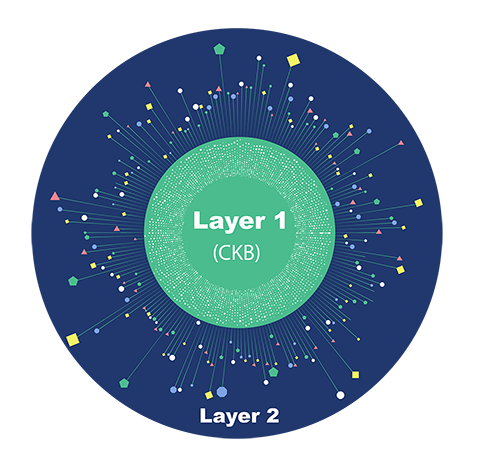 Source: https://docs-old.nervos.org/
The second layer, on the other hand, is the computation layer, where the off-chain processing of transactions takes place. This layer is also designed to generate new states of the blockchain, and can host several decentralized applications (DApps), as developers can use it to execute the functions of their DApps.
What Is CKB?
As mentioned, Nervos' CKB is the base layer of the Nervos Network and public permissionless blockchain. In the world of blockchains, the term "common knowledge" refers to states of the blockchain verified by global consensus. 
As the store of value across the Nervos Network, the CKB layer features a generalized cell model in which each cell can store an executable code, a smart contract, or other pieces of content on the blockchain. Every update of cell content is performed through cell creation or destruction, which makes the entire network flexible/ever-evolving.
Nervos Network's cell model mimics Bitcoin's UTXO model, in which spent coins are marked as "spent" instead of being removed completely from the blockchain. To facilitate this economy, the Nervos CKB network features a native utility token called CKB that represents state storage units. 
What Is CKB Used For? 
CKB is the native token of the Nervos Network. With CKB, a token holder is entitled to part of the total state storage of the network. For instance, a holder with 1,000 CKB tokens can create a 1,000-byte cell — or have multiple cells all adding up to 1,000 bytes on the Nervos blockchain. Given that CKB runs on a PoW blockchain, it's mined using an ASIC-neutral PoW function, designed to distribute tokens as evenly as possible to guarantee the network's security.
Apart from being used to purchase storage space of cells on Nervos CKB's base layer, the CKB token also brings flexibility to the entire ecosystem. The fact that CKB tokens are exchanged for cells (and vice versa) establishes an economic model where state storage fees are imposed on both the space and time of occupation. 
Nervos Network: How It Works
Nervos' first layer and mainnet feature a PoW blockchain that provides security and stores the network's application activity and account balances in cells. The Layer 2protocol, on the other hand, is responsible for processing transactions and generating new states (i.e., application activities and other additional data storage requests).
The base layer of the network, i.e. the Nervos CBK mainnet, also provides a stateful "Turing Complete" virtual machine that supports application processing requirements using smart contracts. This virtual machine system is based on Bitcoin's UTXO accounting model to store and track changes in state on the blockchain. 
Thanks to Nervos CBK's cell model, parallel processing of transactions and application activities are achieved, allowing scalability to be attained without compromising network security.
Also, using the Nervous CKB general purpose common knowledge base model affords interoperability, because various Layer 2 blockchains can launch and leverage the storage and processing capabilities of the mainnet.
Key Features
Sustainable Economic Model
The Nervos Network features an economic model designed to enable all participants to contribute to the success of the platform, while maximizing the utility of blockchain technology. By virtue of the CKB token, platform users, developers and node operators can work toward a common goal through the creation and storage of states on the CKB mainnet. 
Compared to existing blockchains, where state storage is a one-time transaction in which the state is occupied indefinitely,, Nervos Network's model incentivizes users to pay for the network's resources based on the capacity and time of occupation. This model allows the platform to scale and grow organically. 
Flexible Layered Design
Nervos Network's layered design gives it a great deal of flexibility. The network's decentralized and permissionless framework allows the platform to operate as a universal-store-of-value network that's accessible for all sorts of blockchain services. Nervos offers the blockchain and crypto space an entirely new level of flexibility, which allows developers to build universal apps that can run on any blockchain network.
High Levels of Security
Even though scalability and interoperability are a must-have for increased adoption of blockchain technology, security is the reason why blockchain networks such as Bitcoin's have maintained their top status. 
Nervos Network is built on a tried and tested PoW consensus protocol that keeps the decentralized apps and tokens built on its platform safe and secure. What's more, Nervos Network has been vetted by third-party auditing, and has proven to be safe — even going as far as hosting hackathon events with cash prizes for participants who find weaknesses in the project's underlying protocol. 
CKB Tokenomics
CKB is the native token of Nervos Network. Its main utility lies in both the purchase of state storage on the platform's mainnet and in enabling smart contract execution. The token is also used to reward miners with block rewards and transaction fees. 
From the start, the genesis block of the platform contained 33.6 billion CKB tokens. Out of this, 8.4 billion (or 25%) were burned, never to enter circulation. 
Here's a breakdown of the remaining allocation:
21.5% of the total supply was allocated to public sale investors

15% went to the team with a four-year vesting program

17% was allocated to fund the ecosystem

14% went to private sale investors with a two-year vesting program

5% was reserved for the platform's strategic funding partners

2% was allocated to the foundation

0.5% went to the platform's testnet incentives
Is Nervos Network a Good Investment? 
Nervos Network is a good investment, as its utility is founded on the fact that it's geared toward solving major challenges in the blockchain and crypto space. Despite the unprecedented growth of blockchain ecosystems such as Ethereum, the problems of interoperability and scalability are still widespread today. 
Nervos Network implements a sophisticated layered solution that can run the software of other blockchains without a hard fork, while maintaining the security of a PoW blockchain. This will give the CKB token unprecedented levels of utility and value as adoption rates continue increasing into the future.
Buying CKB
One of the most reputable crypto exchanges on the market, Bybit is the best place to buy CKB. On Bybit, CKB is available on the exchange's derivatives trading platform. To buy CKB, simply sign up for an account. Once you're verified and logged in, head over to the Derivatives tab in the upper part of the site.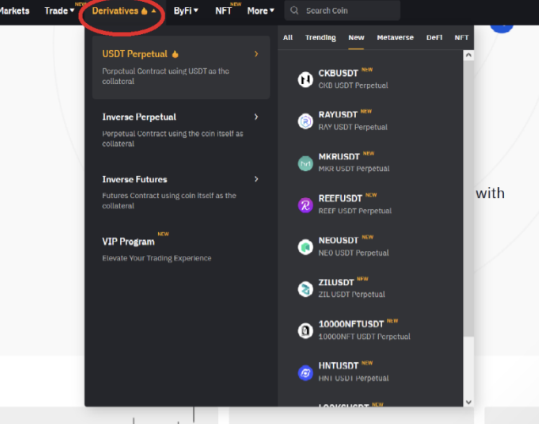 Now, search for CKBUSDT and press on the pair to be redirected to the trading platform.

The trading platform consists of a chart to the left, an order book at the center, and the right section, which consists of the trading tools.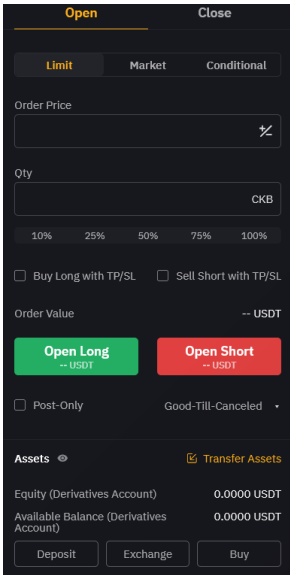 To trade CKB, fund your account with USDT. Make sure your USDT deposit is auto channeled to your derivatives account (as seen below).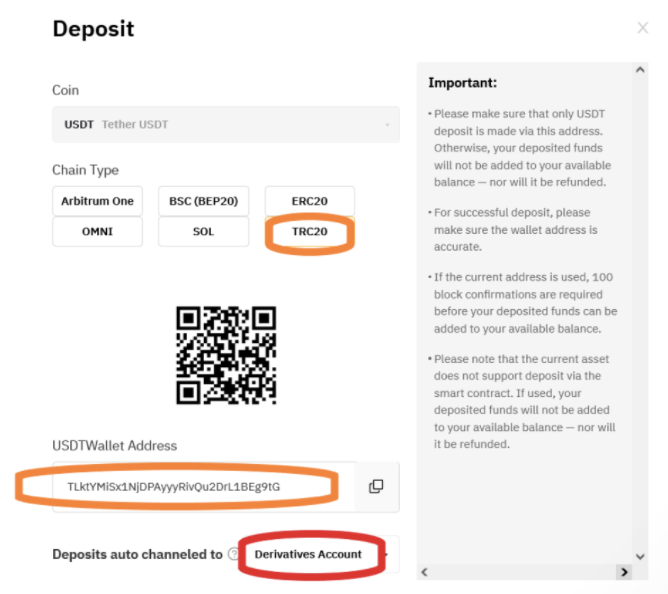 For more information on how to deposit USDT, check out this guide.
With USDT in your account, create a limit order to BUY/SELL. Alternatively, click on Open Long to buy and Open Short to sell.
Now, confirm your position, and you'll have exposure to CKB's market movement through Bybit.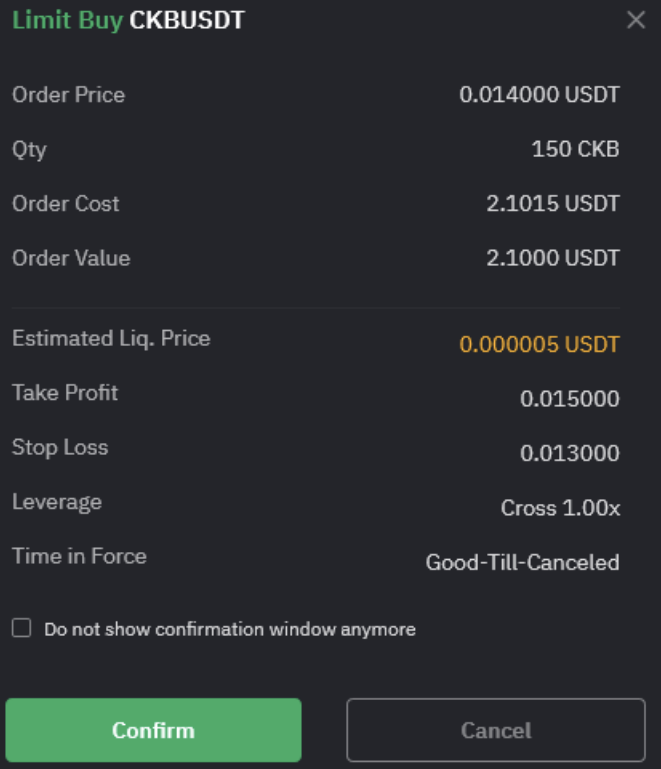 Closing Thoughts
Nervos Network is bringing flexibility, interoperability and scalability to the blockchain and crypto space. Unlike most blockchain-related projects that attempt to compete with existing platforms, Nervos takes a different approach, incorporating the best features of every network to create a valuable contribution to the mass adoption of blockchain technology. 
Thanks to the network's use of a common knowledge base approach, Nervos can incentivize the participation of every user, miner and node operator to facilitate the platform's continuing growth. With CKB as the decentralized trust root of the Nervos Network crypto economy, security of the upper layers is guaranteed without compromising scalability, flexibility and interoperability. 
Furthermore, with the advancement of Nervos Network toward a DAO, users and developers will have full autonomy in defining the network's protocol and creating digital identities for the emerging crypto economy. Going forward, imagination will be the only limitation to the use of the Nervos Network.