MovieBloc (MBL): A Blockchain-Powered Streaming Platform
It's no secret that the entertainment industry is undergoing a major shift. With traditional outlets struggling to keep up with modern streaming services, it's clear that the future of shows and movies lies in digital platforms. MovieBloc is one of them.
How does MovieBloc fare in the world of rapid change? And, more importantly, how does it leverage the blockchain to create a more efficient and secure environment for content creators and viewers alike? In this article, we'll take a closer look at how MovieBloc works, and its potential implications with regard to the future of streaming. Without further ado, let's get started.
What Is MovieBloc?
Founded by Chris Kang, MovieBloc is a blockchain-powered content distribution platform that was launched in 2019. By using blockchain technology, MovieBloc can provide users with a complete and more transparent movie streaming experience. In turn, users of the platform create an even playing field for transparent data and revenue sharing, and improve screening opportunities for movie producers. 
The MovieBloc ecosystem relies on the MBL token. Users can earn this token through referrals and by writing comments, sharing storage space and sharing bandwidth. These tokens can then be used to purchase or rent movies and TV shows from the platform. Apart from this, MovieBloc also offers several other features which make it an attractive option for movie and TV lovers.
What Is MBL?
When you think of Ethereum, Ether comes to mind; with Cardano, it's ADA. MBL tokens fuel the MovieBloc content distribution platform as its utility token.
The token release of MBL took place in the middle of 2019. Using Ethereum's ERC20 standard, MovieBloc's tokens can be used for payment-related services, such as premium content and language translation, within the MovieBloc ecosystem. MBL tokens are not only used for payment but also to encourage transparency in the system, as reports of illegal content or compromising movies are incentivized.
How MovieBloc Works
MovieBloc is built on the Ontology blockchain. Imagine a world where you have complete control over your personal data. The Ontology blockchain offers this luxury by providing users with greater levels of privacy and transparency when it comes to transactions on the network, while maintaining regulatory compliance for enterprise builders who want access, but who don't necessarily release their information into public spaces (as Ethereum does today).
In short, with its high speed (low cost) Layer 2 blockchain technology designed specifically around identity management systems — and additional features such as establishing trust between parties involved — the hope is that we'll see more people utilize these services in the near future.
The MovieBloc ecosystem operates on three basic layers:
Bloc layer — Connects all of the participants

Market layer — Facilitates the trade of contents

Fundraising layer — Incentivizes content creators 
Key Features
Level Playing Field
MovieBloc will create a more immersive and engaging experience for viewers by decentralizing the film industry. Participants can take on different roles — such as creators, managers or translators — depending on their taste in movies. They also have opportunities to review films with other users through the app. 
All activities carried out within MovieBloc's ecosystem generate shared rewards among stakeholders involved (including production teams), unlike most blockchain-based projects, which are focused on maximizing profit margins.
Transparency
With its blockchain-based smart contract, MovieBloc provides more transparency to the movie industry. It will help creators by giving them insight into who their followers are, and what kinds of content their followers like, so they can deliver every time.
Global Influence
MovieBloc takes participation to the next level by letting users play movies or episodes on demand. Each title is available individually, and paid episodes/movies can be streamed any time within 72 hours from their time of purchase.
Events and Competitions
Blockchain-based movie festivals will be held on the MovieBloc network to honor quality films and talented new creators. The festival is held quarterly, and prizes worth $10,000 are up for grabs each time. Producers earn recognition from the contest and gain monetary rewards for their work.
Creator-Centric Economy
The curators at MovieBloc are determined to help fellow creators succeed, allowing them to set prices, areas and exhibition times for their films without having to obtain approval from a middleman. This means less time spent on ads, and more money saved.
Easy to Sign Up For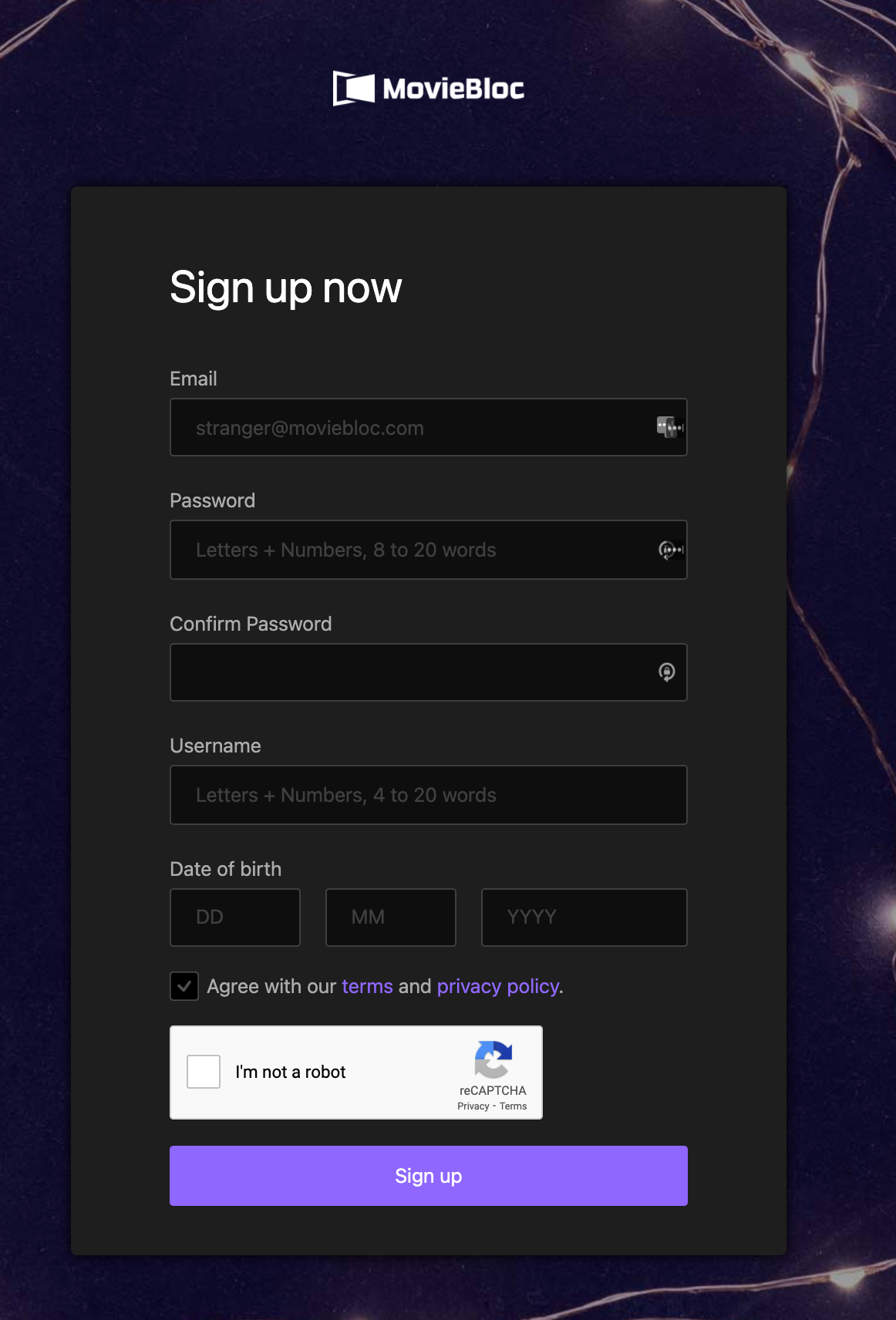 Source: MovieBloc
On the user's end, payment details such as credit card numbers aren't required in the sign-up process, which is very straightforward. Additionally, outreach to a global audience means there's potential for greater revenue.
MBL Tokenomics
Note: The figures below are accurate as of this writing, and are approximated up to two decimal places where necessary.

Source: CoinMarketCap
Total Supply — 30 billion MBL
Circulating Token Supply — 13.53 billion
Market Cap — $163 million
24-Hour Trading Volume — $44 million
Current Price — $0.012
Current CoinMarketCap Ranking — #318
Fully Diluted Market Cap — $360 million
Pros
Opportunity for Growth
Most of the profit made from MovieBloc will come from streaming services. We've seen traditional centralized streaming platforms like Netflix make millions of dollars, and if MovieBloc can allocate its resources to improve the streaming experience, it could well follow suit.
Decentralization
Since MovieBloc is a consumer-centric platform, users are largely responsible for its success. Their actions — for instance, whether they report illegal streams, and recommend the platform to their friends — will be a defining factor here. 
Unique Propositions
MovieBloc makes payments every four days, and 70% of these payments go to the filmmakers. If a user provides subtitles for the movie, they'll receive 5% of the filmmaker's video-on-demand revenue. The remaining 30% will go to the MovieBloc team. Also, a large number of the movies here cost only $1 to download, with some even accessible for free. Just about anyone can upload a movie on MovieBloc. 
Cons
Lack of Blockbuster Movies
While indie movies have their own loyal followers, blockbusters are usually what attract moviegoing crowds. MovieBloc might not appeal to the mainstream audience, as it doesn't feature any blockbuster movies, thus limiting its earning potential.
Steeper Learning Curve
With the introduction of new technology, it's no longer just a matter of watching movies — you have to take NFTs and blockchain technicalities into consideration. This could be an added hassle for those who just want to unwind at the end of a long day.
Who is MovieBloc For?
The MovieBloc network is for everyone. Are you a movie lover, a filmmaker, a blockchain enthusiast, or simply an investor looking for the next big project to invest in? There's a place for everyone on the MovieBloc platform — and you can earn while doing what you love.
Is MovieBloc (MBL) a Good Investment? 
Yes. For a platform that has been repeatedly dubbed the "global Independent movie platform" or "legal torrent," it's hard to bypass it as a good investment. The Moviebloc network offers movies in 78 languages across 106 countries. It can do this in a short period of time, due to its user-centric structure. We believe it will make waves as more people get to know about it — so now might be a good time to take a small position and watch. 
Closing Thoughts
So, what do we think about MovieBloc? In short, it's an ambitious project that has the potential to revolutionize the entertainment industry. By utilizing blockchain technology and building a content distribution platform based on their community, MovieBloc has the potential to create a more efficient and secure ecosystem for content creators and viewers alike. We'll be keeping a close eye on this project as it develops, so be sure to check back for updates.