Kok Chain (KOK): The Best of Korean Media, Decentralized
KOK Chain (formerly known as Kok Play) is a South Korean blockchain project that aims to create a content platform which is open to everyone, with systems in place to provide equitable compensation and recognition to content creators. 
The digital content market exploded during the pandemic, with companies such as Netflix, Google, Disney and Apple tightening their reign of influence over the public. However, this growth came at a cost for consumers, who face increasing fees and content censorship as a small handful of companies have all but taken over the market. 
KOK Chain's solution is to create a decentralized digital content platform that puts content creators and their viewers first. In this guide, we're going to cover what KOK Chain does, and determine whether or not it's a good investment. 
What Is KOK Chain?
Content available on KOK Chain. Image source: KOK Chain
KOK Chain originally started out as Kok Play, launched in 2018 in South Korea by Ji-won Kang, CEO of Superacid, a game development company. The Kok Play project was reportedly acquired by South Korean blockchain firm MEDIUM and subsequently rebranded "KOK Chain."
Built on blockchain, KOK Chain is a content distribution platform that offers fair and transparent services and is open to everyone. The platform's ecosystem guarantees content producers recognition for their work, as well as equitable compensation from viewers.
The influence of billion-dollar corporations such as Netflix and YouTube has grown significantly in recent years, leading to unfair practices that primarily affect content consumers. These content providers have a monopoly on information. Due to their dominance in the market, they can increase service fees or censor content any time they want.
KOK Chain's goal is to create a content platform that offers equal opportunities for everyone, with a diverse variety of content. The project wants to: 
Revise the high fee system charged by centralized content distributors

Improve the traditional structure for content distribution

Demonopolize content distribution by large curation platforms

Ensure content creators have equal and fair access to the platform's assets

Guarantee complete creative freedom
Content available on KOK Chain ranges from webtoons and movies to games and videos. So far, it claims to have a content library of over 300 TV shows, movies, webtoons and games. 
What Is KOK Token?
KOK token is the native currency of the KOK Chain ecosystem. It can be used for payment, distribution, and compensation for watching content. 
The total supply of KOK is capped at 5 billion tokens. According to the project's white paper, KOK Chain adds new tokens to the circulating supply every day to supply liquidity and reward service providers and facilitators. 
The number of tokens to be released is automatically calculated based on the market distribution of KOK, the total staking pie and transactional demand. The rate is limited using these variables in order to prevent inflation.
KOK Chain: How It Works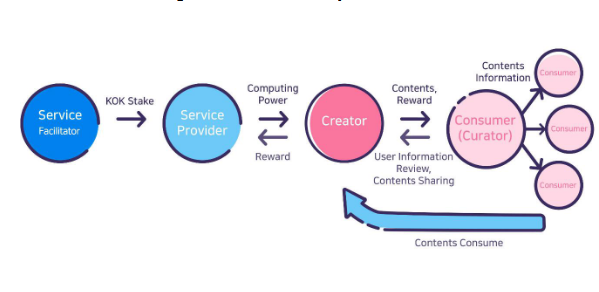 Entities that make up KOK Chain's token economy. Image source: KOK Chain
KOK Chain encourages content creators to directly connect with community members who support them and buy their content. The economic ecosystem of KOK Chain comprises four entities: 
Content providers: These are the people and entities involved in content creation for the KOK Chain platform. Anyone who holds a legitimate copyright-and-usage rights license can become a content provider on the platform. Users who consume content published on the platform by content providers pay compensation, a portion of which is paid to the platform for storage and data.

Service providers: These are users who provide resources (e.g., computing power) to the platform in exchange for fees that are paid in KOK. Fees paid are proportional to the amount of computing power a service provider supplies. Content providers can choose to play the role of service provider if they want to reduce their total publishing fees. 

Service facilitators: These are users who indirectly participate by staking KOK tokens in exchange for rewards. Anyone can stake their tokens in the network simply by purchasing and depositing tokens. 

Users and curators: Users are the people who view content published on KOK Chain and utilize the platform's services, such as its NFT marketplace. These users can also become curators by recommending, reviewing and sharing content. By playing the role of curator, users can earn rewards, depending on the level of their engagement with the platform. KOK Chain uses the information provided by curators to refine algorithms that help recommend personalized content to other users. 
Key Features of KOK Chain
1. Fair Compensation
Content providers on KOK Chain are guaranteed adequate compensation for their work. KOK Chain will still deduct a portion of content providers' earnings for storage and data fees, but there are no middlemen or hidden fees. 
2. KOK NFTs
The KOK Chain platform supports non-fungible tokens (NFTs). Legitimate copyright holders can use the platform to create NFTs for their work with hard-coded rules which ensure they receive a share of profits generated from the distribution of their work. The platform can also be used to create NFTs of assets such as game items, music and derivative works.
3. KOK Market
KOK Market is an AI-driven NFT marketplace that KOK Chain plans to launch soon. The marketplace will provide a decentralized platform for KOK account holders to conveniently create, sell and stake their NFTs from an easy-to-use mobile app. KOK Market is still under development; at the time of this writing (June 22, 2022), it can only be used in demo mode. 
4. Decentralized Governance
KOK Chain has a decentralized governance model for decisions such as content showcasing order, fees charged, curator and creator rewards, and in-platform misconducts such as copyright violations and inappropriate content. 
The platform operates as a decentralized autonomous organization (DAO). Service facilitators who stake KOK tokens gain the power to make and vote on motions. To prevent potential abuse, the platform lowers the voting weight of users who repeatedly vote for unsuccessful decisions.
KOK Tokenomics
Chart showing the token allocation for KOK. Image source: KOK Chain
KOK Chain plans to issue 5 billion tokens that are allocated as follows: 
30% is set aside for marketing rewards

30% is set aside for BP rewards 

20% is for the KOK platform 

10% is for user rewards

10% is earmarked for marketing
Is KOK Chain (KOK) a Good Investment?
Milestone objectives of the KOK Chain. Image source: KOK Chain
Like every cryptocurrency, KOK experienced a significant drop in value during the crypto bear market of 2022, losing much of the value it gained in the previous year. Market data from CoinGecko shows that KOK experienced tremendous growth during the last and first quarters of 2021 and 2022, respectively, reaching an all-time high (ATH) of $6.83 on February 26, 2022. 
Despite the bear market, KOK is still more valuable during the second quarter of 2022 than it was during the same period in 2021. No one can predict how KOK will do in the future, but it could potentially bounce back and even experience an uptrend if KOK Chain developers manage to fulfill milestone goals. 
Buying KOK
KOK tokens can be spot traded on Bybit in a KOK/USDT trading pair. Image source: Bybit
KOK tokens can be purchased on a variety of crypto exchanges, including Bybit, where it can be spot traded in a trading pair with Tether (USDT). "Spot trading" refers to a transaction between a buyer and seller to directly trade one cryptocurrency for another, at the current market price. 
To get started with spot trading on Bybit, buyers must first create a free account on the Bybit website or app. The next step is to purchase USDT from Bybit by finding a seller through the platform's peer-to-peer (P2P) market, using a variety of payment methods. Alternatively, you can use Bybit's Express option to instantly purchase USDT using a credit card. 
Once the purchase is completed, deposit the USDT into your spot account and then search for a KOK/USDT trading pair to place your order. Bybit offers three different order types: 
Limit orders: The order is only executed if the market price reaches (or is better than) your limit price. 

Market orders: A market order is immediately filled at the best available price. The execution of the order is guaranteed, but the price at which the order is executed isn't certain, since the market value may fluctuate. 

Conditional orders: This is an advanced order that is only executed when the market value of the asset reaches your specified trigger price. 
Decide whether to place a limit order, market order or conditional order, and then enter the amount of KOK tokens you want. Finally, click on Buy KOK to place your order.
Closing Thoughts
KOK Chain aims to provide content creators and their viewers with a transparent and equitable platform for content distribution. Its goal is to offer content creators and their communities a platform that's free from censorship, and offers creative freedom.
In addition to providing a content distribution platform, KOK Chain also enables content creators to tokenize their assets via KOK NFTs. Legitimate copyright holders can use KOK Chain to create NFTs of their content that can be sold without restriction to anyone. 
KOK Chain is an ambitious project that's taking on existing global platforms, such as Netflix, which have chokeholds over how information is distributed. How it will fare against these giant media corporations is uncertain, but the project appears to be receiving a lot of support from groups in South Korea and Hong Kong.