Explained: Radio Caca (RACA)
Introduction
Some 20 to 30 years ago, digital games were two-dimensional, played on handheld devices and first-generation computers with limited functionality. As time passed, video games with low-quality displays were released, with clear, photorealistic games hitting the market later on.
Today, with blockchain technology evolving at breakneck speed, the lines between virtual and physical have never been so blurry. Immersion is a key aspect of games, enhancing the consumer experience. GameFi projects are sparing no expense to create hyper-realistic worlds in which any experience is possible. One such project is Radio CaCa.
What Is Radio Caca?
Radio Caca is a decentralized autonomous organization (DAO) that aims to build a virtual world. Its team comprises professionals with extensive experience in 3D technology who are looking to showcase their expertise with this ambitious project.
Radio Caca offers a wide array of features, including NFTs, play-to-earn (P2E) games and a metaverse known as United States of Mars (USM). It's also the exclusive manager of the Maye Musk mystery box (MPB) NFT. MPB is a special collection by Elon Musk's mother that's managed exclusively by the Radio Caca DAO. 
What Is the RACA Token?
The native token of the Radio Caca DAO, RACA is an acronym for "RAdio CAca."
Developed on the Binance Smart Chain, it's a BEP-20 token and a governance token of the network. Participants can use RACA to purchase gear or NFTs in the Raca metaverse. For example, if a user wants to purchase land in the metaverse, they have to stake RACA.
RACA is supported by Ethereum, OKExChain, the Binance Smart Chain and (in the future) the USM chain. Alongside NFTs, RACA is one of the main means of exchanging value in the metaverse.
Radio Caca: How It Works
Radio Caca incorporates several aspects of cryptocurrency functionality, such as P2E games and NFTs. At the time of this writing, it comprises two major products, one of which is Metamon. This P2E mini-game has a special economics model that ensures players can capitalize on their experiences. 
The other main product is the USM metaverse itself, developed by the USM Lab to fuel the growth of the digital economy through trade in the metaverse. However, this is only possible when the platform is appealing enough to attract and retain users. Therefore, the development team has added features to simulate real life, allowing users to interact with one another through messages and pre-programmed actions.
Radio Caca also supports DeFi through its NFT and RACA token staking features. In addition, it enables yield farming through its NFT farming pools in order to develop a virtual world where every user is a builder, since their activities will create a new economy. 
To achieve its goals, Radio Caca developers are actively engaged in building decentralized applications (DApps) for users. Compatible with popular public chains like Ethereum and BSC, the project's ultimate goal is to develop its own public blockchain — the USM chain.
Key Features of Radio Caca
USM Metaverse
United States of Mars, or USM, is a high-display 3D virtual reality world where users can own lands, open stores, set up art galleries and play games. It's being developed by AI software that specializes in photorealistic rendering.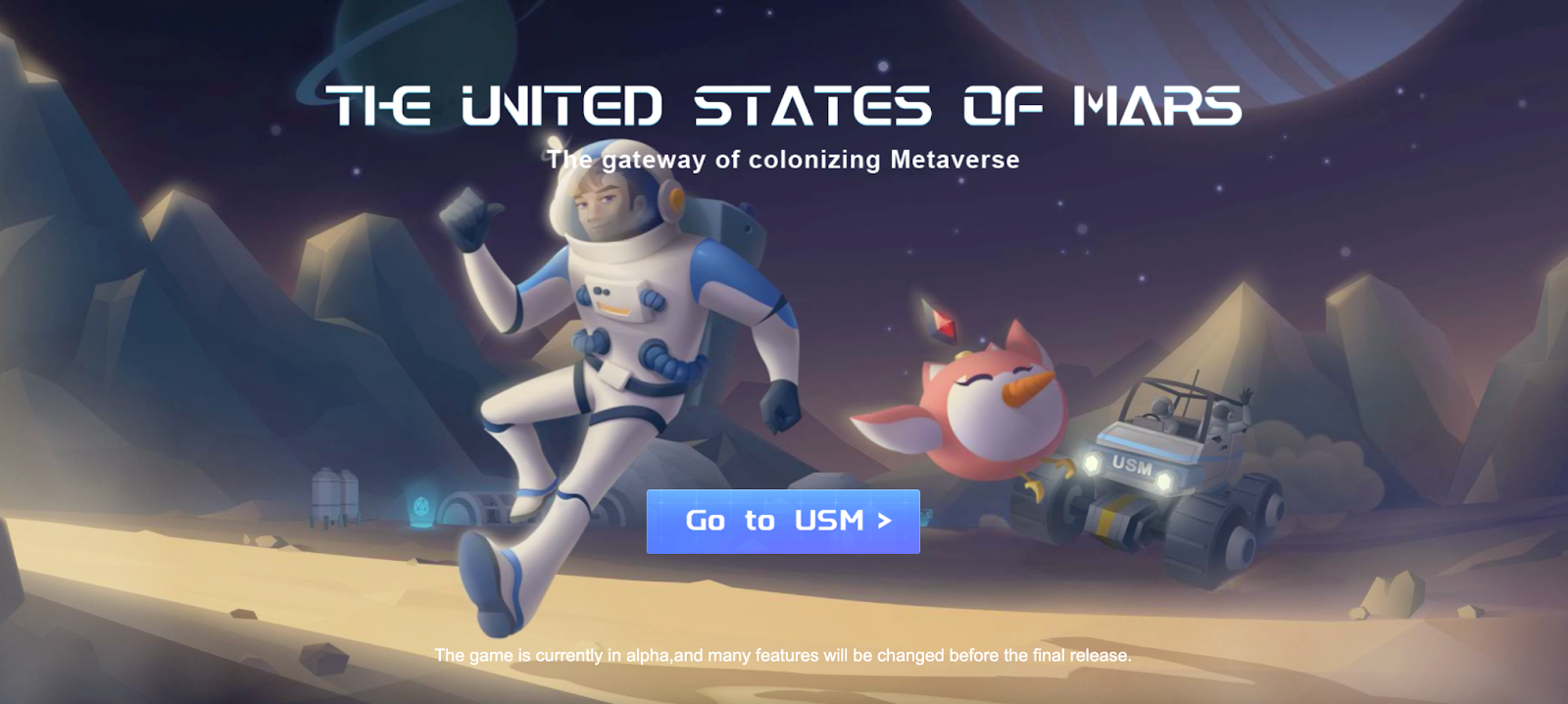 Source: Radio Caca
The metaverse features a user experience similar to that of Google Earth, allowing users to:
Change their orientation

Zoom in and out

Travel around the planet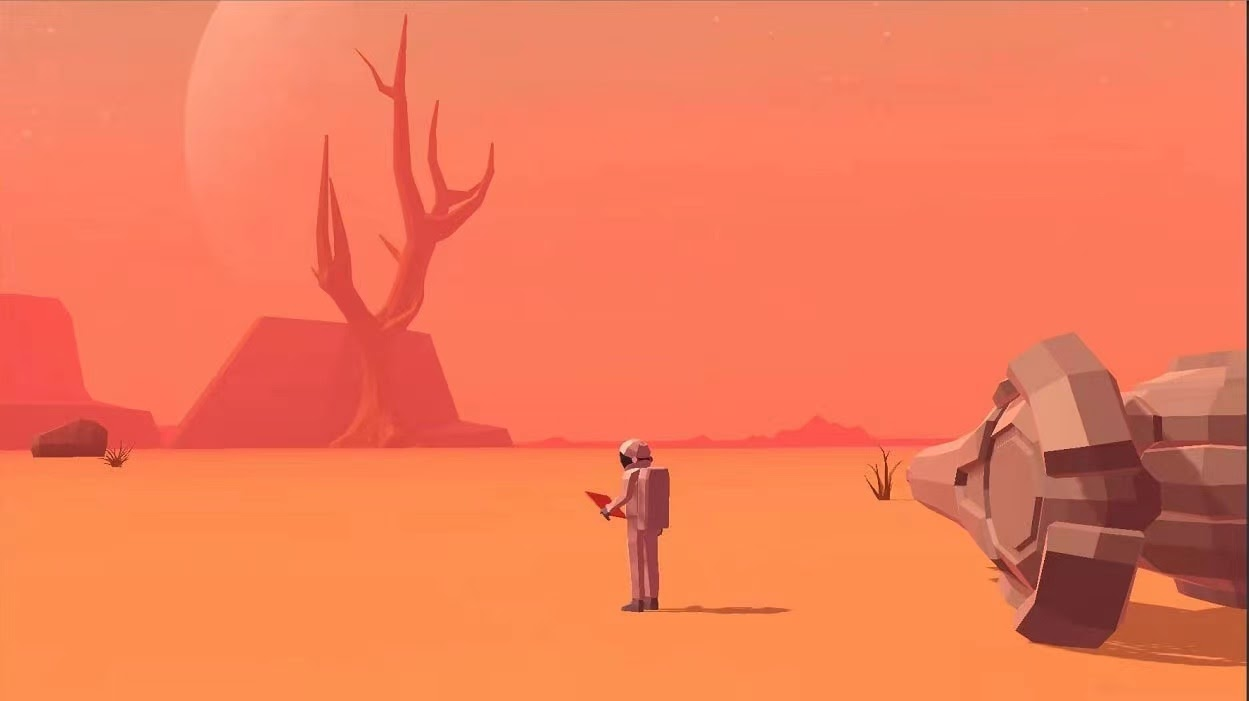 Source: Cointelegraph
The planet has a red surface like that of Mars, with three different states: Kiss-up State Land, Bake State Land and Doge State Land. In each of these states, the background and environment are similar to that of newly-constructed posh estates (think upscale New York). In it, users are dressed in an astronaut's gear, although upon full deployment, they can change their gear by purchasing NFTs. You can move your character by walking or sprinting, and an alternate drone view is available (if that's your kind of thing).
In the USM, galleries are set up where users can view NFTs offered by Radio Caca, as in a real-life art gallery exhibition. Users can also showcase their NFTs to others by putting them up in their personal spaces, or in these art galleries. For instance, a Bored Ape Yacht Club exhibition could also be held.
Additionally, it's worth noting USM's cross-chain capabilities. The USM is EVM-compatible and can run on the Ethereum network and, simultaneously, the Binance Smart Chain. As such, transactions on the metaverse can be carried out in RACA, regardless of the token the seller/buyer possesses. 
Radio Caca NFTs
Radio Caca is a platform that hosts many exclusive NFTs drops. The Maye Musk Mystery Box is the first among a line of celebrity NFTs that Radio Caca will offer. Apart from celeb NFTs, lands in the USM metaverse (e.g., Doge State Land) will also be offered as NFTs. Game characters, special objects, art, music and community mystery boxes are some other NFT options that will be up for grabs on Radio Caca.
NFT Marketplace 
In the metaverse, users can trade NFTs in the NFT marketplace, or in the 3D virtual Avenue de Champs Elysées.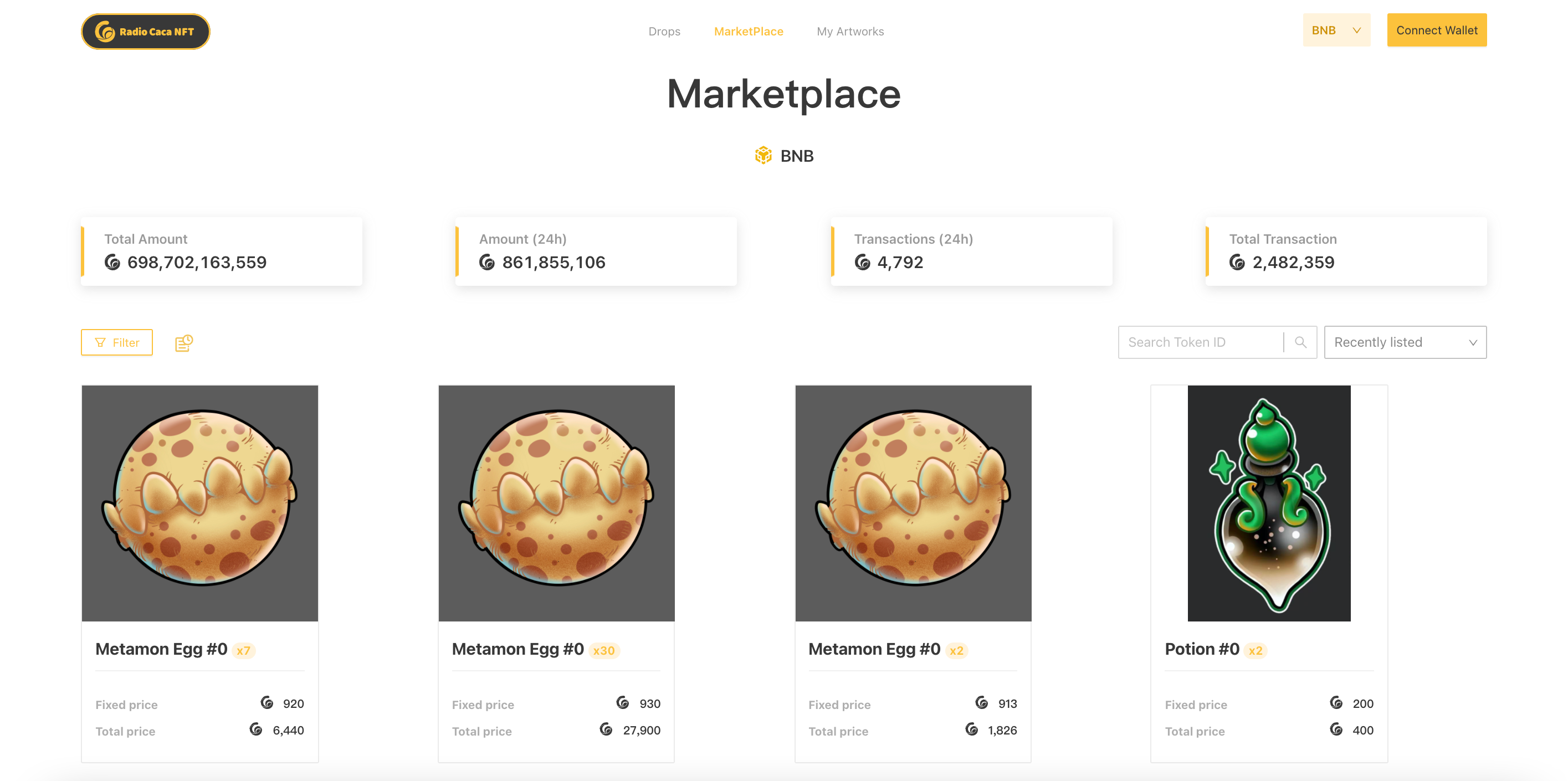 Source: Radio Caca
Business Launchpad 
In the USM, Radio Caca offers services to businesses in the form of facilities for virtual events. If a company wants to release a new product to its brand line, it can host it virtually on the metaverse. Celebrity artists can also put on virtual shows for fans in the metaverse.
Metamon Game 
Metamon Island
is a game developed by Radio Caca which will be added to the USM later. In it, users can participate to earn rewards in the form of RACA. Game characters and items can be traded among players as collectibles. 
RACA Tokenomics
Note: Figures below are accurate as this writing, and are approximated up to two decimal places where applicable.
Max. Supply — 500 billion RACA
Circulating Supply — 307 billion
Market Price — $0.00074
Market Cap — $228 million 
24-Hour Trading Volume — $32 million
Pros
Low Energy Usage
Excessive energy usage is the frontline issue for major blockchains. In fact, the projects built on such blockchains — e.g., Ethereum — are grappling with it right now. The large amount of electricity that's required to secure blockchains has raised concerns from all facets of society.
Reassuringly, there are chains with low energy usage, and one of them is the Binance Smart Chain. As Radio Caca is built on BSC, it's in a good position to develop without having to worry about adverse environmental consequences.
Cross-Chain Functionality
Radio Caca and its metaverse, USM, are compatible with notable blockchains. This is an important feature for next-gen metaverse projects, as it makes for seamless program flow. 
This feature will also facilitate trade, as users won't have to worry or stress about their payment method when conducting transactions. Once they become registered users on USM, they'll have RACA wallets created for them where their crypto assets can be converted to RACA.
Cons
Centralized Security Architecture 
The entire software workspace and security system is run on Amazon Web Services (AWS), a cloud computing service owned by retail-and-delivery company Amazon. 
What's concerning here is that a DeFi project shouldn't be based on centralized security architecture. The funds of users who are players in the decentralized finance space shouldn't be based in a highly centralized institution — centralized systems have proven, time and time again, to be vulnerable to attacks. This feature is the pivot point for the concept of decentralization itself.
Is Radio Caca (RACA) a Good Investment? 
The importance of cross-chain functionality in metaverses cannot be overstated. Projects that incorporate it are arguably many steps ahead of others. This functionality means that whenever an art exhibition is held, any NFT can be showcased, regardless of the chain it was minted on. As Radio Caca was developed on Binance Smart Chain, the platform is cheaper and more efficient than many of its peers, so there's greater room for leverage.
With Maye Musk at the helm of MPB, Radio Caca has already proven its trustworthiness (somewhat), and more star-studded partnerships are sure to follow in the near future.
Buying RACA
RACA tokens can be bought on a few cryptocurrency exchanges. While the process may seem intimidating, it's actually very simple. Follow the steps below to buy RACA on Bybit.
Step 1: Create a verified Bybit trading account.
Step 2: Log in and purchase USDT using the Fiat Gateway. You can also transfer USDT from an external exchange or third-party wallet to your Bybit spot wallet. 
Step 3: Visit the Spot Market section and search for the RACA/USDT pair. 
Step 4: Using a Limit Order, enter the price at which you want to buy RACA and the amount of USDT tokens you want to purchase. Your RACA tokens will be transferred to your Bybit Spot wallet once the order is filled.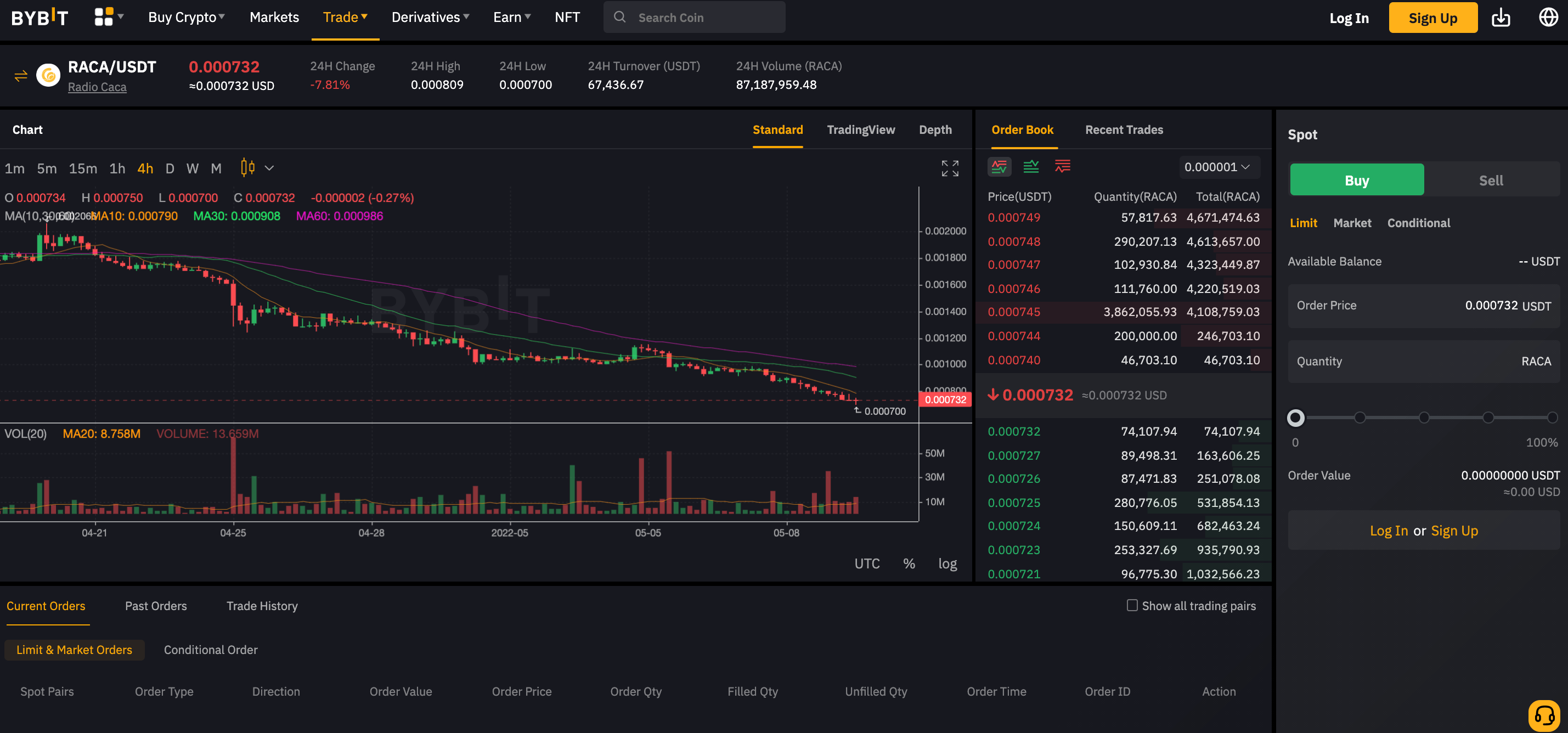 Source: RACA/USDT
Closing Thoughts
After reading this article, one may be thinking: Can reality be substituted with games? Can we truly advance 3D virtual reality — while striking a balance between the virtual and physical? The answers have been restated several times by multiple blockchain projects, and the appearance of Radio Caca has simply re-emphasized the magnitude of the metaverse, while highlighting its potential for the public. 
Overall, the metaverse is brimming with possibilities, but whether a project's mission and goals resonate with an individual is an entirely different thing. If in doubt, give the project a try — in this case, Radio Caca — and see where the experience takes you. It's time to RACA!