Alchemy Pay (ACH): Why It Matters
The crypto world is transforming the way we play, work and interact with one another. Since cryptocurrency is decentralized, the need for third-party institutions, which tend to make payments slower and more costly, is eradicated. However, the transition to a fully digital-based payment system globally requires competitive adoption by two players: merchants and consumers.
Although an increasing number of merchants are adopting blockchain-based schemes, most still use traditional payment methods such as debit cards and credit cards — while consumer interest in cryptocurrencies seems to have reached an all-time high. However, crypto's volatile prices leave the larger population unsure whether it's a good investment to make. 
Enter Alchemy Pay, a payment gateway that bridges the gap between the crypto and fiat worlds. With a global reach of over 70 countries and 300 fiat channels, Alchemy Pay is pioneering the world's first-ever hybrid payment system. Effectively, merchants access online and offline instant conversion to fiat currency through Alchemy Pay, while customers make payments for everyday goods and services in crypto. 
What Is Alchemy Pay?
Alchemy Pay is a hybrid payment system that incorporates fiat and cryptocurrency payments. This flexibility payments provides the best of both worlds to payment ecosystems. 
Some merchants require payments in local currency. Alchemy Pay has a network capable of performing instant conversion rates. Therefore, merchants get their money's worth, whether in fiat or cryptocurrency. This helps to widen merchants' consumer reach when they accept payments in cryptocurrency, without having to worry about volatility or delays with blockchain networks. 
As mentioned earlier, Alchemy Pay has a global reach of over 70 countries and 300 fiat channels. Their merchant networks' list is ever-growing and currently includes industry giants such as Shopify and Aldo. Their blockchain network is also strategic — so far, the company has partnered with Polygon and Chainlink, among other blockchain networks.
What Is ACH?
ACH is the Ethereum token that powers Alchemy Pay. The token uses the ERC20 standard and runs on the Ethereum blockchain. Therefore, any references to ACH as a token speak to Alchemy Pay's payments system, and do not refer to ACH as a token itself. 
What Is ACH Used For? 
The ACH token is the means to trade in Alchemy Pay's Ethereum-based network. It's mainly used as a token for paying transactional network fees. Other use cases include earning rewards on the Alchemy Pay ecosystem, often paid in ACH tokens. Depending on how many ACH tokens you have, you can gain access to fee discounts or vote on governance proposals.
How Alchemy Pay Works
As mentioned, Alchemy Pay works to bridge the gap between fiat and cryptocurrency payments. Just as you can choose to pay using a credit card, cash or your mobile wallet, Alchemy Pay allows you to choose to pay in crypto or fiat. It also allows merchants to accept crypto payments with instant conversion to fiat if they need to do so. This idea has been around for a while now. However, Alchemy Pay is the first service to implement this gateway payment solution in practice. 
Thanks to Alchemy Pay's growing global networks, merchants can connect to their network through industry giants such as Shopify. Merchants can pledge ACH on the cryptocurrency exchange platform offering the ACH token, and subsequently deploy Alchemy Pay's payment services. 
When consumers make payments in cryptocurrency to merchants online or at physical stores, Alchemy Pay converts it to the required fiat currency.
Key Features
Fiat Payment Processor
Alchemy Pay's value proposition is to spearhead seamless transactions between crypto and fiat currencies. It's the first-ever project to bridge the crypto and fiat worlds. Given its mission and goal in the crypto space, its key feature is a fiat payment processor that allows merchants to convert crypto and fiat currencies instantly. This technology runs on Ethereum's decentralized smart contracts, making it a viable solution for payments worldwide. 
So whether you want to receive payments in cryptocurrency or your local currency, the Alchemy Pay network supports any conversions between the two. With its smooth integration of multiple payment channels, including e-wallets and credit cards, Alchemy Pay is ushering in a new era where the user is in full control when it comes to choosing which channel to use to pay for goods or services. 
Multiple POS Terminals
One of Alchemy Pay's excellent features is its multiple point of sale (POS) terminals, which require very little to no infrastructure to set up. Hence, a new merchant looking to sign up for Alchemy Pay can save on set-up costs, and readily access the network through smart devices. This is made possible by incorporating decentralized applications (DApps) in Alchemy Pay's system architecture. Since its payments are decentralized, merchants and consumers can use an intuitive interface to make payments. Furthermore, the terminal offers offline capabilities, allowing businesses to run without experiencing internet issues. 
Crypto-Linked Cards
As an additional selling point, Alchemy Pay has launched a series of crypto-linked virtual cards. These can be linked to popular digital wallets with the likes of Google Payand PayPal, thus offering extensive usage by merchants working on the Visa and Mastercard networks. Additionally, e-commerce giants such as Amazon and eBay now accept payments using crypto-linked cards.
The benefits of using these cards are limitless, ranging from global airport first-class lounge access to 24-hour butler services. Currently, the company supports over 40 cryptocurrencies, as well as millions of merchants who subscribe to the platform. The cherry on the top? Exclusive branding for the cards, featuring unique NFT art by renowned artist Song Ting.
ACH Tokenomics
ACH tokens are a great way to earn cashback rewards as a percentage of transactions. Using ACH tokens, you can make crypto investments or opt for virtual crypto-linked cards.

Source: CoinMarketCap
As of this writing, ACH has a 24-hour trading volume of over $18 million, a market cap of $164 million and a price of about $0.04. Its price has been down in the last 24 hours, which is expected with cryptocurrency market values. However, the circulating supply of ACH tokens is promising. With over 4 billion tokens available, and a maximum supply of 10 billion tokens, its market ranking will hopefully move farther up from its current #294. 
Is Alchemy Pay a Good Investment? 
There's no denying that Alchemy Pay has performed very well over the last few years. Recent partnerships with industry giants have seen a slew of positive reviews, which has led to the ACH token doubling in value in the past year. A key feature in its steady rise on the market is its point of sale (POS) feature, as described above. This helps to reduce the high volatility, which cryptocurrencies typically experience on the market. However, the ACH token is still ultimately a cryptocurrency. When dealing with any crypto, the general rule of thumb is never to invest more than you can afford to lose.
Buying ACH
Similar to most cryptocurrencies, ACH tokens are purchased on cryptocurrency exchange platforms. You can then trade your tokens with other cryptocurrencies or convert them to fiat, such as the U.S. dollar. The catch here, though, is that ACH tokens can only be purchased using other cryptocurrencies. 
So to buy your first ACH token, you need to first purchase some form of cryptocurrency. Bybit is one cryptocurrency exchange platform where you can easily spot-trade ACH tokens. Here's how to trade in ACH tokens on the platform.
If you don't have a Bybit account, click in the upper right on Sign Up and verify your account.If you already have an account, log in using your email. 

2. After logging into your account, go to the Bybit fiat page to purchase cryptocurrency. Here, the essential details to consider are the amount you'd like to spend and the currency your fiat money is in. Select Tether (USDT), and your payment channel.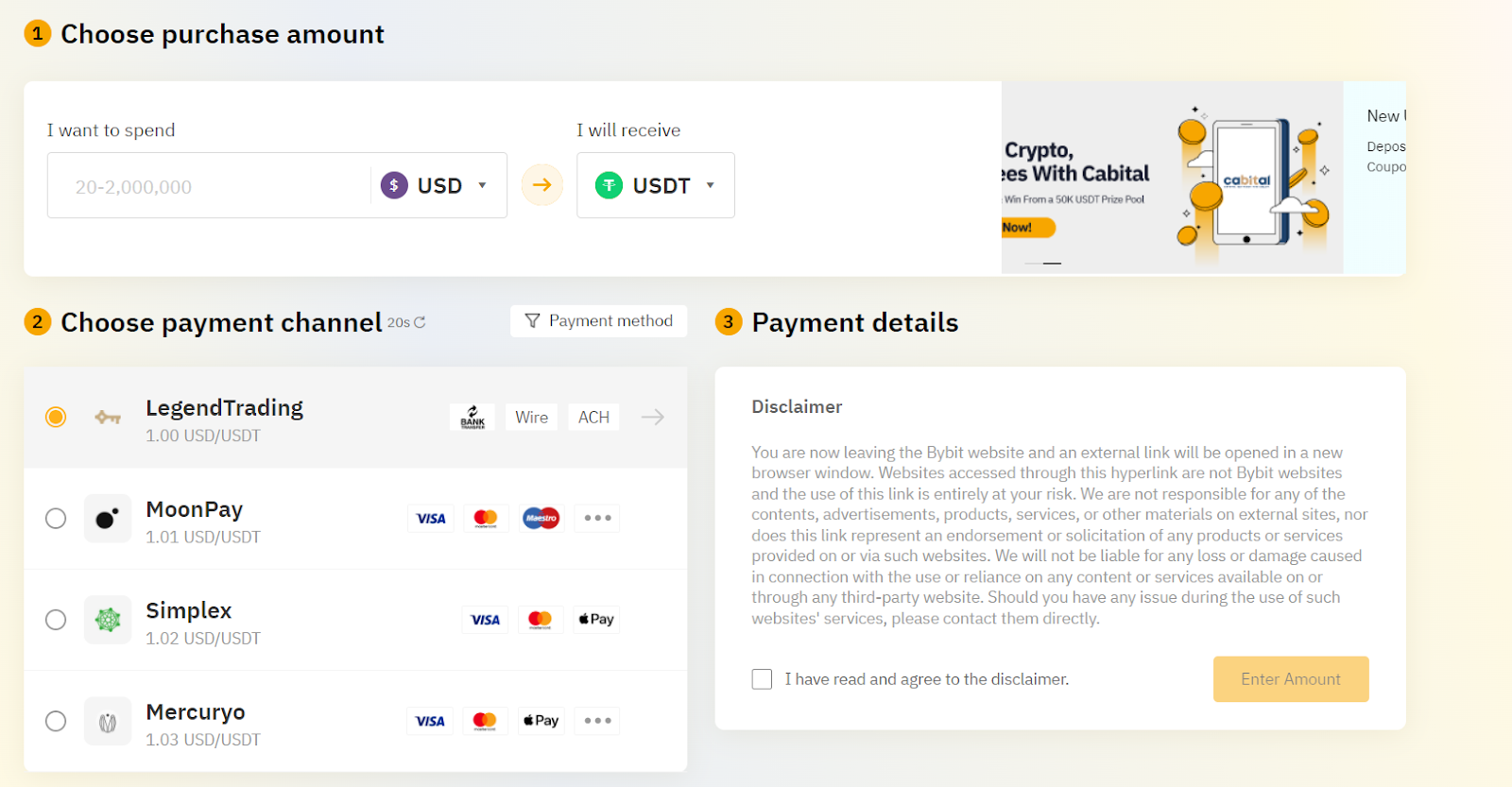 3. When you're done, from the top menu, click on Trade → Spot Trading and search for the ACH/USDT pair. You should see a Spot section on the right side of the screen.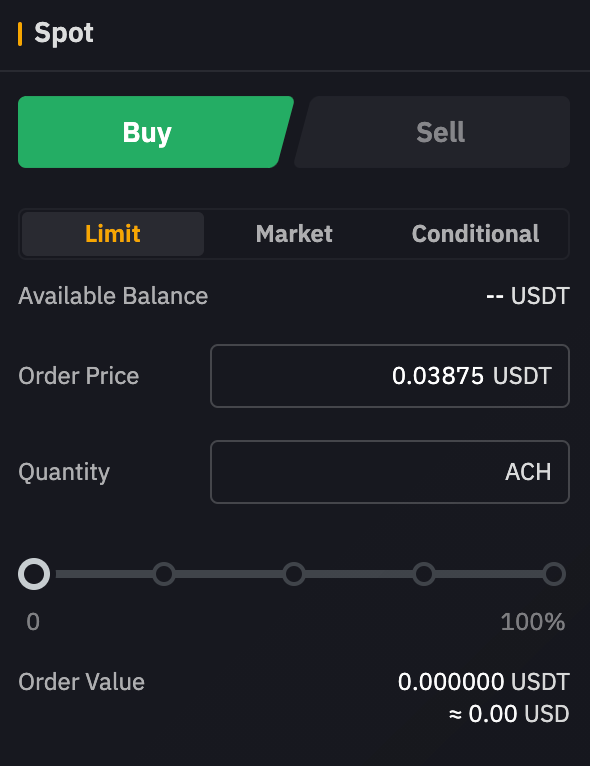 4. When you're done, fill in the quantity of ACH tokens you would like to purchase. For instance, if you fill in 20 ACH, you'll pay 0.78 USD, based on the price of $0.03875 per ACH token (at the time of this writing).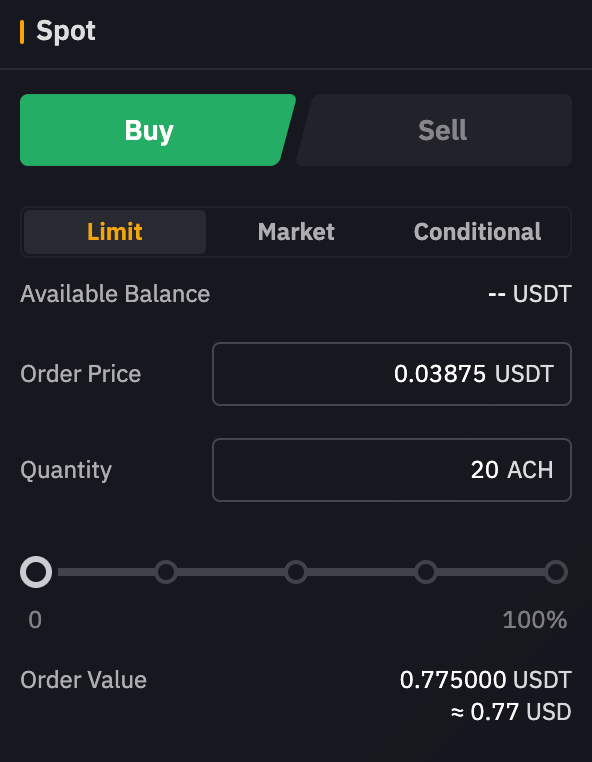 5. Once you're satisfied with your order value, click on Buy ACH and confirm the transaction.

Closing Thoughts
Alchemy Pay is bringing a new change to the global digital payments system. With the number of cryptocurrency users increasing by the day, merchants must find ways to refine their payment architectures if they want to remain relevant. Thanks to the innovation that is Alchemy Pay, this gap is getting smaller, as more merchants sign up to use ACH tokens to convert crypto to fiat currency. With this guide, our hope is that you're more informed on the value of Alchemy Pay and ACH, and can make a decision whether to invest accordingly.