Astar Network (ASTR): Build & Deploy DApps Easily
Introduction
With blockchains such as Bitcoin and Ethereum, miners receive transaction fees, and smart contract developers contributing to the ecosystem pay the price of deploying their apps in gas fees. The Astar Network is a DApp staking mechanism that rewards early investors and encourages community members to contribute early.
Listed in the "Innovation" category on Binance, Astar Network is a multichain DApp center that works with Ethereum Virtual Machine, Web Assembly and Layer 2 solutions on the Polkadot network. Highly versatile, Astar Network stands out from the crypto crowd as one of the latest high-potential projects.
The project formerly known as Plasm was renamed Astar Network two years ago. With Parity's Substrate framework, Astar Network can serve as a future Polkadot parachain and scalable smart contract platform. It's an open-source, scalable and interoperable infrastructure for Web 3.0.
According to DefiLlama, since Astar Network's launch in late Jan. 2022, the protocol has seen its total value lockup (TVL) reach a high of nearly $400 million.
This article is a detailed guide about the Astar Network, its features, how it works, and its pros and cons.
What Is Astar Network?
Astar Network is a DApp hub powered by Polkadot that supports Ethereum, WebAssembly and Layer 2 solutions such as ZK-Rollups. Astar's goal is to become a multichain smart contract platform that can run on multiple blockchains and virtual machines. The Polkadot relay chain is not designed to support smart contracts, providing an opportunity for Astar to take the lead.
Source: CoinMarketCap
A DApp developer's most important requirement is scalability. The Astar Network allows developers to create any application they want without worrying about scalability. GitHub maintains the work of the community under the public domain license at https://github.com/PlasmNetwork.
What Is ASTR?
The native token of Astar Network, ASTR is used for governance and staking. After being listed on CoinMarketCap at $0.16, the ASTR token reached an all-time low of $0.08 on Jan. 26, 2022. It's currently trading at $0.14 per token.
The annual inflation rate of the token is 10 percent, and the total token allocation is as follows:
Users and early investors: 30%

Parachain auction: 20%

Parachain auctions reserve: 5%

Protocol enhancement: 10%

On-chain DAO: 5%

Marketing: 5%

Team: 5%

Foundation: 10%

Early investing sponsors: 10%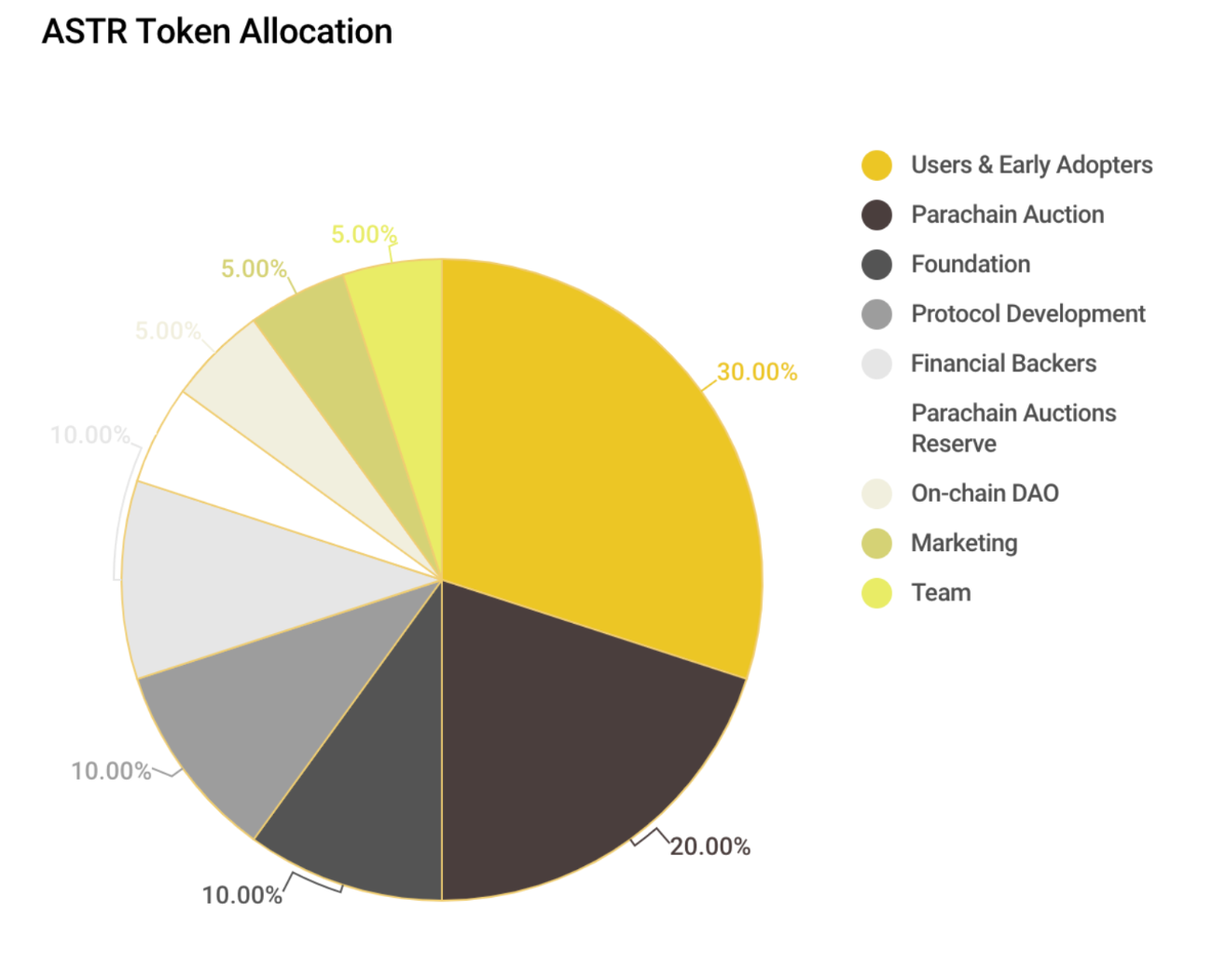 Allocation of ASTR Token. Source: Coin98.net
The ASTR token has three main roles:
Transaction fees: Paying for transactions on the network.

Governance: Using the token for governance activities such as voting.

Stake: Staking for consensus and rewards for validators and nominators. Token holders can stake ASTR tokens on the DApp as well as the network.
Astar Network: How It Works
The Astar Network is a permissionless public blockchain that anyone can join. Developers generally connect their applications to the Astar Network as the default root chain.
In addition, developers can use the optimistic virtual machine (OVM) module and DApp staking module from the network to utilize Layer 2 solutions with ease.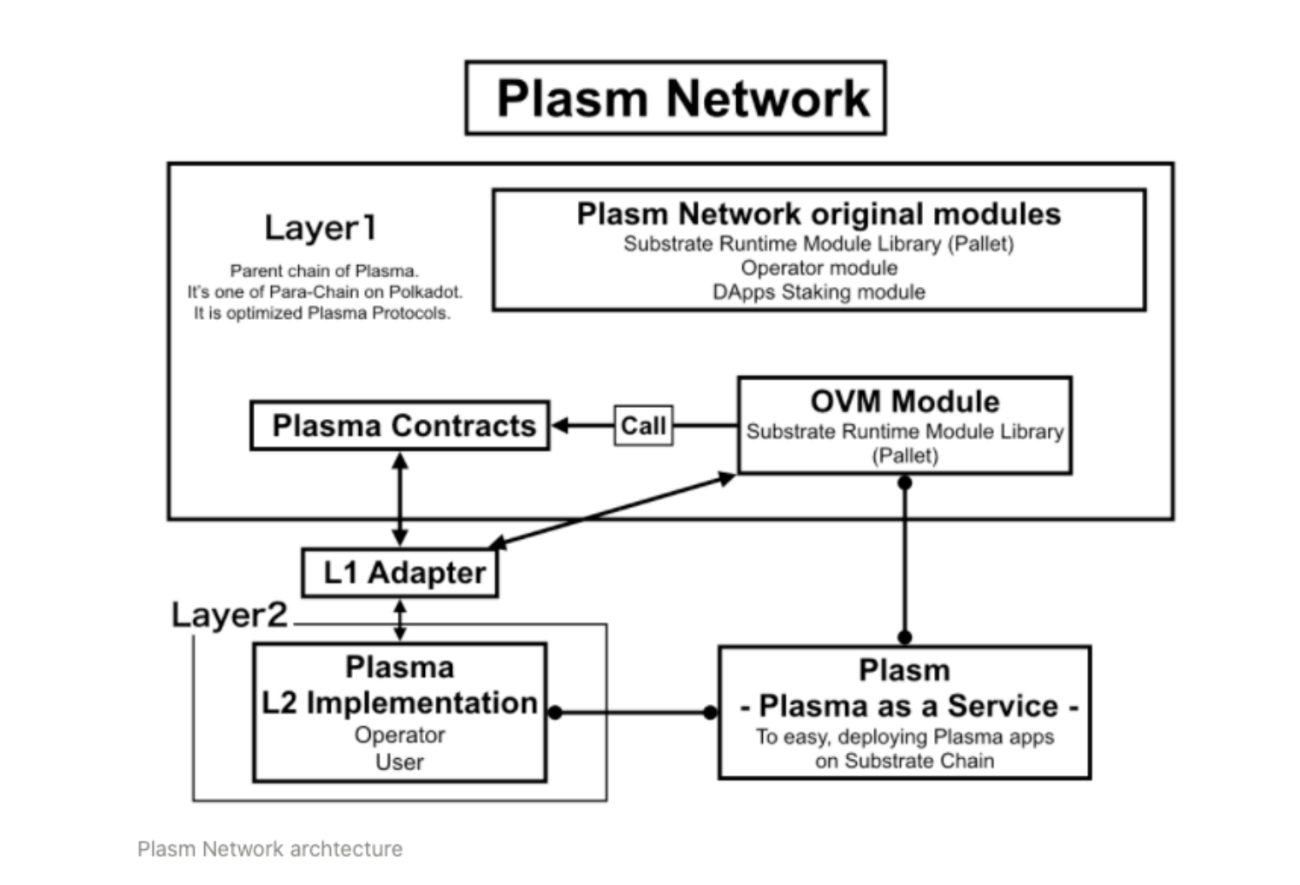 Astar Network (formerly Plasm)'s architecture. Source: Coin98.net
In addition to Plasma applications, Astar Network can be used for lightning network applications and any other Layer 2 protocols. Anyone can choose the most suitable solution for their use case to meet their specific needs with minimal overhead.
Developers can deploy Astar applications effortlessly using Plasma as a service, without spending a lot of time learning everything from scratch.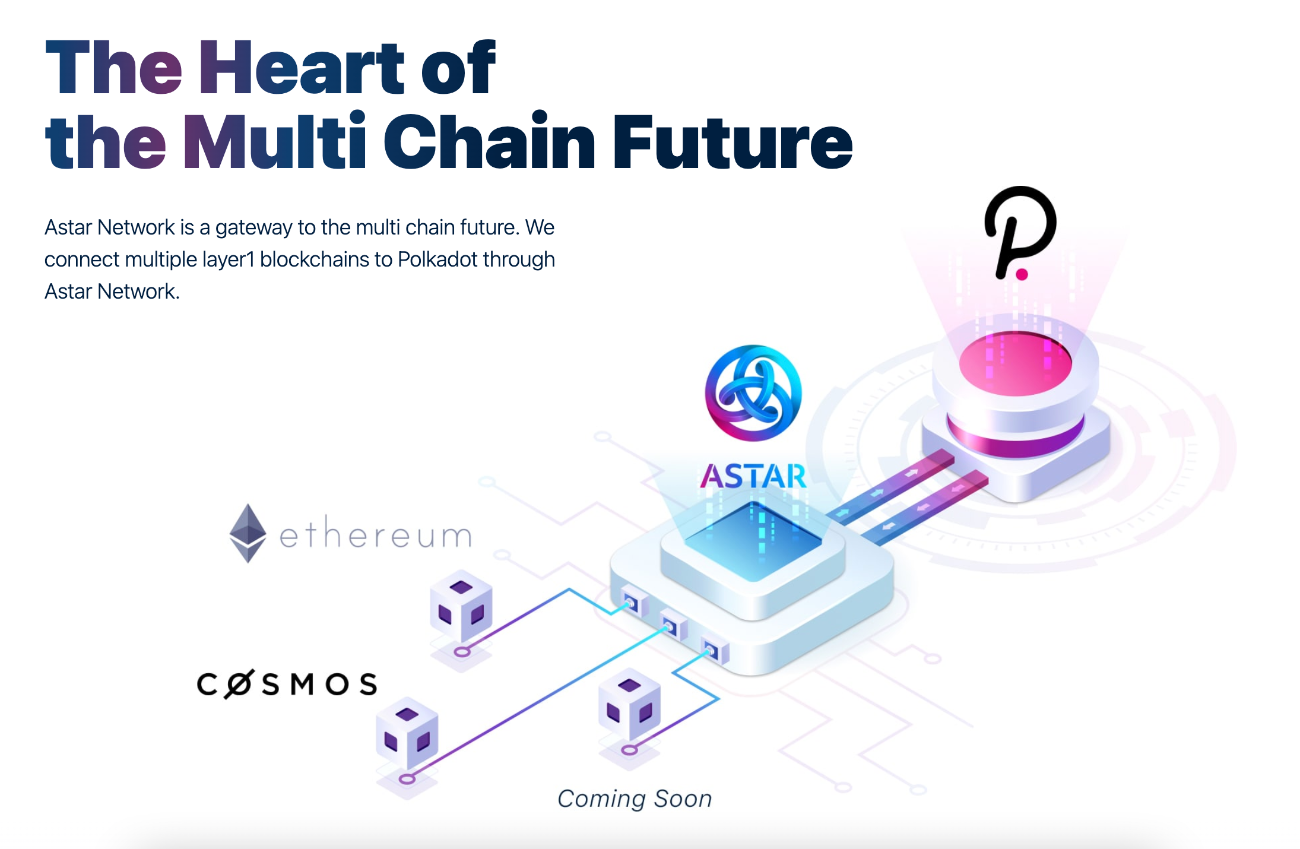 Source: Coin98.net
The Astar Network has designed their staking mechanism to reward early adopters and community members.
Community members create simple smart contracts and deploy them on Astar Network.

Holders evaluate the smart contract's performance and stake ASTR tokens.

ASTR token holders and community members receive rewards based on the performance of their smart contracts.
Key Features
Key Features of the Astar Network include DApp staking and operator trading. Some network features are discussed below.
DApp Staking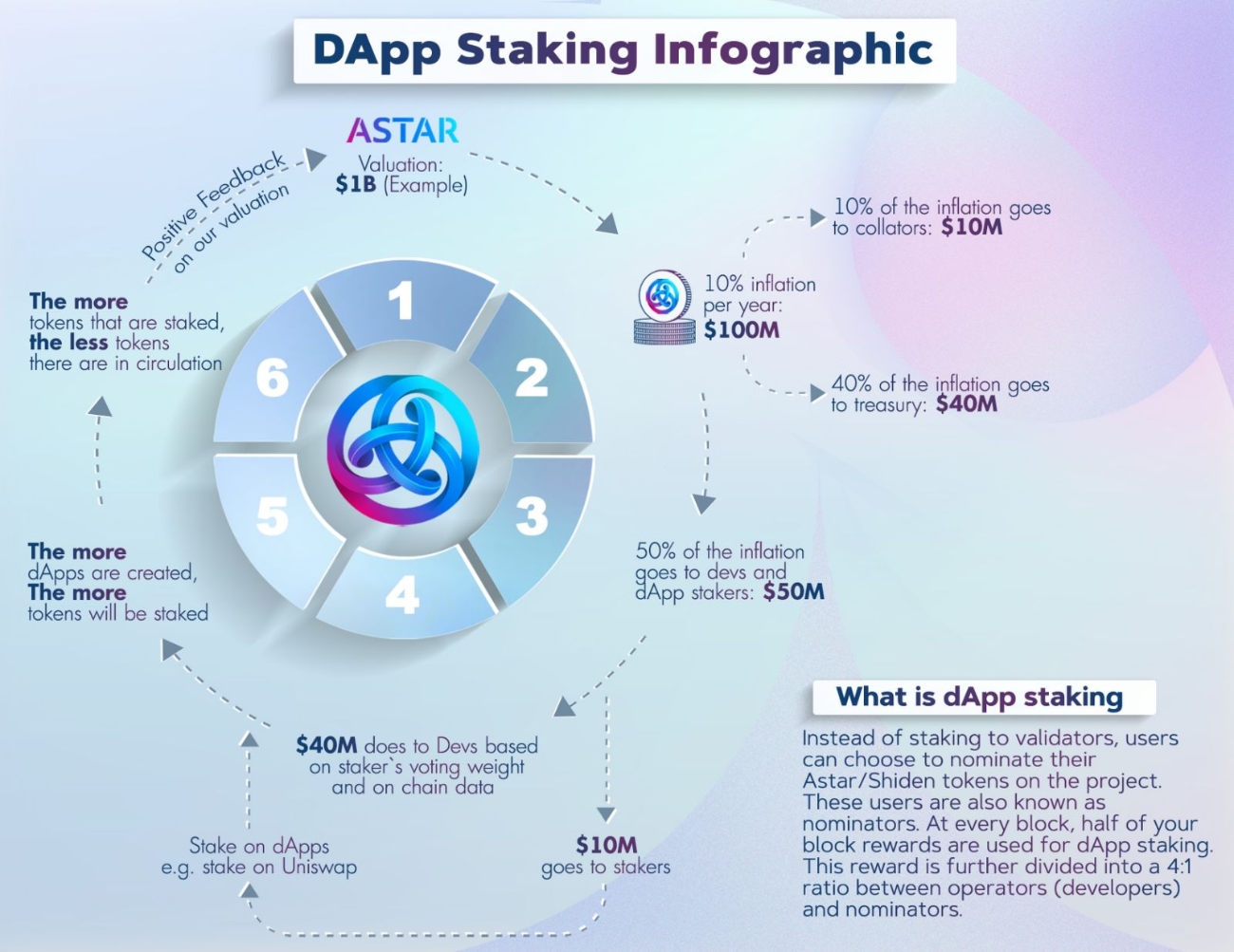 An infographic on DApp staking. Source: Coin98.net
Miners on other blockchains — such as Bitcoin and Ethereum — receive a portion of transaction fees. At the same time, developers, who are the true contributors to the ecosystem, have to pay gas fees for deploying applications.
Therefore, Astar has divided their block rewards into two parts: 
50% of the block rewards for developers of DApps, who add value to the Astar Network.

50% for block validators.
Astar allows you to assign an administrator, called an operator, to your smart contracts.
Other DApp nominators choose the operators, in addition to receiving semi-permanent rewards from the smart contracts they manage.
Operator Trading
Operator Trading allows users to buy and sell Astar applications. A developer can assign an operator to another to handle various tasks, such as chain maintenance and administration. The buyout is available to those who have been granted operator rights.
Smart Contracts
Polkadot is not compatible with smart contracts. Astar will integrate this functionality, while also making it scalable. Developers can build DApps knowing that they can scale up easily.
ASTR Tokenomics
The ASTR token has a total supply of 7 billion tokens. At the time of this writing, there are 3.4 billion ASTR tokens in circulation, with a market capitalization of $462 million. The price of one ASTR token is $0.14, and around $35 million worth of ASTR tokens were traded in the past 24 hours.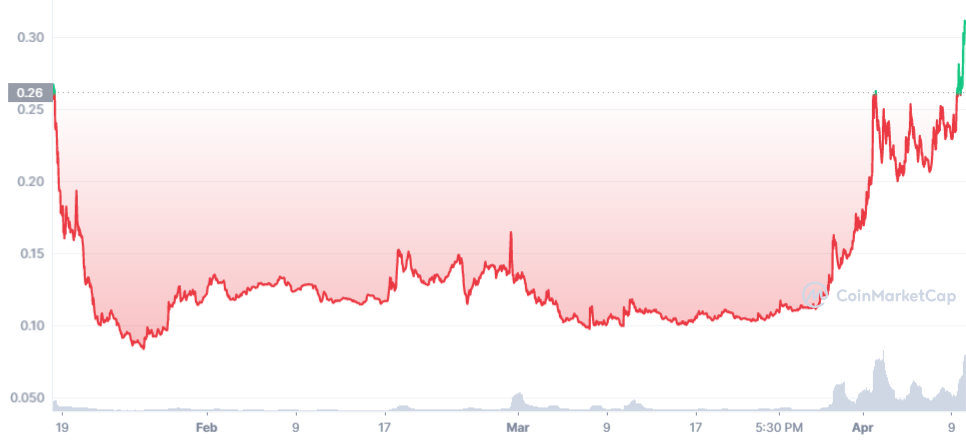 ASTR's price from Jan. 2022 to April 2022. Source: CoinMarketCap
Pros
Scalability
A decentralized consensus mechanism prevents blockchains from scaling by design. Transactions per second (TPS) are much lower than on centralized databases, and most blocks have a maximum amount of data they can hold. Due to this consideration, users may experience long periods where transactions are pending or unconfirmed, resulting in a less-than-ideal user experience overall.
Scalability on the Astar Network provides the following improvements:
Higher number of TPS

Cheaper transaction cost

Faster confirmation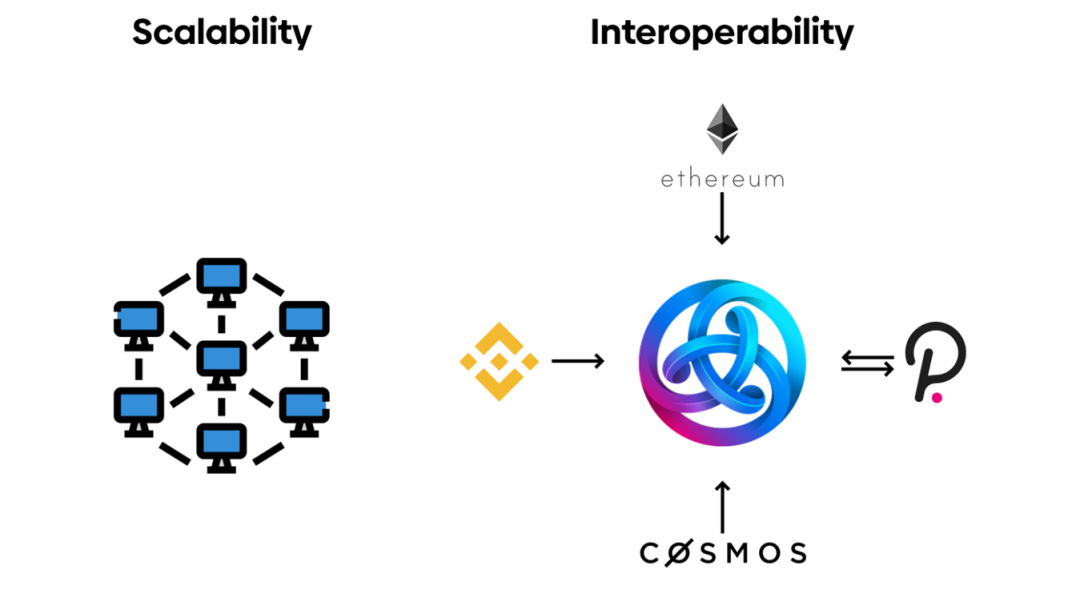 Source: Simplecryptoguide.com
Interoperability
Although there are many different blockchains, few of them offer interoperability, the capacity of blockchains to communicate and share information.
A centralized exchange is needed to transfer "value" from, for example, Bitcoin to Ethereum. Astar provides a smart contract hub that allows interoperability between smart contracts written in several languages.
With Polkadot, blockchain networks can operate seamlessly due to their sharded architecture. Astar Network works well with Polkadot. By integrating Astar Network with Polkadot, you can achieve true interoperability.
Cons
Users and developers alike enjoy the benefits of the ASTAR ecosystem. However, it presents some unique challenges and trade-offs when the same smart contract code is deployed across multiple blockchains.
User Experience
Whenever an Astar Network smart contract code is deployed on another blockchain network, it creates a new, completely distinct copy of the application.
Despite accessing the application via their preferred network, the user experience may vary from chain to chain.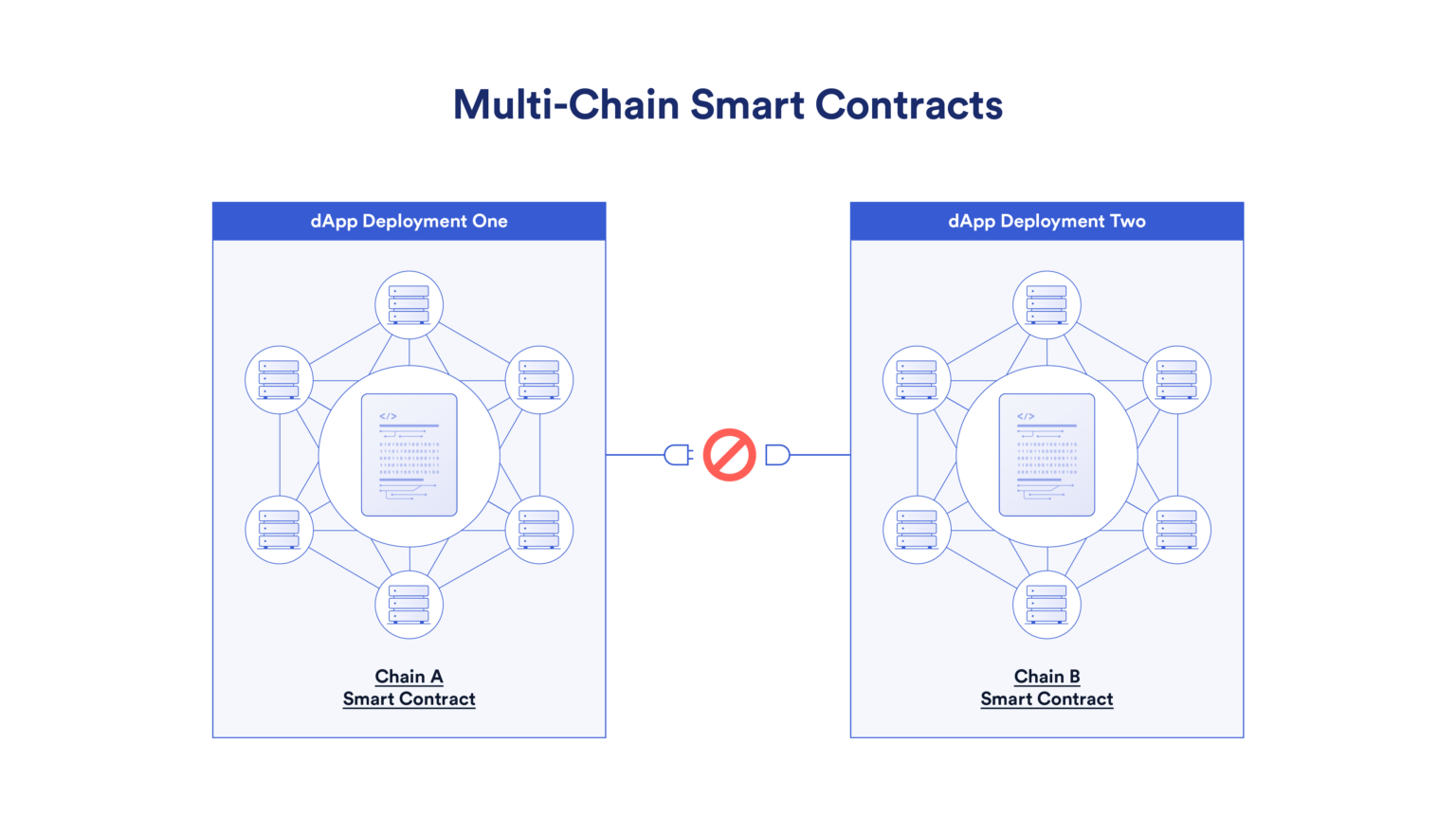 Source: Chainlink Blog
Less Liquidity
Since assets are only available on one blockchain at a given point in time, liquidity in the application becomes fragmented across multiple on-chain environments. As a result, there's less liquidity within each deployment, resulting in higher slippage and reduced trading fees.
Limited Interoperability
The fundamental shortcoming of Astar's smart contracts is their limited interoperability across different blockchains, sidechains and Layer 2 networks.
Despite token bridges for multichain applications, securely transmitting data between blockchains opens up an entirely new paradigm in terms of how smart contracts can be designed.
Is Astar Network (ASTR) a Good Investment?
In order to assess Astar Network, let's look at some data. 
In Feb. 2022, the company behind Astar Network, Stake Technologies, raised $10 million in a funding round led by Fenbushi Capital. Astar Network will utilize Stake Technologies' funding to gain slots on Polkadot and Kusama through parachain auctions set to take place in the coming weeks.
More than 18,000 contributors have locked up their DOT in favor of ASTAR so far. Thanks to a strong and supportive community, the Astar Network was kick-started successfully and is currently thriving.
Based on experience, Binance Labs' investments are typically listed on Binance Exchange, one of the largest cryptocurrency exchanges in the world. Crypto enthusiasts believe this will be good news for the project and the token price. However, we highly encourage you to DYOR before making any investment decisions.
Buying ASTR
Investing in cryptocurrency is quite simple if you use a step-by-step approach.
It will help if you have a secure internet connection, a cryptocurrency exchange account, and a valid payment method to invest in any cryptocurrency.
Since technical knowledge isn't needed, Bybit's services are suitable for investors of all experience levels. Below, we describe how to buy ASTR through Bybit.
Step 1: Create an Account
Create a free account on Bybit if you don't already have one. Enter your phone number or email address and set up your account. You can start trading immediately after your account is verified.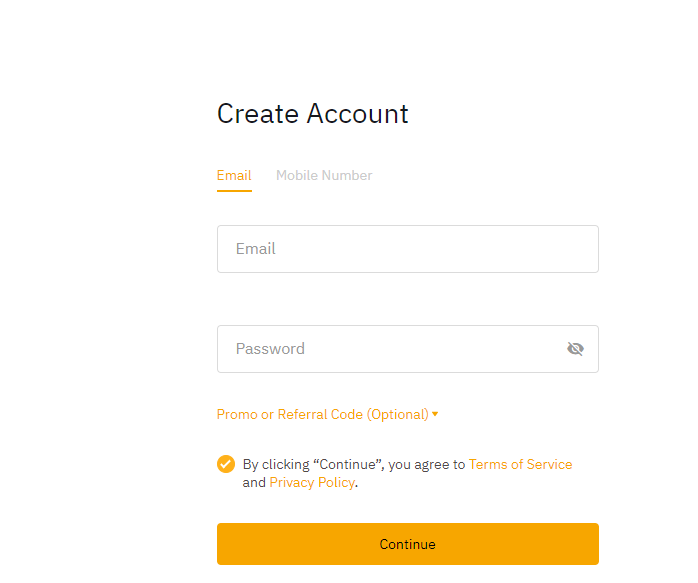 Source: Bybit
Step 2: Buy via Fiat Currency
Click on the Buy Crypto option to launch the Fiat Gateway and make a purchase.

Choose USDT as your preferred currency and input the amount you wish to spend. Trade USDT (ASTRUSDT) under Derivatives → USDT Perpetuals to obtain ASTR.

Select a service provider and payment method. You'll be redirected to a secure third-party site to complete the KYC process.

Enter your payment information and complete the transaction. Wait for the tokens to be reflected in your account (this process typically takes between 2 and 30 minutes.)
Closing Thoughts
At the time of this writing, Astar's Network crowd loan on Polkadot has been completed, but more exciting events are in the pipeline. From this article, we hope you've gained crucial information on ASTR, including its central features and tokenomics.